How to design a 3.6m x 4m Garden Gym with Rogue
This is an overview on how to design your own gym for your back garden. The prices might vary, but will give a rough outline what to expect. The options from garden room is at the higher end and you might be able to get a structure for less than $20000 to put your gym in. This being said, the designs provided in this article range from $3500 to $8000 for the gym equipment only.
Rogue Zeus
At the heart of Rogue's new design opportunities is the Zeus engine. Rogue has taken a leaf out of the books of architects and IKEA and implemented a CAD software in which they have uploaded most of their portfolio. This is a great opportunity for you to experiment with the footprint of your basement, garden or when you are designing a professional gym. A few things to watch out for when you are designing with Zeus from my perspective are:
Ceiling height
Space around the elements
Barbells are longer than racks
Placement of doors and windows
Customization of racks
Accessibility
The Rogue Zeus engine automatically assumes a height that fits most standard racks and leaves some space above. While this makes total sense for Rogue that is not always the reality you find. Make sure that you check the ceiling height thoroughly and any obstructions you might have which are higher than eye level. These can be air conditioning installments, the mechanism for the garage door or light installments. There is nothing worse than realizing that you have to cut the rack after it has been delivered. If you want your rack to be adjusted in height, reach out to Rogue customer service or make use of the already available customization options for the Rogue Monster series.
When you start experimenting with the Rogue Zeus engine you will be tempted to pack as much stuff as possible in as little space as possible. Be aware that the equipment has to be accessible, ideally from all sides. Also think about the walking paths between storage options for plates and equipment and the racks themselves. Imagine some people using what you have built. Barbells also need to have free space to move around. It might look like that a Rogue Echo bike fits directly beside a rack, but in reality this makes the rack unusable.
Another thing to factor in is that barbells are wider than racks. When you line up your racks, put a barbell into them to be sure that you have enough space between racks for the barbells to move. You might fit in a couple more racks in the line because you are saving space, but this is no use if the racks can not be used. This is especially important when you build bigger gyms.
The ease of use of the Rogue Zeus templates is also tempting to cut corners and not place doors and windows correctly for what you are working with. Try to avoid this. The engine does provide some options for windows and doors. While this will not always cover what you have in a 1:1 ratio you can get very close. Place them before you start to make sure that you think of lighting, how the doors open and access to the windows for fresh air.
The racks and rigs which you will place in the Rogue Zeus engine are not customized yet. If you intend to buy flying pull up bars, Crown pull up bars or any other accessory, make sure that you leave the needed space and also include them on your final budget plan.This things can add up very fast and if you are a contractor you do not want to inform your client that budget needs to be increased by a couple of thousand because you forgot to factor in the camo bars that he likes so much in the initial quote.
If you are planning a professional establishment, also make sure that you tend to the needs different genders, changing rooms, wheelchair access and other factors which your clients will appreciate. This is not as relevant for this garden gym built, but keep it in mind. For a garden gym pay attention to safety so that guests or children can not injure themselves. This can be covered by having proper locks on the doors, keeping the plates as close to the ground as possible and always securing them with collars (baby hands or drunken people usually have difficulties opening these to get their fingers between the plates).
In the following designs I have chosen equipment from Rogue which I would personally choose. There are other options that might suit your needs better. If you want to brush up on the Rogue portfolio to make a more informed decision for your own design please read the following articles as further information:
Related articles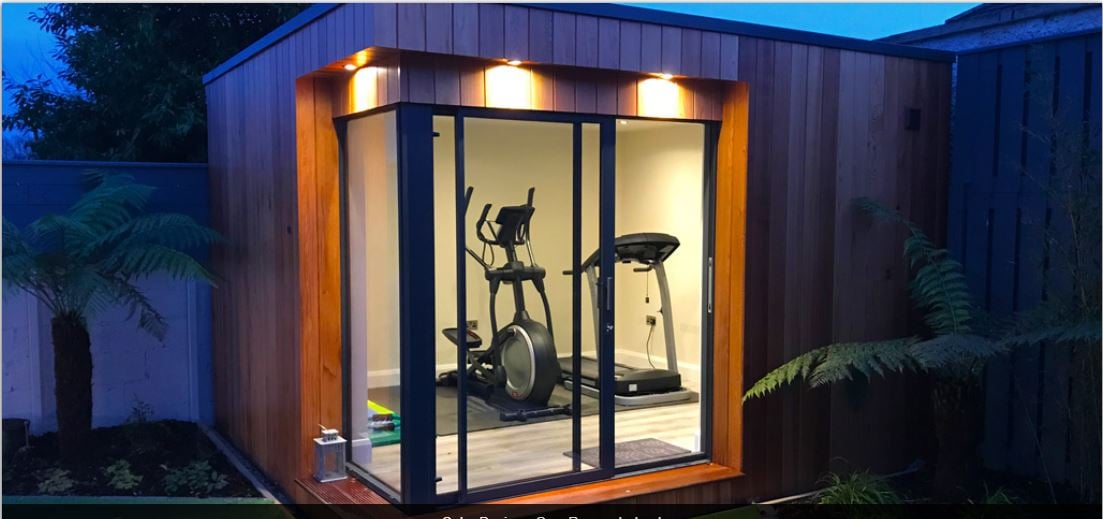 Footprint
For this built I have chosen a 3.6m x 4m footprint as seen on the website from Gardenrooms.ie. The pictures above are directly taken from their website. The options from Garden rooms range from 3.6m x4m to 3.6m x 7.5m for the cube range. The budget range will be €20.400 to €35.700 euro. With this you get professionals on the case who will help you through the build and deliver a turn key room, which you then have to fill. Of course, there are cheaper options when you go the local DIY stre and just built this yourself. I am personally not a handy man and already built a gym shed myself in the past as a phone booth at one of my employers. The end result was, that we still got a professional in to finish the job. Choice is yours.
Doors / Windows
Think about where to place the windows and doors and in which direction they should open before you do anything else. These are the features of your garden gym which can not be altered easily once it is in your back yard. The gym equipment can be taken apart and shuffled around in a weekend by two capable hands, but the doors and windows will take more time and effort as they will turn into structural changes at later stages.
Think about how the light falls and where the main building will be in relation to the garden gym. Also think about neighbors and other lines of sight to make optimal use of the windows and doors to get the best views you possibly can while still having some privacy when you work out. A good team of builders can help you with these decisions and usually offers a free on site consultation to consider these things.
Placement in garden
An aspect many men tend to forget is the placement in the garden and how it will work with the rest of it. Men generally seem to pay attention to the functionality of the room will women pay more attention to the appearance of the garden. Make sure to watch some garden programs to get ideas of how the new building can be incorporated in the flow of the overall garden. That will make it waz easier to turn this into a family project rather than just dadyys hiding place in the back. Consider a path and further options on this.
Functionality
Apart from where to place the garden gym and how big it should turn out to be you also need to think about what functionalities you actually want in the garden gym.
Are more of a triathlete, gymnast or powerlifter?
Do you want to use the gym as an office, too?
Are the ceilings high enough to do pull ups / ring work?
How will everything be stored?
Will there be space for garden utilities like a lawnmower etc.?
The garden gym should be based around what you want to use it for. Avoid to start with a footprint and just getting it filled without having thought carefully about what the building should do for you.
Single purpose Garden gym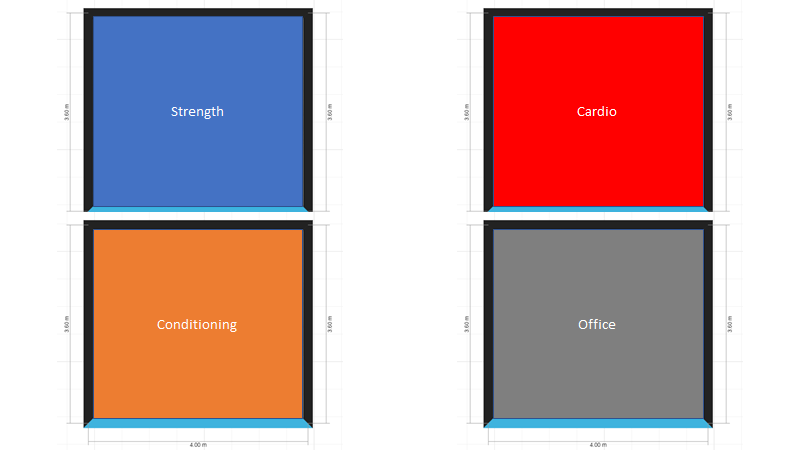 These are examples of using the Garden gym for a single purpose. The advantage of going with this is that you maximize the space for that single purpose. The downside is that if your needs change or multiple people want to use the space, there is very little option for it.Cardio and conditioning have been separated as I deem cardio to be mainly on machines without a lot of frees pace needed. Conditioning needs more space for movement like rolling, jumping, throwing and other activities of that form.
Double purpose garden gym

I find these to be the most realistic use cases for a small space of 3.6m x 4m. If you go for more than two purposes in your garden gym, it usually gets quite crammed. Of course you can IKEA the sh*t out of it and make this a highly effective space, but not everyone has a hand for that and it usually involves custom built furniture.
Triple purpose garden gym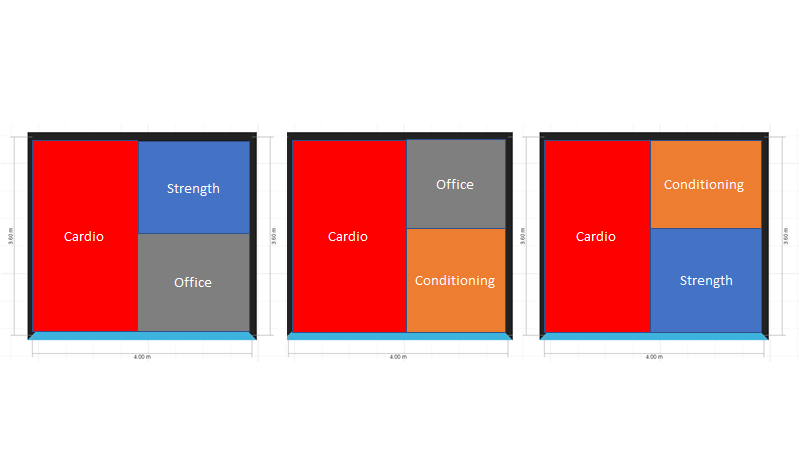 If you do a triple purpose garden gym the needs will be asymmetrical to this symmetrical footprint. This leaves you with a choice which of three function is most important to you to give it more room. In my personal opinion this is the maximum you can for on this footprint while still keeping things functional.
Quadruple purpose garden gym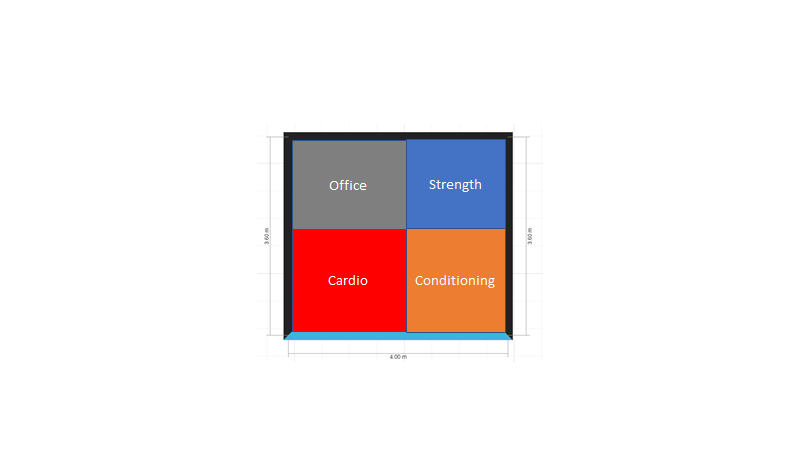 If you incorporate all of the four listed functionalities you can go back to symmetry. However, the space will get quite small and it is very likely that each of these spaces will not be super functional unless you come up with some designs to make them temporarily expand and shrink. If you want any ideas for making the most of a small space i find tiny house nation quite inspiring.
Water / Electricity
Before you start the build you have to decide whether you want electricity and water in there. If it will be used as an office you will at least need some power in the gym. If you want to have a shower directly after, without going to the main house, you would also get some water to the designated area.
How many people will use it at the same time
When you are designing a gym you have to design for peak times. At least consider how many people will be in there at the same time. For garden gyms the maximum is usually two. It is even more likely that it will be just one person at the same time. For bigger installations, make the same kind of assumptions or estimates and see whether the room is still functioning with an entire group of people in there. All depends on the popularity and variation of classes your gym will offer.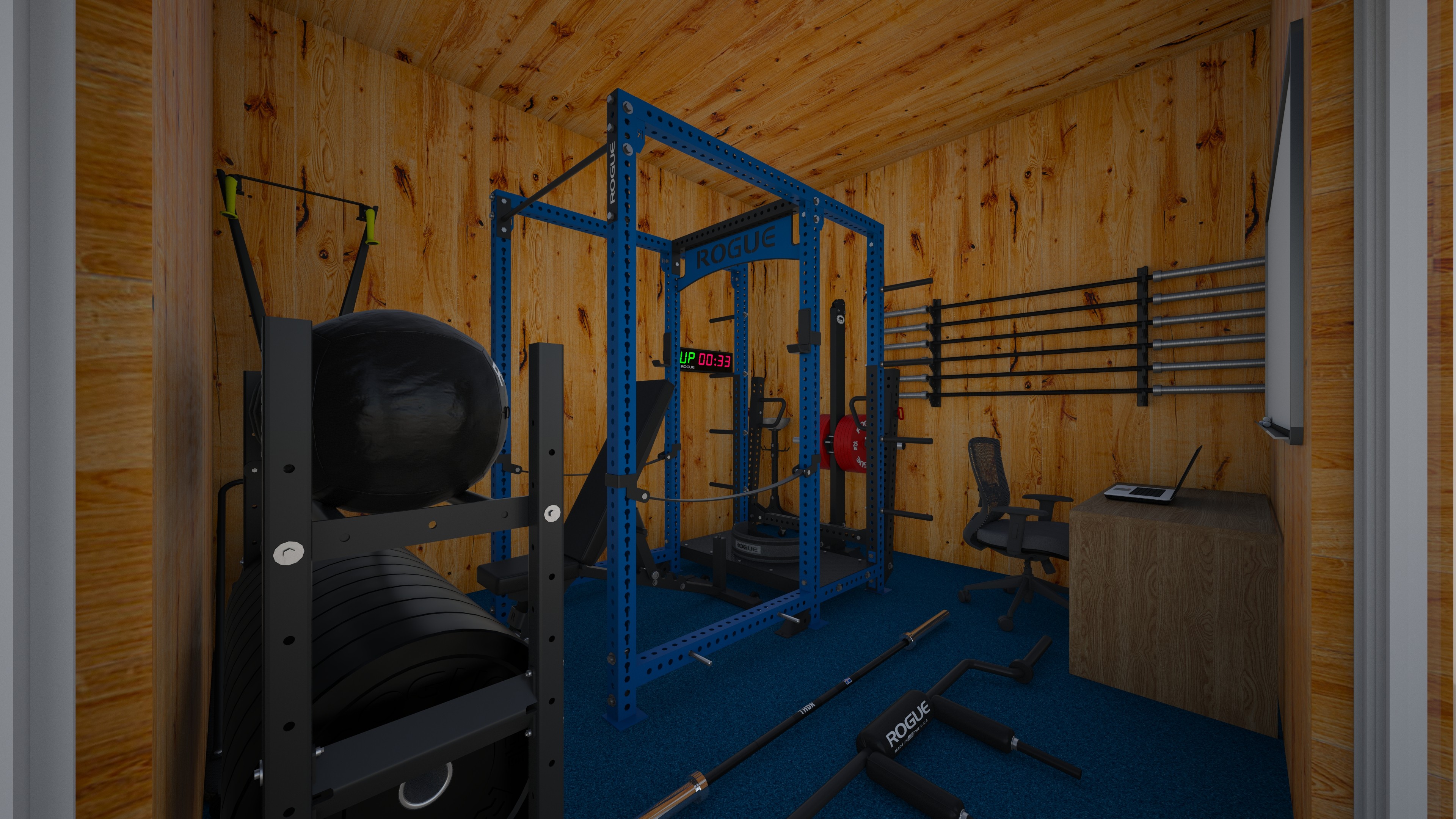 The All-Rounder Garden gym
The all rounder is my take on addressing multiple needs in a minimal space of 3.6m x 4m with the Rogue portfolio. The total cost for this built would come to roughly $30.000. This includes the built of the structure itself via garden gyms. The equipment itself is roughly $7200 if you already have a room of this size available. $22800 would be spent on building the room with gardenrooms.ie.
This gym has been designed with one or two people training at the same time. The main focus is strength. You have a concept 2 skierg for your cardio needs, a small area for conditioning needs and the RM6 Rogue rack forms the center piece. The Rhino belt squat will enable you to put more work in without wrecking your spine.The loadable dumbbell saves space instead of getting a big dumbbell unit where you have to store a whole rack of dumbbells. The lower right corner also leaves you with a little office if you wanted to run a YouTube channel or just have some retreat from family and friends to do your work in peace.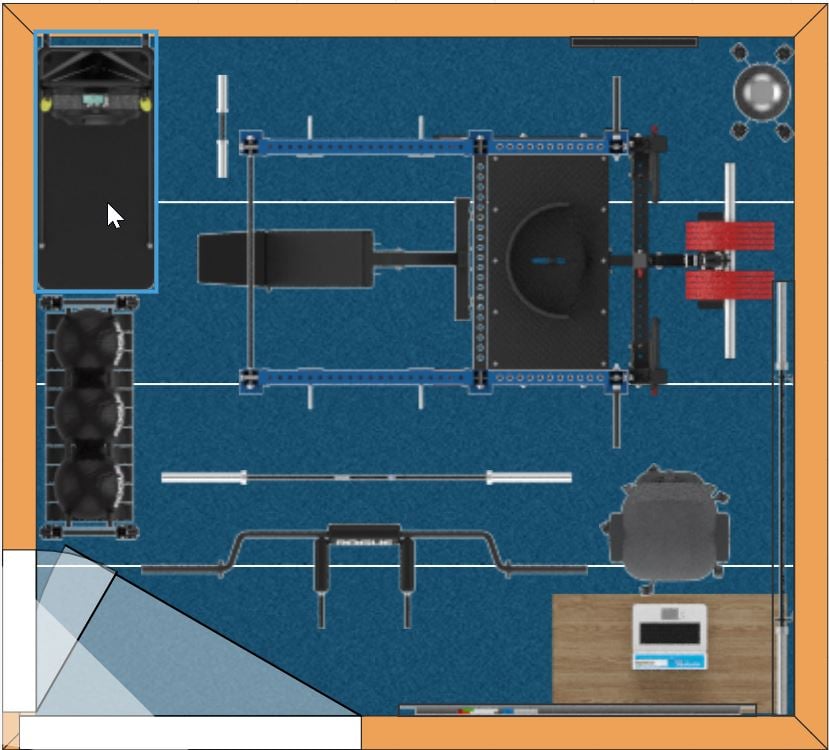 Item list for the all around garden gym
This is the item list for this build. I have chosen the equipment that use for myself as I don't want you to be short changed.
The concept 2 Skierg was chosen to save some square footage while still giving you the possibility to do your cardio. Other options could be a concept 2 rower, treadmill or Rogue echo bike. All of these take up more space and have therefore not been chosen for this particular design. If you have the space and you are mainly interested in powerlifting it will be of benefit to do your cardio as cycling. This trains your legs even more and is also the recommended option by Ed Coan, one of the strongest pound by pound lifters of all time.
The Rogue Two Tier storage was chosen to give you space to store your kettlebells and plates. As the place is already tight I would recommend to store the plates not on the rack but seperately, so that you have more freedom to move around the RM6 in the middle of the room. You can also first try to store the plates on the rack to free up even mores pace in the conditioning area and free up the doors a little more. You can also store your weights for the loadable dumbbell on there.
The rogue loadable dumbbell was chosen as i think it is a very space efficient solution for your dumbbell needs. A dumbbell rack is no go in such a small space. I find the other options for adjustable dumbbells on the market cumbersome to use. Rogue has come up with a great idea to safe space and still give you the original feel of a dumbbell with this design. The loadable comes in different lengths and options, so be careful on checkout that you choose the design and length that satisfies you the most.
Rogue Thor bar will be the main tool in this gym you will work with. It comes in two different variations on Rogue check out. I have chosen this bar as I think it is the best option you can get for powerlifting needs from Rogue. Other options would be the rogue Ohio power bar, West side bar or Deadlift bar, if your main interest is powerlifting. You can also go for a barbell that has no athlete special print on it. For me personally, I like that little bit of extra care and inspiration in my gym to push me even further. Read my article which rogue barbell to buy, if you want to dig deeper on bar options for your gym.
The Rogue safety bar is an option to protect your spine, do good mornings with less risk and attack your lower back for strength on the squat. It is a popular tool among strongman to build a big squat and core strength. Both barbells will ultimately hang off the right hand wall in the 5 slot gun rack. The area which is now occupied by them will be therefore free for you to exercise. The safety bar can be a later addition to your gym if you want to save money in the initial, but I highly recommend a dedicated day or two a week spent on the safety bar. Or run an entire cycle with it to mix things up and get stronger.
The Rhino Belt Squat drop in is only compatible with the Rogue Monster series. The belt squat is a great option for you to get more squat volume in without breaking your back. It is a popular option among athletes and powerlifting professionals to make your quads explode. As I am getting older i feel some wandering pains in my lower back and spine. Any tool to minimize the pain while maximizing output is therefore welcome. For me, the Rhino belt squat was an essential piece of what I would build. If you don't want this machine in your small gym this frees up cheaper options on the rack and space. Read my article on which Rogue rack to buy for under $1.000, if you want to downsize here.
The Rogue RM6 is the flagship rack of Rogue. You will get the best of the best with this beast. It is available in multiple colors and can be upgraded with Rogue Monster Accessories. The main reason this was chosen was to put the Rhino Belt squat into the back. You can swap the RM6 for a RM4 for this built if you don't want the Rhino and free up more space. Be aware that with the RM4 you can not store your plates on the rack as easily anymore and you will have to rely on the two tier storage to keep things organised. You can also keep the RM6 and remove the Rhino drop in so that two people can train at the same time on the rack. When you configure your RM6 you have many options. The bigger J Cups get generally good feedback. I didn't find a lot of feedback on the flipdown safeties compared to the safety pins. I personally would go for the flip down safeties as it leaves you with more training options than the pins. Don't bother with the name plate in the middle and go for a gusset. This gives you more options for future upgrades. For this built I also would be inclined to put a crown bar at the side rather than a pull up bar inside the rack. But these are just ideas for you. I would always recommend to go with the Monster series as this protects your investment. These are the most likely to retain their value and you will always participate in the latest new releases of the Rogue portfolio. For Lat pull downs you can add the slinger to this rack. If you want more options from the Monster series to do research read my articles on which strength equipment to buy from Rogue and which rack to buy from rogue for over $1000.
The rogue chalk stand comes on wheels and can be freely moved around your gym. This is the place to keep your collars, belt and chalk up for your heaviest lifts. This is an optional item as chalk is not 100% necessary to train your butt off, but why go short if you already bother with a great home gym.
The Rogue 5 slot gun rack will hold up to five barbells for your need. You might think that this is overkill, but there seems to be a tendency of people to start to collect different barbells, once they have their own gym. If you want to scale this back a little there is also a 3 slot option from Rogue. The two bars which are currently on the ground will slot in there to free up the space.
I personally think that any gym worth its salt has to have a timer and a white board to keep track of your progress. Both elements have been implemented in this built. If you think your mobile phone is enough to keep track, you can remove the timer itself. I recommend a Doc Artisan case for your mobile in case you wont't get a timer. This way you can attach your phone to your rack easily.
The Rogue Adjustable bench will give you all the options you need to do flat bench press and incline bench press movements. You can also use the bench in combination with the safety pins to do the torture twist. This is my personal favorite core exercise which I got out of Tim Ferris book the 4 Hour body.
Not in the picture but required for a functioning gym
The calibrated steel plates are the gold standard for your powerlifting needs. The main point about them is that they are very accurate in weight with little tolerance for veering off what is stated on the plate. They also look good and bear the Rogue logo. If you want to save money on plates there are plenty of other options like bumper plates and Olympic barbells which you can get from Rogue. Read my article on which plates to buy from Rogue to get more detail on other options for your plates.
This design definitely needs floor mats to function. Take care of padding to protect your floors in this one. To save space I have added no deadlift or weightlifting platform in this design. Be aware of this. Based on my research it is not needed when you do not do Olympic weightlifting, which will be hard to in this crammed space anyway.
Pros of the all around design
This design will give you a fully functioning garden gym in which you can set out to break world records in powerlifting. With the safety bar and Rhino belt squat you can protect yourself while still banging out a high amount of heavy reps to progress and grow. Your cardio needs are covered on minimal floor space and you have an area to do kettlebell swings or ball slams right beside the entry.This is also one of the most space efficient designs in the market to get a rack and belt machine fitted in. In addition you also have a desk to sit down at and record your training, look up the latest news on strength and conditioning or run your little fitness empire from.
Cons of the all around design
This gym is overkill. It is built for the needs of the 5% world class powerlifters in the world. The functionality of the rack and the Rhino belt squat is redundant and irrelevant if you don't want to squat very heavy. The Skierg is very close to the front of the rack which gives you one person less that can train in parallel. Otherwise you can easily get three athletes to train on a RM6 at the same time. There is also little to no space for any kind of jumps or sprint training. Your conditioning training will be stationery, so if you want to address spacial awareness in your home gym, this is not for you. The RM6 can also be downgraded if you are not mad about the Belt squat. Ultimately the cheapest gym you can get are the stones from the nearest quarry. I will never win that budget argument. You most bases covered with this one.


The uncompromising beast garden gym
This gym throws out any cardio or conditioning needs to fully focus on strength. There will be no kettlebells, sandbags or treadmill in this one, because why bother with cardio if the maximum we have to do is 9 lifts in one day. Also, there is more than enough woodlands, concrete and trails to run through to get your cardio in. Just get a pair of runners and leave that patsy stuff out of the beast cage. This garden gym built will will roughly put you back $27.800 if you built the room with gardenrooms.ie for €20.400 and get the equipment for roughly $5000.
This gym has been designed with the big powerlifter in mind who does not care about cardio or for someone who does their cardio outdoors. Compared to the All Rounder design this frees up some space as less storage is needed and the office and cardio spaces are removed. This leaves you with a less crammed design that will give you more space to breathe. All in all this is the design to become the next Brian Shaw.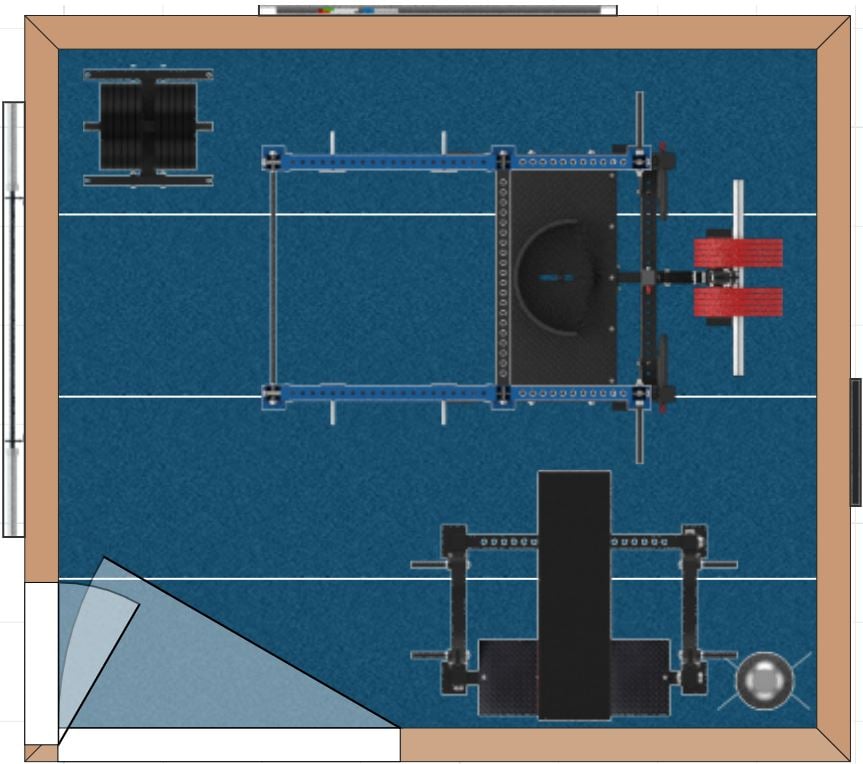 Item list for the beast garden gym
The Rhine Squat belt drop in will enable to train harder for longer without wrecking your lower back. A challenge with the barbell back squat is that it puts a lot of compression in your spine. Especially for seasoned athletes or for younger athletes who suffered injury this can be suboptimal. The belt squat will allow you to stress your lower back less to develop massive quads to crush the competition. If you do not fancy the Rogue Rhino drop in you can leave it out to free up space for an additional athlete to train in parallel with you or turn the half rack of the RM6 into further storage space for plates and kettlebells. Rogue can provide the necessary shelves to do this. For other options you can read my article on which strength equipment to buy from Rogue.
The Rogue RM6 is the flagship rack from Rogue. This beast will last a lifetime and gives you access to the Monster range of Rogue. This means your investment is protected in two ways. Firstly the resell value of Rogue products and especially the Monster racks is quite high. So even if you want to downsize or use the room for another function, you won't lose as much money as with other products. Secondly, you will be able to get all the latest and greatest in upgrades from the Rogue range. This ensures that you will have fun for a long time with your rack rather than buying something else, because you are missing out on the latest inventions. If you don't want the Rhino belt squat you can also downsize this rack to a RM4 to free up more space. Be aware that you will definitely need the plate tree of you do this to store the plates. When you configure your RM6 don't bother with the name plate and get a gusset instead. You can also consider to add a crown pull up bar to the RM6 at the front. The side is blocked by the west side bench in this design. For other options on racks please read which rack to buy from Rogue for under $1000.
The Rogue chalk stand is the place where your belt and collars will live. This little stand also comes on wheels and can be freely moved around your gym. A chalk stand is optional as chalk is not 100% necessary to get strong like Hulk, but it is a nice little addition to make your gym complete. If you want to save some money to store your chalk you can also get a dedicated chalk bag from Rogue.
The 5 slot gun rack is the place where your barbells will live. You might think that 5 barbell slots are a bit of overkill for a gym that has been designed with a single person in mind, but once you have your own gym, people usually start to collect things like barbells. If you want to save money and go one step down get the 3 slot gun rack.
No gym is complete without a whiteboard and a timer. If you think that massive timer on the wall is overkill and you rather want to use your phone i recommend the Doc Artisan phone cases. They make your phone stick to the rack via magnets so that you won't step on it or drop the weights on your phone while still being close.
The Rogue west side bench will be your uncompromising bench press station. It provides extra pins so you can train west side style. If you use bands often for your bench press and need a spotter often because you go so heavy, this is the bench for you. If you get two barbells you also don't have to bother with packing things back and forth to train. If you think this is overkill you can also opt for an adjustable bench to free up space and save some money. Surprisingly the Adjustable bench and west side bench station only differ $200 in price.
Not in the picture but required for a functioning gym
Calibrated steel plates are the golden standard for your powerlifting needs. The have little tolerance to veer off the stated weight of the plate. Lower quality plates can vary considerable from the nomination on them. If you want to learn more about other plate options like bumpers or urethane read my article on which plates to buy from Rogue.
Floor mats will be necessary for this built as i did not incorporate any deadlift or weightlifting platform. If you want to train overhead lifts this would be a mandatory addition.
Pros of the beast gym
This gym gives a big strength athlete the space to move around freely and not to be worried to be banging off any other equipment when doing their thing. The west side bench gives you the experience which you would have on a powerlifting meet without having to change around a combo rack. If you work a lot with bands you don't have to move them from one station to the other and just leave the setup as is. You have plenty of space to store a lot of plates for going heavy on all big three lifts. Compared to a multi purpose built you also save money on the equipment.
Cons of the beast gym
You will have no desk to work from or storage for conditioning equipment. Cardio will also not happen in this design The west side bench is a little close to the rack, so watch out when you get in and out of your setup.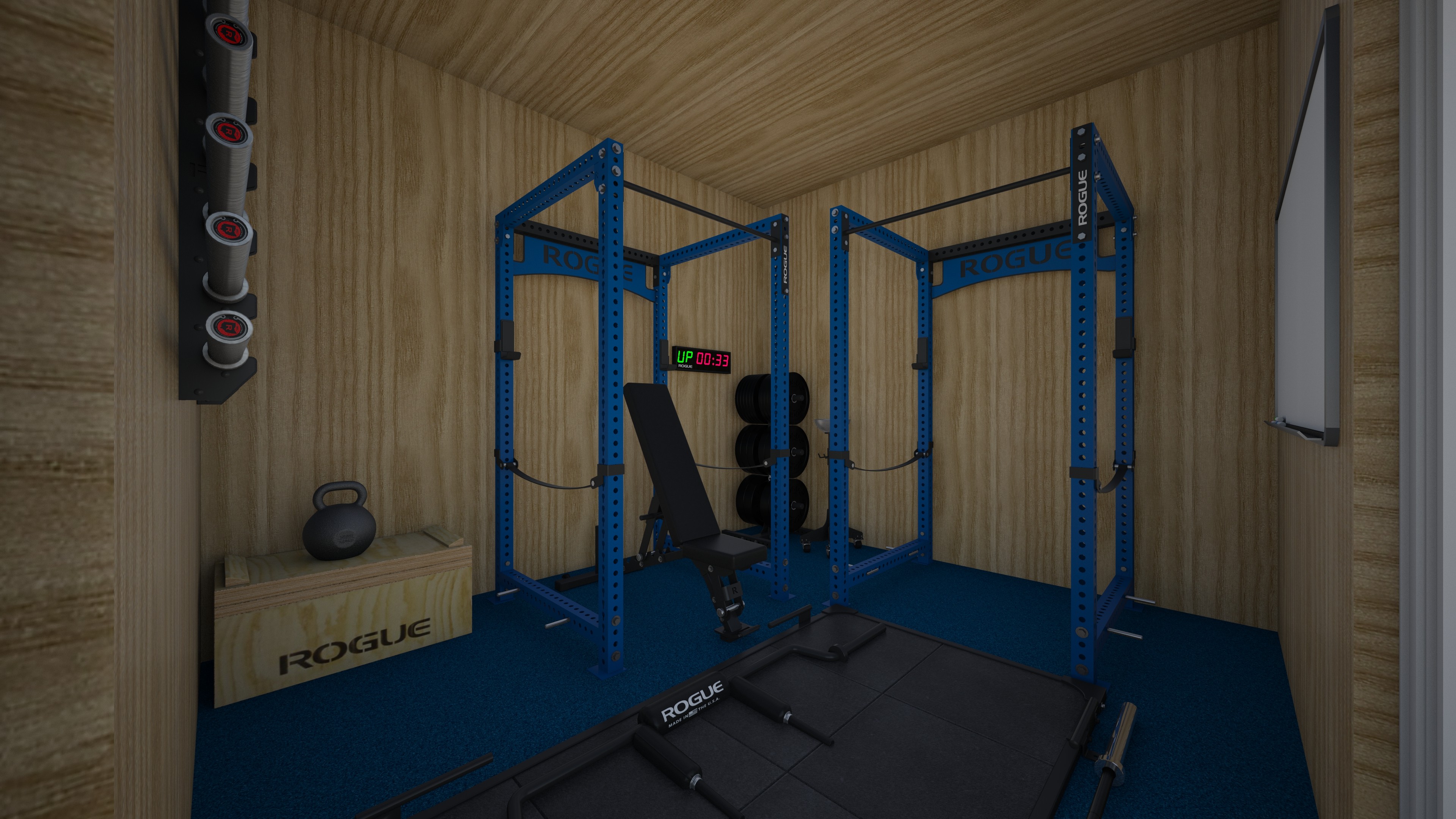 The garden gym for two
This gym has been designed with two people in mind lifting at the same time. The total cost comes to roughly $30000 with $23000 on the built of the garden room through gardenroom.ie and $7000 on the Rogue equipment.
In this gym you can train together at the same time without getting too much into each others ways. The two RM4 racks are the center piece and will provide you with enough space to squat and bench press securely. If one of you wants to hop onto the deadlift platform to do some yoga or to do some deadlifts tat is no problem whatsoever. The flat pack box provides shelving when it is not used and can otherwise be used for pylometric training. There is only one bench as you will probably rotate exercises between the two of you.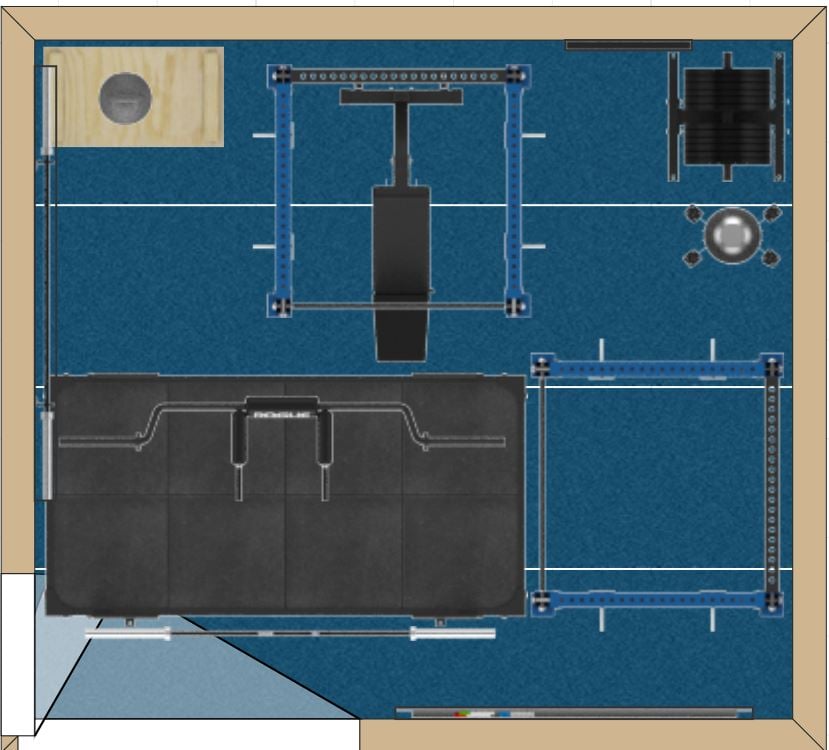 Item list for garden gym for two
Not in the picture but required for a functioning gym
The Rogue Thor bar is my personal favorite out of the Rogue portfolio for powerlifting. It is based on the Rogue Ohio power bar and has been finished with Cerakote and an inspiring print which will remind you of the Mountain every time you lift. There are two options for the Thor bar and I would recommend the one with the longer sleeves. If you think that this barbell is too expensive or not your style read my article on which rogue barbell to buy to find the one which suits your needs best.
The Rogue Safety bar will help you to address the needs of your posterior chain and build superior strength in the area. Use this bar for box squats, banded squats or good mornings to get the extra stability you need to be safe. This will make your squat and deadlift explode. If you are tight on budget, this is an item which can be gotten at a later stage or be put on the Christmas wish list.
The Rogue Chalk stand is a safe place to keep your chalk for your maximum attempts and top sets. You can also store your lifting belt and collars on it. It comes with rolls. This will make it easy to move it around the gym. While Chalk is not 100% necessary for the average joe, this will complete your gym and give it see extra edge to be professional. If you want to save some money Rogue also offers a chalk bag which fulfills the same purpose.
The Rogue 5 slot gun rack will be the place where your barbells live when you do not use them. As this gym is laid out for more than one person it makes sense to have a little extra storage space for bars. If you still think that 5 slots are overkill you can also get a 3 slot option from Rogue.
A timer and a whiteboard are a must have for every gym that is worth its salt. If you don't a big timer like this you can also upgrade your mobile phone with a Doc Artisan pouch. This enables you to stick your phone to the rack by putting it into a magnetic leather case.
The adjustable bench from Rogue will enable you to do bench presses and incline presses depending on which program you are currently following. Ypu can also use it with the kettlebell provided for rows to attack your lats and delts.
The vertical plate tree will be the place to store your plates in this design. The two RM4 racks should be kept free from plates to avoid injury and give two athletes enough space to maneuver.
The RM4 racks will be the center piece of gym. With the Rogue Monster series you are protecting your investment as they have a good resell value and will be made part of the most recent additions and updates of the Rogue portfolio. The Rogue Monster lite and Infinity series do not get as much atention in the Rogue portfolio as their flagship series. If you want to know more about alternative options for the racks read my articles "which rogue Rack to buy for over $1000" and "which rogue rack to buy for under $1000".
The Rogue flat pack box is the all around solution from Rogue for box jumps and squats. Alternatives to the flat pack box are the metal jerk blocks and the wooden jerk blocks in case you wanted to be able to do block pulls in your gym. A pair of wagon wheel plates can also do this trick for you.
The Rogue Monster kettlebell series are the kettlebells for the serious athlete who thinks that the smaller kettlebells just won't cut it. Rogue has a wide range of kettlebells which you can choose from to fit your needs in the best possible way.
The deadlift platform rounds up the picture and provides space for you to deadlift or do other ground work when needed. It also provides the necessary setup to be able to do banded deadlifts.
If you are mainly interested in powerlifting the calibrated steel plates are for you. They are accurate and simulate closely what you will have on the bar in competition. If you want to save some money on plates you can get bumpers or Olympic plates instead. If you want to get more details on plates you can read my article "which rogue plates to buy".
Pros of the garden gym for two
This gym gives you enough functionality to train with someone else at the same time or have two athletes coached without getting things too crammed. The necessary storage options are provided and you can do Olympic lifts and everything which is needed for powerlifting.
Cons of the garden gym for two
This design does not provide cardio space or any corner for an office. This space is taken up by the layout of the two racks which occupies the corners of the room. The focus on strength might leave you short if you want to lose some weight when you do not like to do your cardio outside or the climate you live in does not allow for it.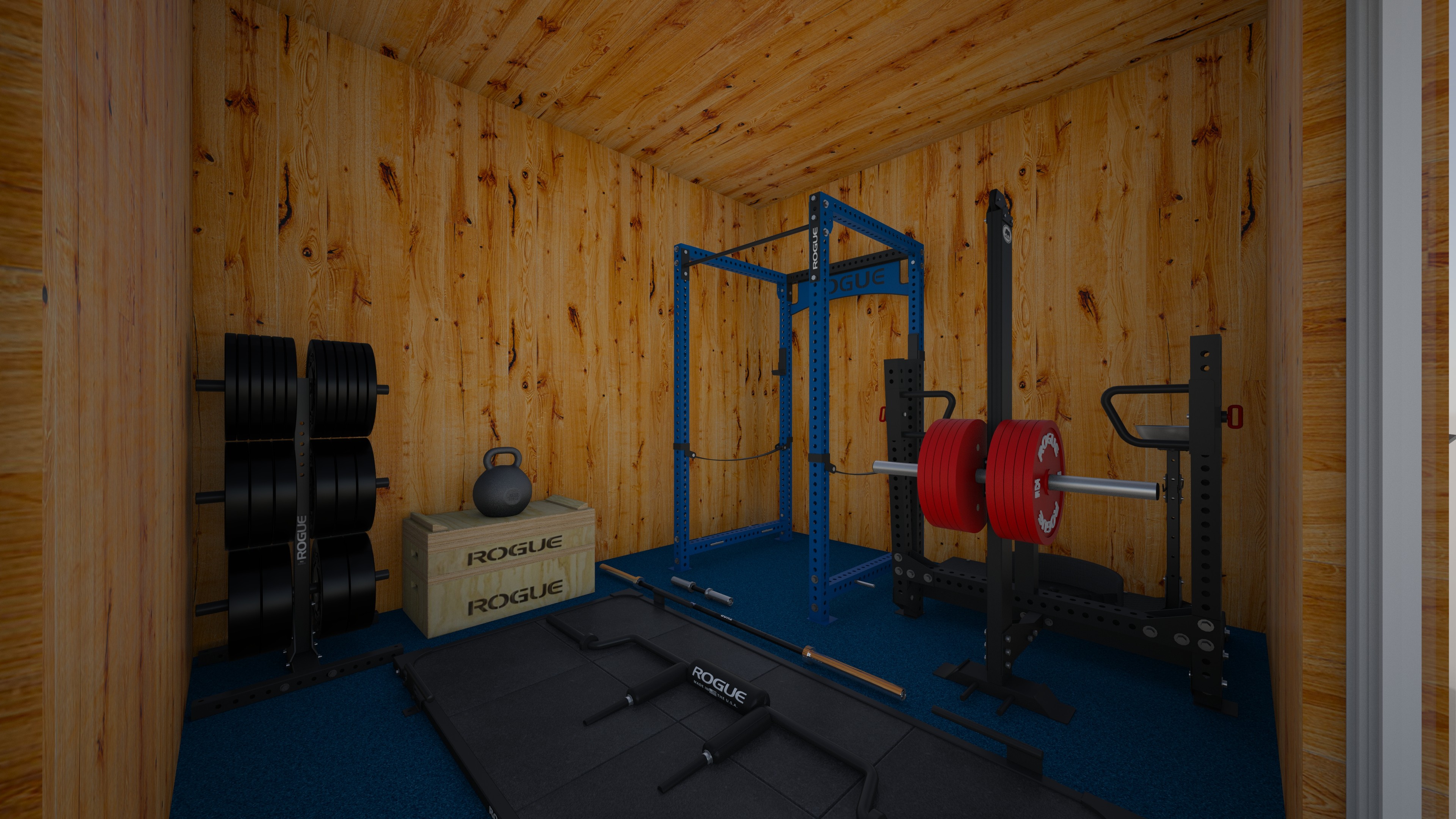 The multi purpose strength garden gym
This multi purpose garden gym gets you all the necessary components to prepare for a powerlifting meet. You will have a deadlift platform, rack, belt squat machine and some extra space for stretching and conditioning. The only things this design does not provide are a treadmill or Rogue Echo bike and an office space. This design will put you back about $28.500 with about $22.800 for the garden room and $5700 on the gym equipment.
The RM4 will be your main port of call. The Rhino belt squat will help you when you get older and your spine cant take that hard of a beating anymore. It can also be used to bring your overall squat volume up and fix technique. The plate tree in the corner will provide a home for your plates while the platform can be used for heavy deadlifts and yoga.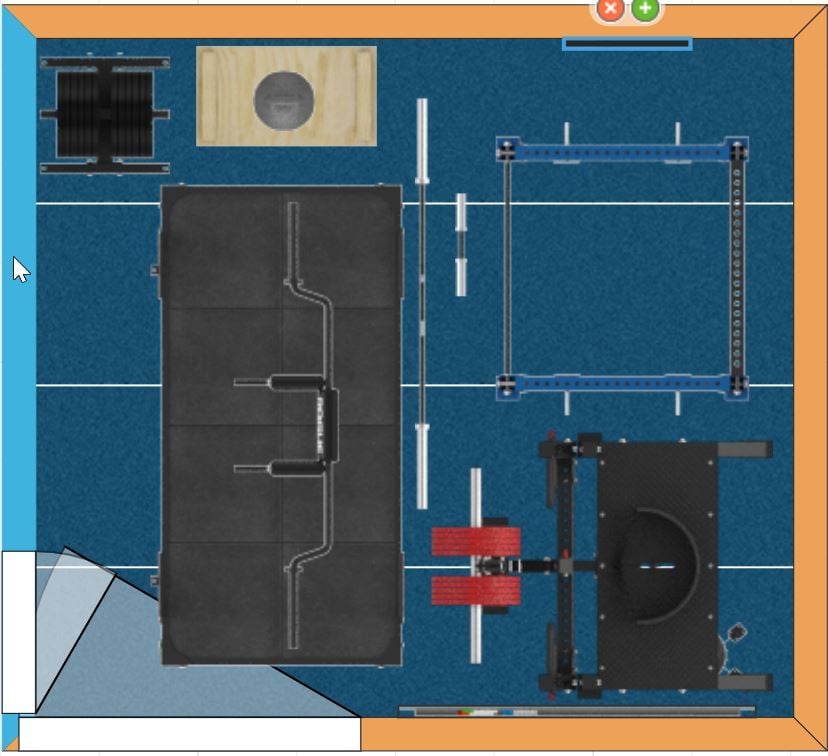 Item list for the for the strength garden gym
Not in the picture but required for a functioning gym
The Rogue Thor bar is my favorite bar of Rogue for a strength focused gym. It has the right components for powerlifting while still looking nice and being inspiring to do more as you will be reminded of Thor every time you use it. If you prefer a cheaper or weightlifting barbell you can read my article on "which rogue barbell to buy" to learn more about the different options you have with Rogue.
The safety bar will enable you to inject some variety in your squat training and hit that posterior chain hard. It is also a safer option than a straight barbell for good mornings, banded and box squats. Many Strongman athletes are of the opinion that a safety bar help them a great deal for their performance. This is not a necessity for your first order from Rogue but might be something at a later stage when the budget allows for it.
No Gym is to be taken serious of it does not provide for a timer and a white board. Both have been incorporated in this design. If you prefer to use a phone to time your workouts I highly recommend the Doc Artisan phone cases. With them you can attach your phone magnetically to your rack so that it safe from harm.
The Rogue adjustable bench will enable you to do your bench presses and Incline bench presses. It can also be used for torture twists, one of the best core exercises out there, dumbbell rows and kettlebell rows to make your lats and delts go pop.
The vertical plate tree will be your central storage unit for all your plates. This way you do not need to keep them on the rack or the Rhino Belt squat, which would also be an option.
The Rogue RM4 rack will be the main place where the action will happen. The monster series from Rogue is a good protection for your investement as the resell value is high. It is also build like a tank. If you want to know more about other options out of the rogue portfolio check out my articles on which rogue rack to buy for over $1000 and which rogue rack to buy for under $1000.
The Rogue wood flat pack box is the go to option for pylometric training from rogue:when you are not using it it can function as a shelving unit for kettlebells as shown in the picture.
The Rogue Monster kettlebell series are the kettlebells for the serious athlete who wants more than just 16kg to train with. These are massive but you can also choose from a wide range of other kettlebells from the rogue range.
The Rogue deadlift platform will give you the necessary space to do your heavy deadlifts or do some yoga and conditioning. It also provides you with band pegs to do banded deadlifts.
The Rogue loadable dumbbell will save you space while being modular for the weights you want to use. This one of the genius ways in which Rogue takes a simple idea to make your life better and save space in your gym.
The Rogue Rhino belt squat rounds up the picture to give you a fully fledged gym for all seasons. Eeven if you were to sustain some shoulder injuries or have lower back pains you can still train with this machine to make your legs bigger.
Pros of the multi purpose office garden gym
This gym gives you many option to train for powerlifting in different ways. You have all the necessary security and variety you need to get better for years. The setup also allows for three people to train in parallel. The loadable dumbbell saves space and the deadlift platform can also be used for overhead work.
Cons of the multi purpose office garden gym
You have no Cardio machines or office corner to do our work. You also have to be careful when you are working in the rack, as the Belt squat machine is right beside it.

Cardio garden Gym
This gym is designed to leave a bit more space for cardio purposes and do different kinds of cardio exercises. You will find a concept 2 rower, a Skierg and Rogue Echo bike to cover all of your needs. The two Tier storage can be used to put all of your extra contraptions and little conditioning gimmicks in one place. The Rogue boxes can be a varying height and stacked to provide you with more space for sandbag training. This gym will cost you about $26500. Roughly $22800 for the garden room and $3500 for the equipment.

Item list for cardio garden gym
The concept 2 rower is a calssic in cardio training. Train your entire body by rowing away for tie, calories or distance. This is a medium impact cardio exercise which can be done by people of all ages. Great for rehab and the entire family to get fitter.
The Concept 2 Skierg is a new approach fom concept to save space and provide a different form of cardio exercise. It simulates the movement you do in skiing. The most recent Rogue Invitational had a biathlon using the Skierg.
The Rogue Two tier Storage will provide the necessary storage space for this gym. You can fully use it for shelving for dumbbells and kettlebells or other equipment you use for conditioning. Up to you how you want to use it or whether you want to incorporate some more of Rogue's wall storing options.
The Rogue flat pack box is a staple out of the rogue portfolio for pylometric training. You can use it on three different ways for box jumps: It slo provides extra shelving when not used.
No gym is complete without a timer and a white board. Especially in a gym dedicated to cardio and conditioning a timer is a useful addition for TABATA workouts.
The Rogue sandbags can be used for lunges, cleans and carries. In this design you can also move the boxes to one corner to provide a line to walk for carries and other exercises.
Rogue sandbags are a new take on the atlas stone to get some extra strength work into your conditioning. They are easier to maintain than regular Atlas stones and will give the extra edge over the competition by providing you with functional strength development.
The Rogue Echo bike round up the picture to give you your daily kick in the butt. I haven't found a harder machine yet to burn you out as fast as possible when it comes to Cardio.
Pros of the Cardio garden gym
With this design you have many options to train your cardiovascular system and even have multiple training in there in parallel.Filling the space only half with machines leaves more freedom to play around, do little sprints and walks and work on your spatial awareness.
Cons of the Cardio garden gym
This build does not provide any capabilities for heavy lifting or an office. You will working on your endurance and resilience and that is it.