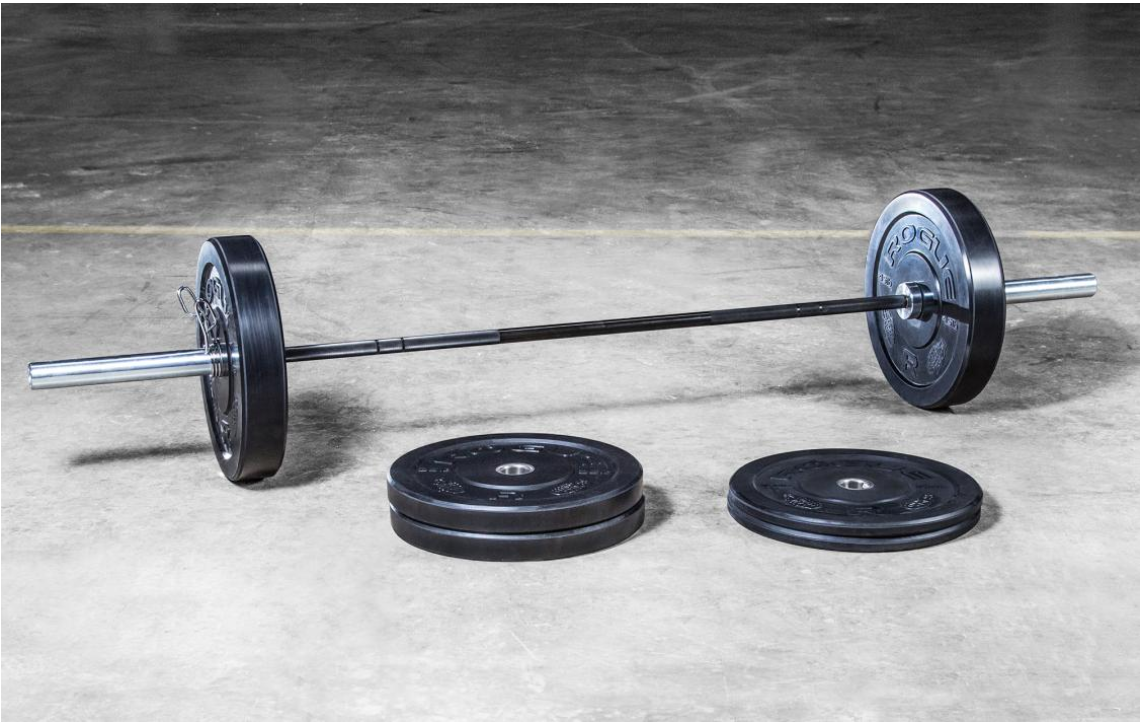 Overview and review of the Charlie Bar and Bumper
The Charlie bar and bumper package gives you 3 different items at a price of $570 to cover your Crossfit needs. Learn more in this overview and find out about alternatives if you don't have the budget or need for such a big pack. This overview has originally been published in "Which Rogue equipment pack to get for an individual".

Related articles
Overview of the bar and bumper
This can build the core to get started with a barbell and get stronger.
Items of the bar and bumper
1) ROGUE OHIO BAR
The Rogue Ohio bar is the backbone of the Rogue barbell portfolio. It is the best value for money barbell you can get from Rogue. It was one of the first barbell models to be produced in Columbus Ohio and has been improved and refined since. You will get 190,000 PSI steel with dual knurl marks for a strong grip. The bar is guaranteed for life against bending or breaking.
If want a different design you can opt for the Froning or Fraser edition of the
Ohio bar.
You can even come up with your own design using the Rogue Zeus customization.
(1) 160 LB ROGUE HG BUMPER SET
Bumper plates
are great because they can be used outdoors and indoors. You can also drop them from overhead with no problems. They will be forgiving to the floor, bar and themselves. The only disadvantages are the design, precision and space requirements.
In terms of design, you get black rubber with the
bumper plates.
That's it. This can make it hard to distinguish between the weight of different plates at times. If you want a bit more color and variety you can look into the color training plates, RR plates,
competition plates
, and
calibrated steel plates.
To keep production cost low the
bumper plates
also have a less strict quality policy when it comes to weight variance. It is more likely for
bumpers
to weigh a little more it less than for
competition plates
and
calibrated plates
. For the general populace, this won't make a difference, but if you train high-performance athletes you might want to look at the more precise options from Rogue.
The last point is the space requirements.
Bumper plates
will take up more space on your storage units for the same amount weight than
steel plates.
Most bars can only take up to 500 pounds in
bumpers
before you run out of space because of the sleeves. If you have a lot of beasts in your gym who make the bar bend, go for steel instead of
bumpers
.
(1) SET OF SPRING COLLARS
Spring collars are a standard all around the world. They keep your plates in place when you go heavy or drop from overhead. The only things to consider are that they will scratch your bar more than HG collars and are inconvenient to get on and off the bar.
Pros of the Charlie bar and bumper
The
Charlie bar and bumper
is very cost-efficient to get you started on your barbell movements at home. You have a set of
bumpers
and a solid bar to get cranking.
Cons of the Charlie bar and bumper
The
Charlie bar and bumper
is a little light on the weight with 160LB for my tastes. If you are a very small athlete this is enough, but if you weigh around 90 to 100kg and you are not a complete slob, I would recommend to get more plates instead of paying twice for shipping.
Alternatives to the Charlie bar and bumper
Alternatives are the
Summary of the Charlie bar and bumper