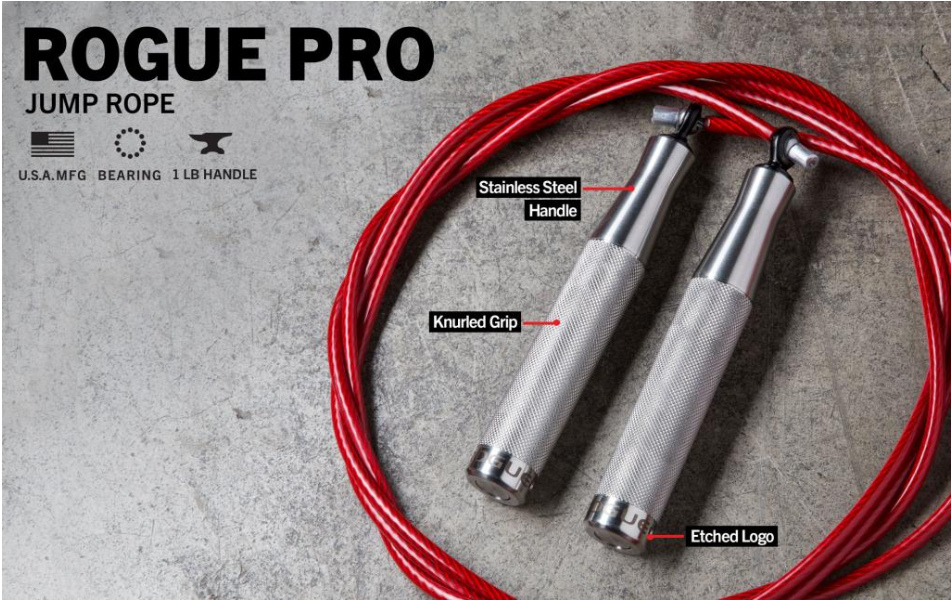 Overview and review of the Rogue Pro Jump Rope
This is an overview of the Rogue Pro Jump Rope which comes in at $129.50. You will see the pros and cons of this jump rope and also learn more about other Rogue Models. This article was originally posted in "Which jump rope to get from Rogue".

What else to consider from Rogue
Overview of the Rogue Pro Rope
The
Rogue Pro Jump Rope
is the best you can get from Rogue. It combines the benefits of a
heavy jump rope
with the speed of a speed jump rope. This is also reflected in the price. The specifications for this jump rope are:
Made in the USA

Weighted Jump Rope as Seen in 2016 CrossFit Games

Cable: 5.5mm, heavyweight, red-coated

Handles: Stainless Steel, 25MM diameter

Weight: 1LB (per handle)

Total Weight: 110" rope is 2.5LB - Each 5" increment increases/decreases total weight by approximately 0.025LB

Knurled Grip

Etched Rogue branding

Bearing system with swivel design

Recommend the 5.5MM Replacement Cable Kit
Pros of the Rogue Pro
This is what has been used in the games in 2016. If you want to get stronger and faster at the same time, this is the rope to get. It might be the fastest, but it is definitely the fastest
heavy rope
you can get your hands on.
Cons of the Rogue Pro
Price.
Alternatives to the Rogue Pro
The
SR3
jump rope is the bread and butter model in the CrossFit community. If you are annoyed with the jump rope from the local shop and want to start with double unders, this is the one for you. It is part of many of the Rogue equipment packages and can also be bought in bulk to outfit an
affiliate
or college gym.
The
SR1 jump rope
is an alternative to get a bearing jump rope on the cheap. The
SR1
also has bearing to make the rope run smoothly but the handles are not made of Aluminium. This makes them lighter and more cost-efficient at the expense of being easier to break.
Summary for Rogue Pro
If you have the money to spend and don't have weightlifting shoes yet, this is the one to go for. If you want a fast
heavy rope
, have fun with this.