What you should consider if you travel to the Dublin marathon
I've run the Dublin marathon in 2013 in 3:58. Here are some tips for you if you consider to go Eire to run your next marathon. Expect to be beaten by an Irish dick... at least if you ran the Dublin marathon in the eighties. Current track record in the male category stands at 2:08:33 by the Kenyan Geoffrey Ndungu and at 2:26:13 for the ladies held by Russian madame Tatyana Aryasova. You will most likely face temperatures between 8 - 12 degrees and a drizzle somewhere along the course.

Book your place in the marathon
The Dublin Marathon is an open event. You do not have to prove that you have run a certain time, run for charity or won a certain competition as with other events on the calender. You can only enter the Boston marathon if you have run a 3:05 marathon within a year beforehand or run for charity. As it stands you will also not have to go through a lottery for the places, as it is the case with the London and New York races. You can book in via http://sseairtricitydublinmarathon.ie/.
The entry fee for 2015 is
70€ until 31st of July
80€ until 31st of August
90€ until 1st of October
You must be 18 or over to enter the race and do not be silly and try to cheat by going on segway, inline skates or skateboard. All of these things are not allowed on the course. The entry fee is non refundable and you will collect your race number at the Expo on the day before the race.
Book your flight in time
For me personally if I want to run a marathon I start booking and getting everything in line 6 months before. This is also where training starts. It will give you the kind of commitment you need to make it through a marathon plan, which can be very tough at times. This way you will also save your money for nice things like a new pair of runners and ensure that the nicest hotels are still available for your entourage to stay in.
If you are flying in from the east coast of the states it will take you roughly 7 hours to arrive. From the west coast 10 hours . Most inner European flights to Dublin do not take longer than 2 hours. You will arrive in Dublin Airport.and if you come with Aer Lingus you will be most likely entering through terminal 2.
Plan the return for one day after the marathon
If you do fly in to run the Dublin marathon give yourself at least one day. I found that way more enjoyable than flying on the same day. When I did the Frankfurt Marathon I had the return flight booked on the same day whereas at the Vienna marathon I left one more day to recover and it was the better choice.
Especially if it is your first or second marathon better avoid putting yourself under the stress of having to get a flight the same day. A marathon is challenging enough never mind having to perform in a certain time to get a flight. If you are an experienced runner who travels with a club, be my guest. Than you are of that type of people who can predict their time very well, have a lot of experience with running and races and therefore will not feel the stress of a newbie from the spectacle.
Get your visa
If you are coming from a membership country of the EU are fine. Also most of the tensions between northern Ireland and Ireland are long gone. One thing less to worry about. If you are coming from the United States are from Africa, make sure that you have a valid visa to stay in Ireland for the time of the Marathon.
Pick a hotel near the starting line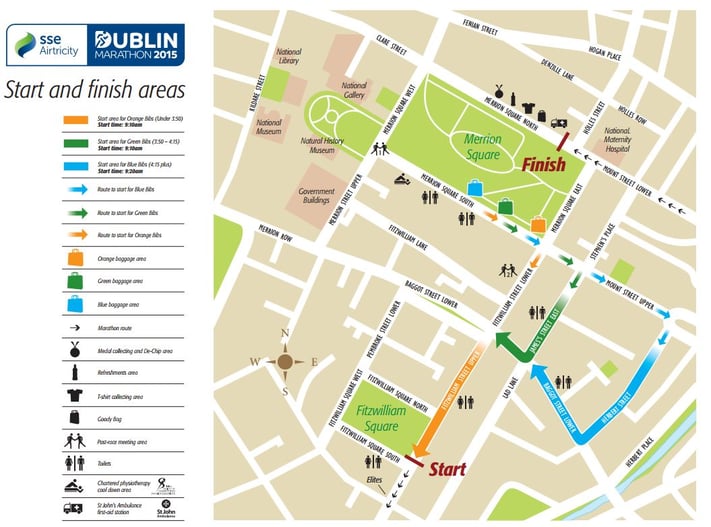 The Start of the Marathon is at Fitzwilliam Square and the finishing line at Merrion Square. The streets will be packed with runners on the day of the race, so pay attention to pick a a place to meet. It will be full of people and hard to find each other in the crowd. A mistake I made in Vienna, as at my first Dublin experience which you can easily avoid.
Hotels in the area are
Now tihs is when you want to be close to the action and it might be booked out. If you want to stay in some of the nicest places in town you might want to consider the top rated five star hotels in Dublin on trip adviser:
All in all I preferred being close to the action, because it minimises problems of getting to the starting line in the morning of the race in a town that you personally do not k now that well.
What temperatures you can expect
Just to be thorough here are the temperature diagrams for the last thirty years of the nearest weather station to the Dublin Marathon. The good news is that the race takes place in late October which is usually subject to a slight upswing in temperature for autumn.. You will most likely face somewhere between 8 - 12 degrees Celsius which translates to 46 to 53 degrees Fahrenheit. Have a plastic bag ready to put over yourself.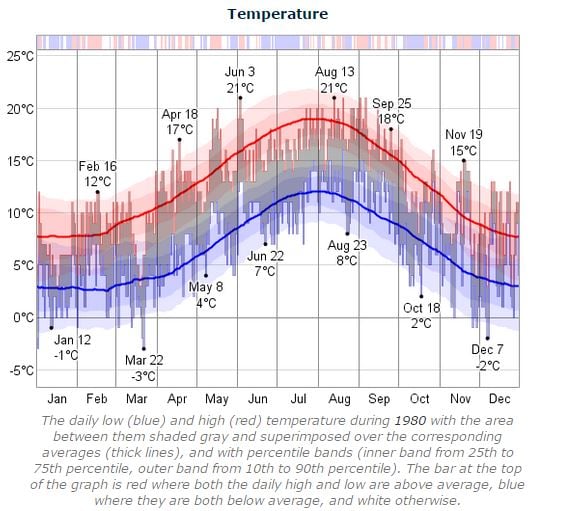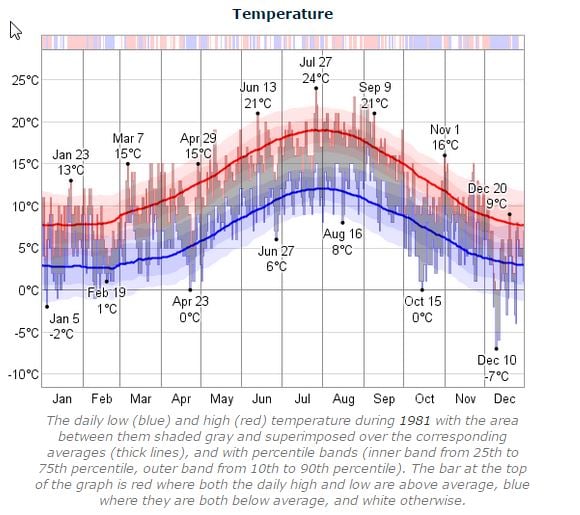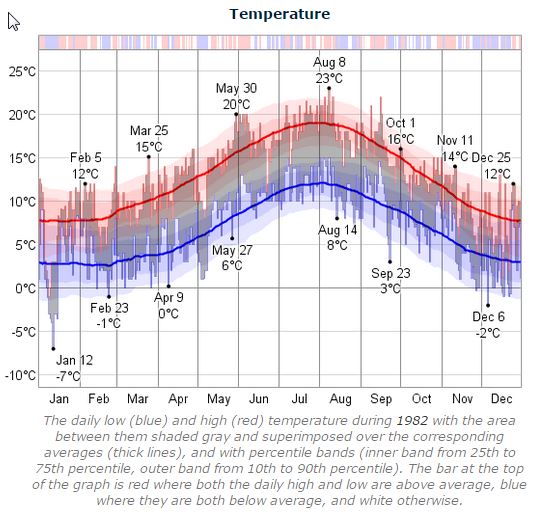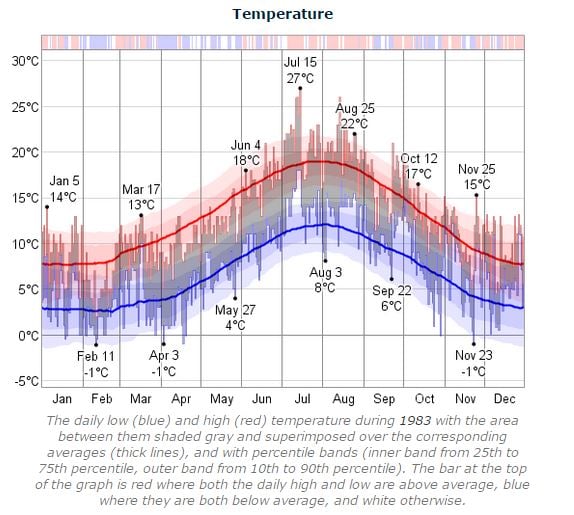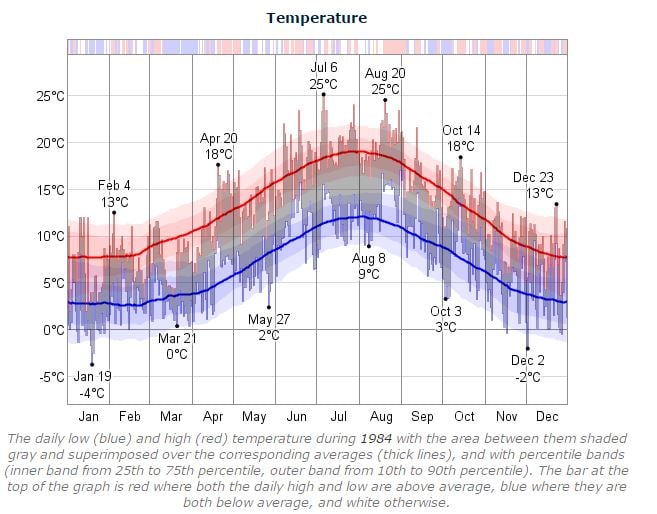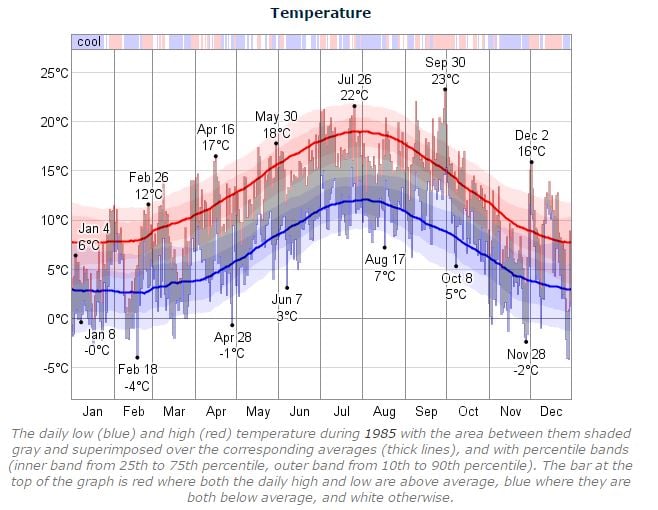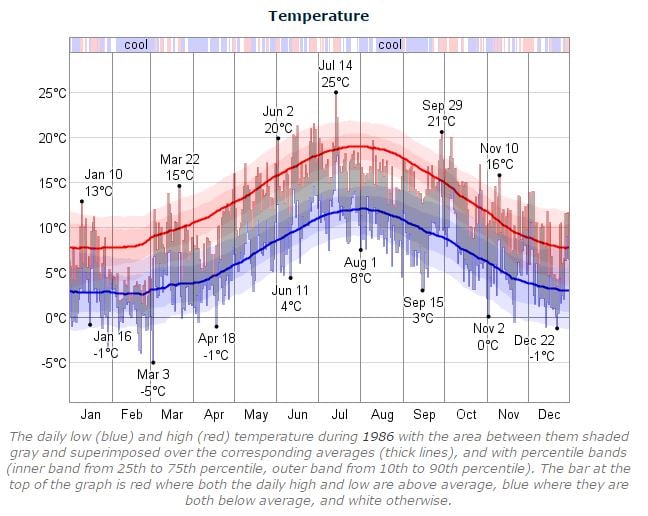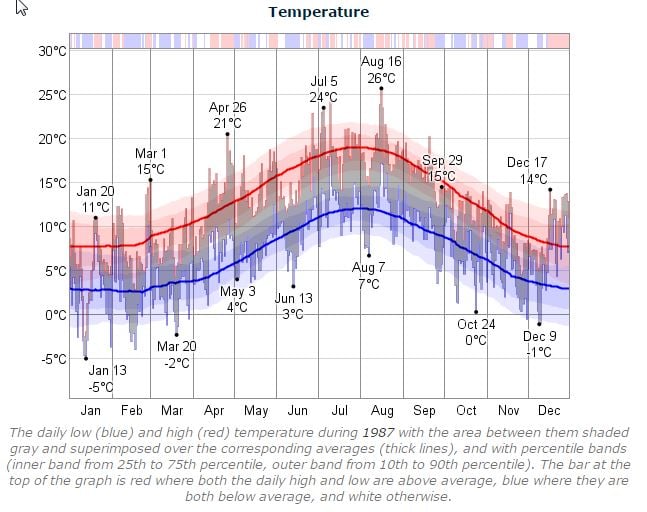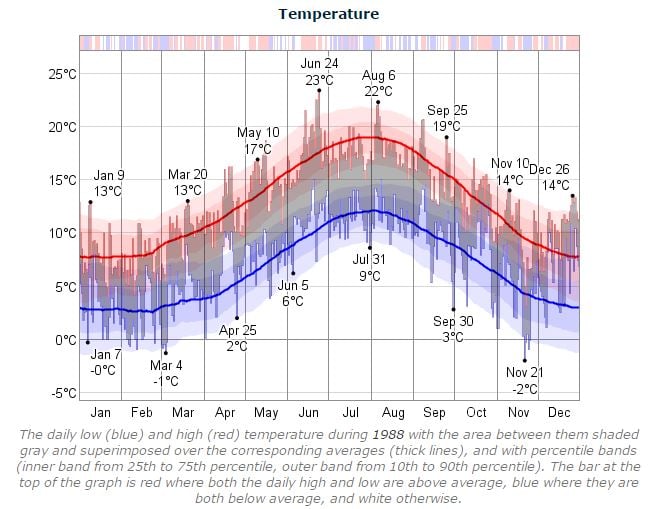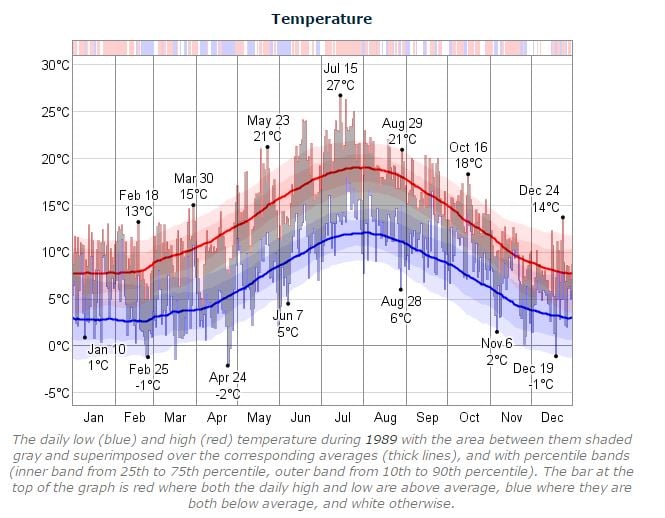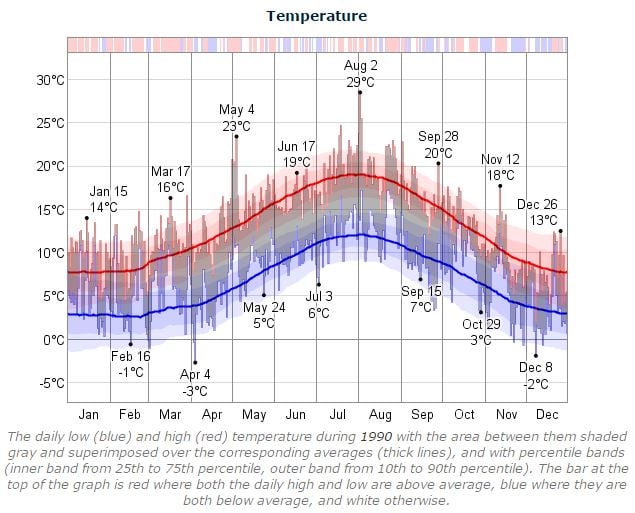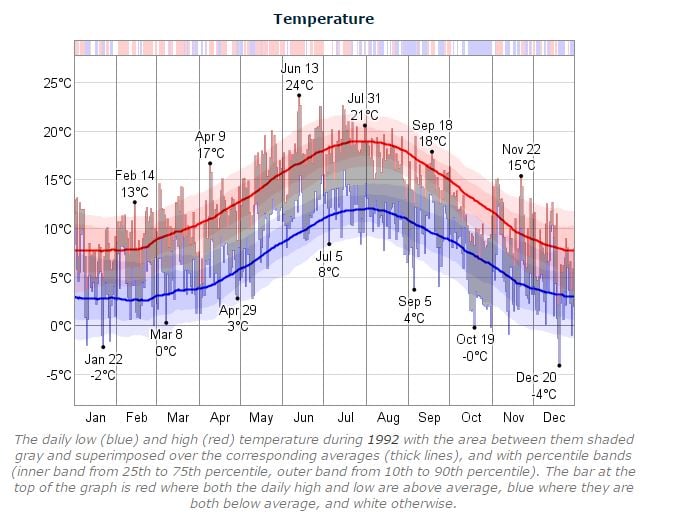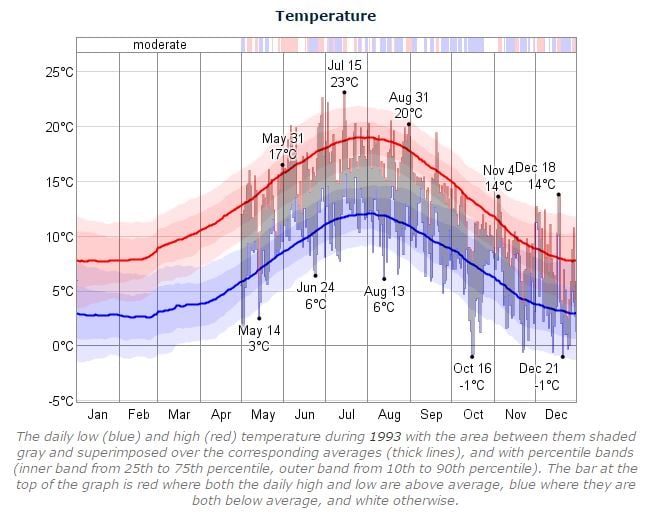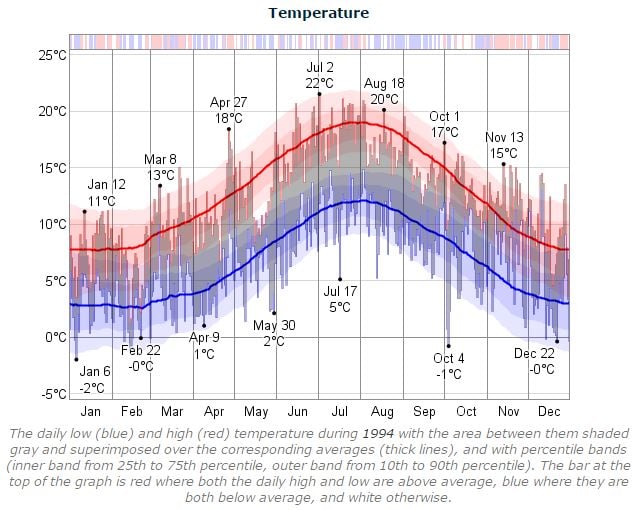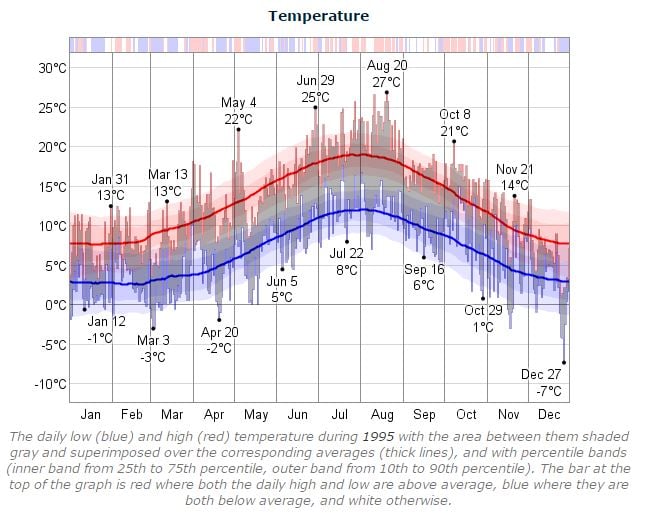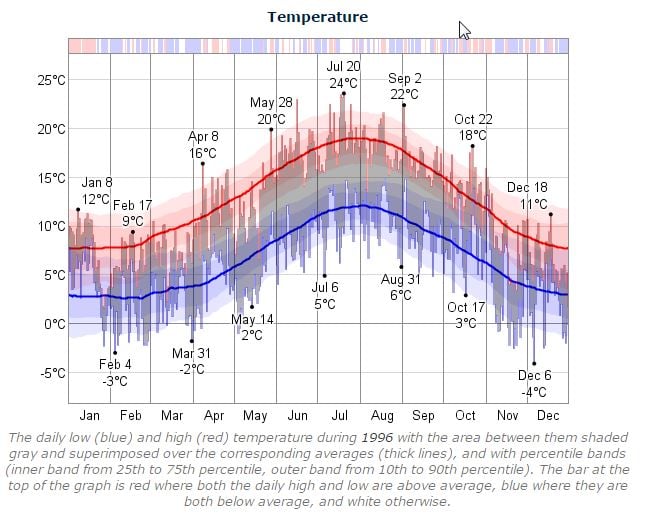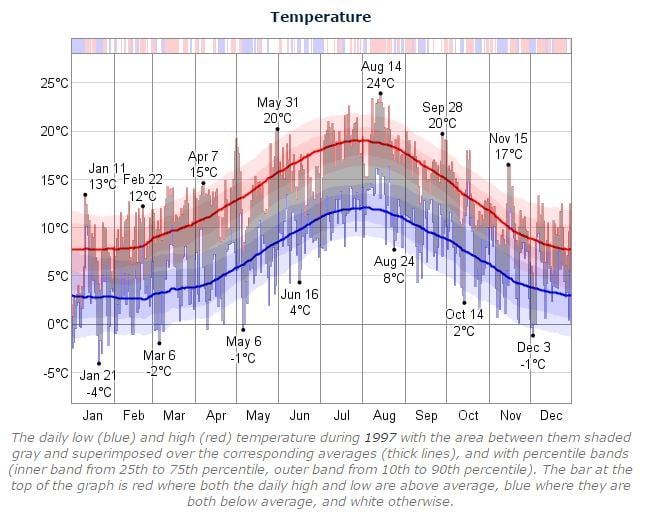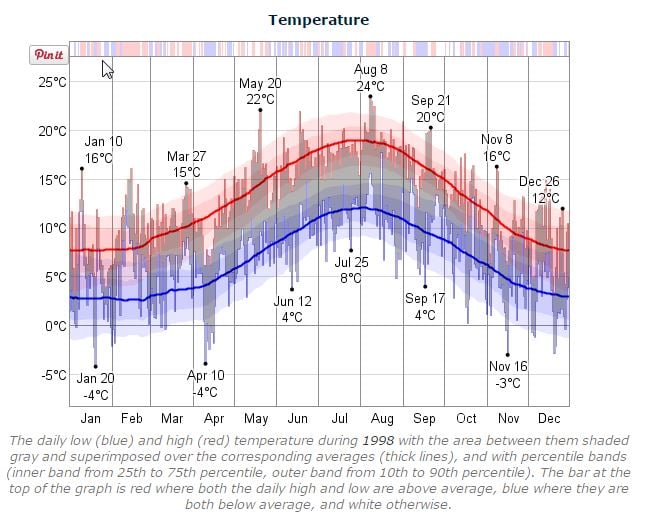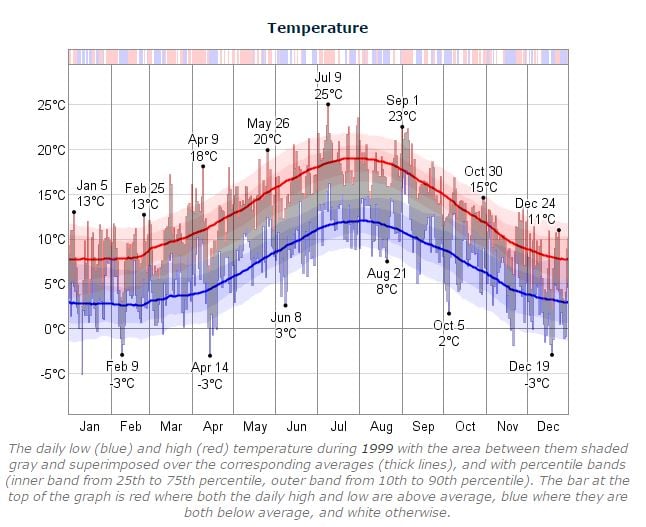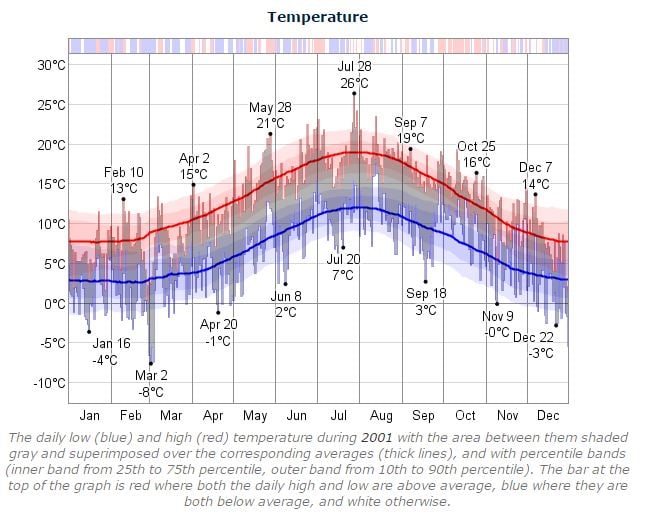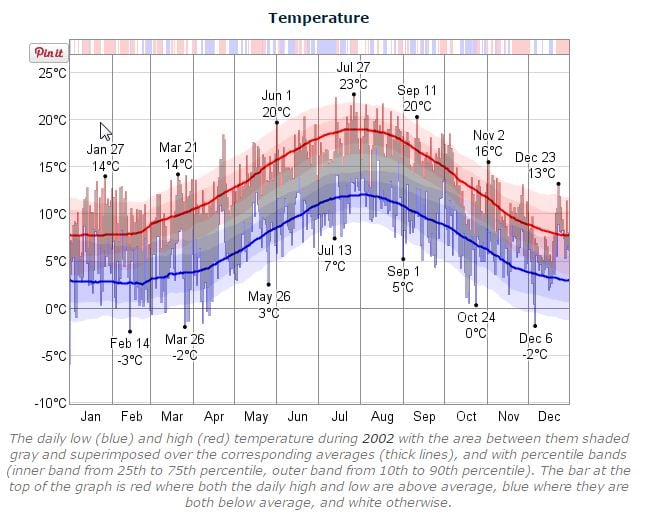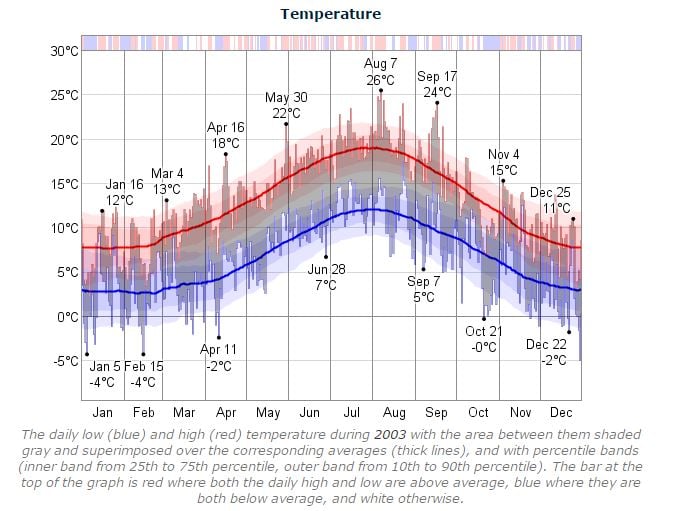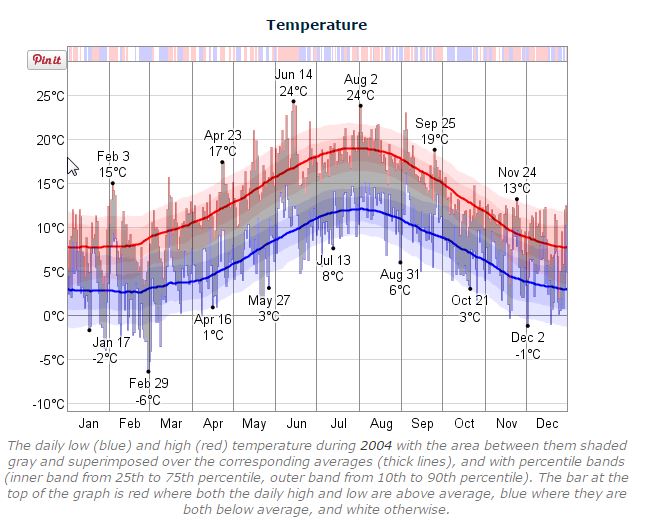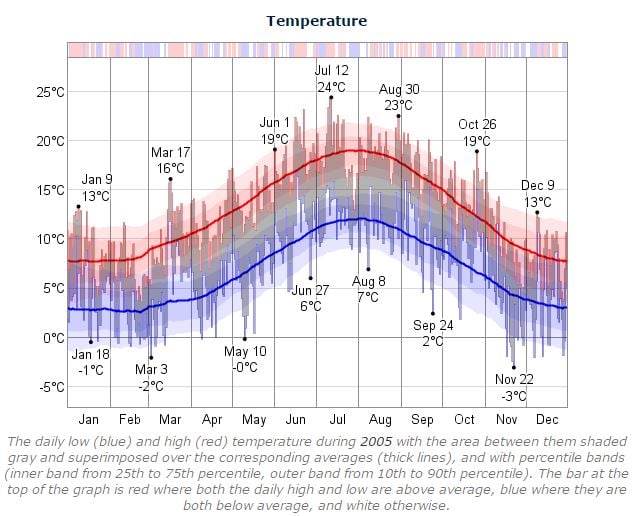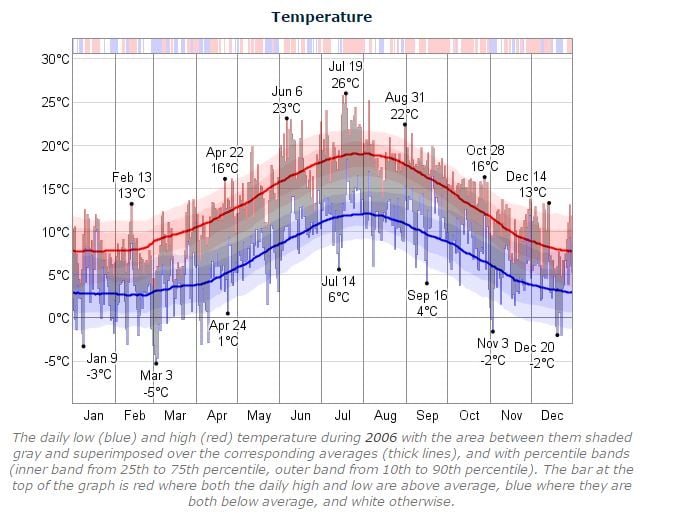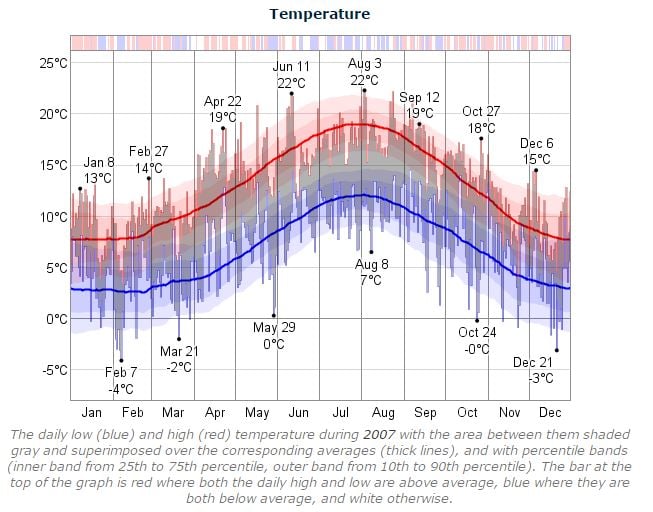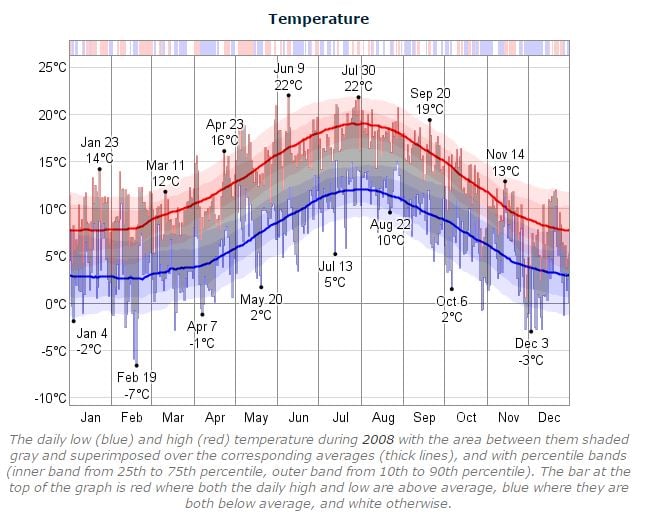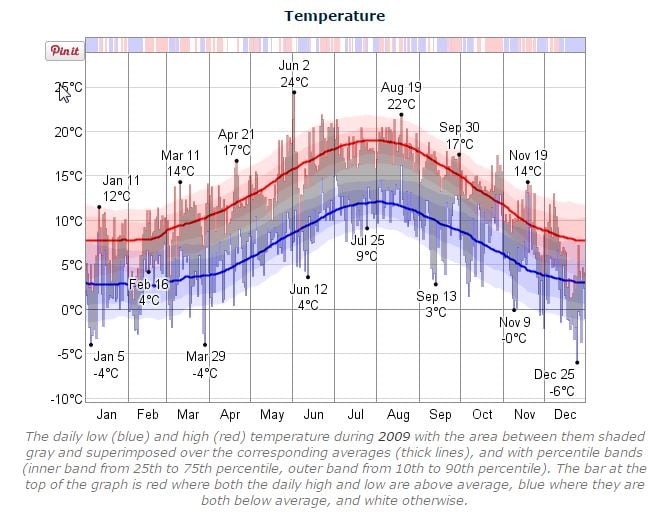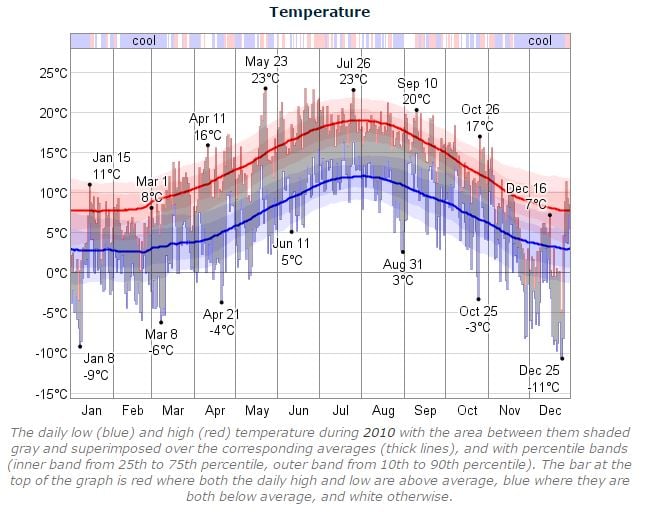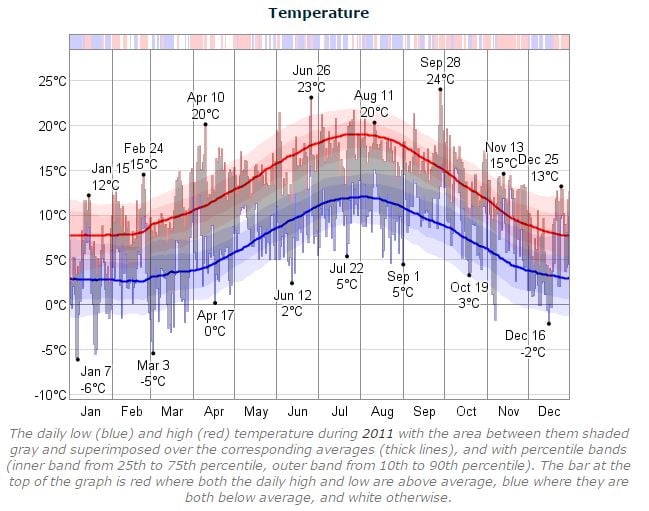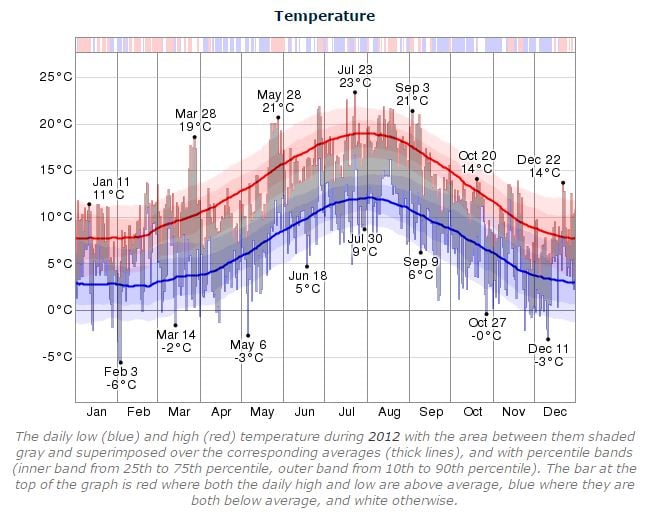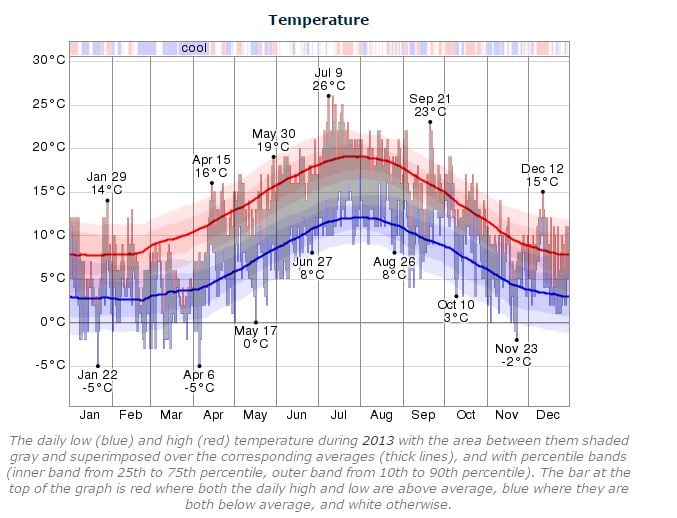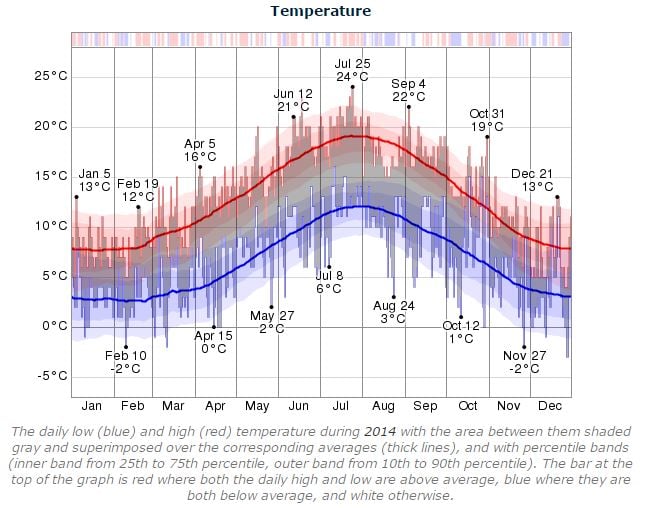 You probably need to prepare for rain
Generally no surprise when going to Ireland that you should prepare for rain. As Eire is one of the first masses of land which the clouds of the Atlantic hit and it is quite far north it is usually damp, cold and rainy. I have been living here for five years and that is just how it is. The times I have been to the races of the Dublin race series though, so far, I have been able to avoid the rain in most cases. Still historically there seems to be one day of around the clock drizzle in Ocotber which is usually in the third week of that month. As this coincides with race day you should get some rain gear ready for your bag. Check the reports from the last 30 odd years to make up your own mind.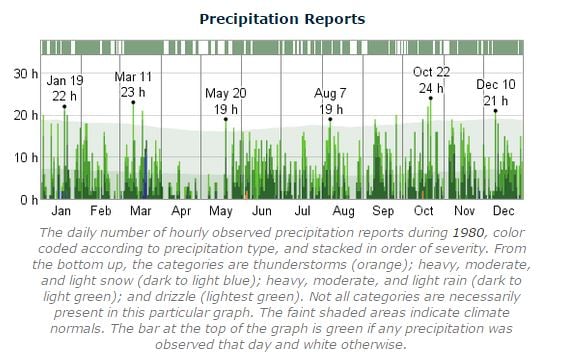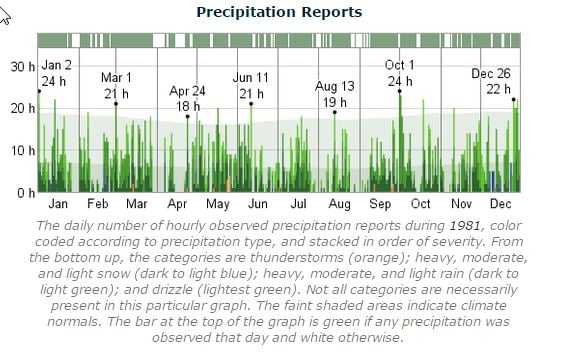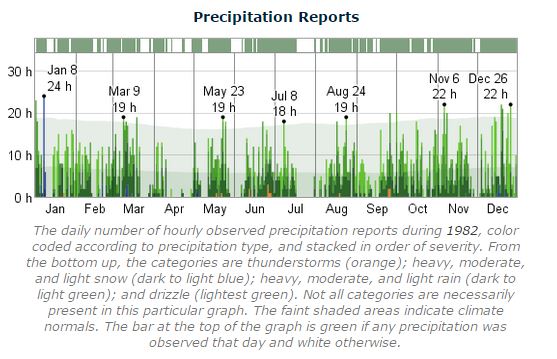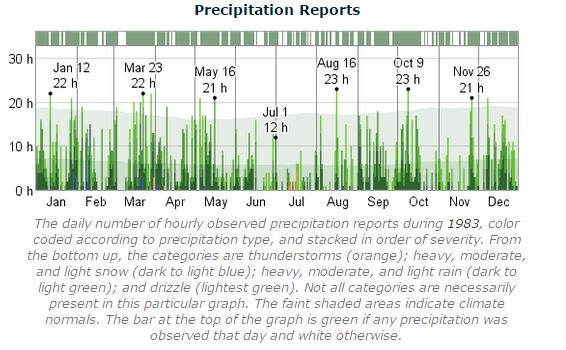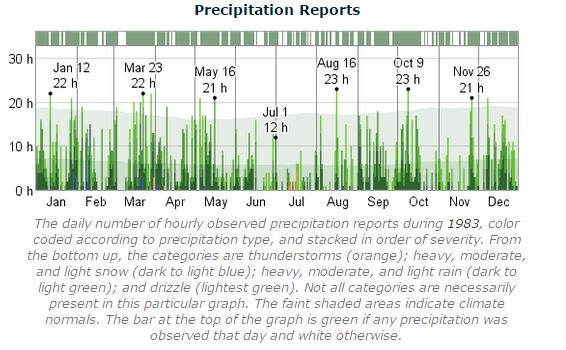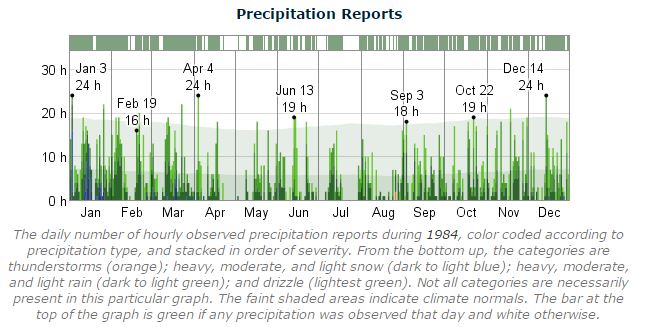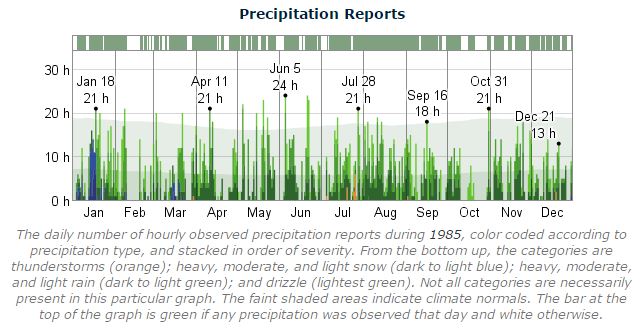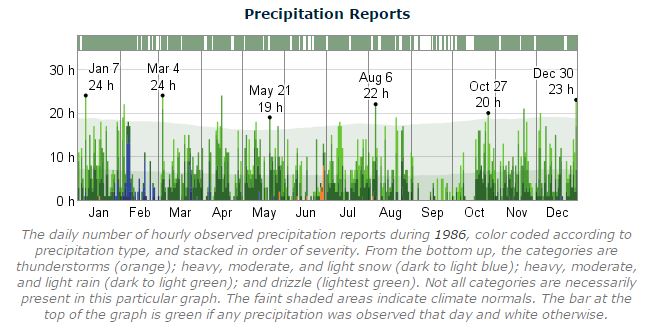 What time can you expect ?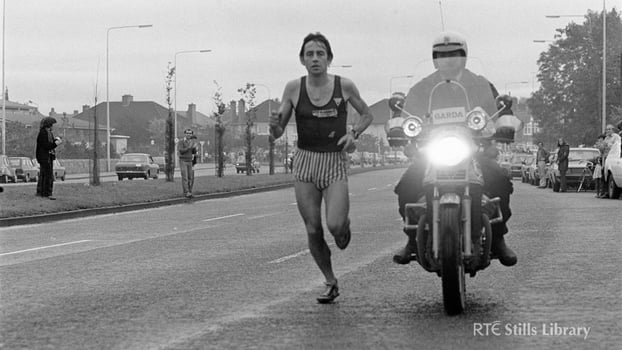 In total the Dublin marathon is not a fast course. It is about 5 minutes away from the fastest marathons being run at the moment. Berlin seems to be always a strong candidate and Boston, although the times run in Boston officially do not count, because the track is too much downhill.
1980 Dick Hooper 2:16:14
1981 Cusack Neil 2:13:58
1982 Jerry J Kiernan 2:13:45
1983 Runey Agten 2:14:19
1984 Svenderik Kristensen 2:18:25
1985 Dick Hooper 2:13:47
1986 Dick Hooper 2:18:10
1987 Pavel Klimes 2:14:21
1988 Andy Haynes 2:12:57
1989 John Griffin 2:16:44
1990 John Bolger 2:17:17
1991 Tommy Hughes 2:14:46
1992 Jerry Kiernan 2:17:19
1993 John Treacy 2:14:40
1994 Steve Brace 2:17:13
1995 William Musyoki 2:16:57
1996 Joseph Kahugu 2:17:42
1997 Joshua Kipkemboi 2:15:56
1998 Joshua Kipkemboi 2:20:00
1999 John Mutai 2:15:18
2000 Simon Pride 2:18:49
2001 Zacharia Mpolokeng 2:14:03
2002 Frederik Cherono 2:14:25
2003 Onesmus Kilonzo 2:17:03
2004 Lezan Kimutai 2:13:08
2005 Dmytro Osadchy 2:13:14
2006 Aleksey Sokolov 2:11:39
2007 Aleksey Solokov 2:09:07
2008 Andy Naumov 2:11:06
2009 Feyisa Lilesa 2:09:12
2010 Moses Kongogo Kibet 2:08:58
2011 Geoffrey G. Ndungu 2:08:33
2012 Geoffrey Ndungu 2:11:09
2013 Sean Hehir 2:18:19
2014 Eliod Too 2:14:47
Transport into town when you arrive
Presumably will be able to afford a 20€ cab to city center which I would recommend if you have booked a hotel to be delivered to the front door from the airport. You can also take the 747 bus which will drop you at O'Conoll Street to get to town. The 747 leaves from Terminal 1. Taxi ranks can be found at Terminal 2 as well as Terminal 1. There is no train connection to the Dublin Airport as of time of writing (irish city planning at its best), but when you come in from other parts of Ireland the best station to get off and walk is Pearse Station.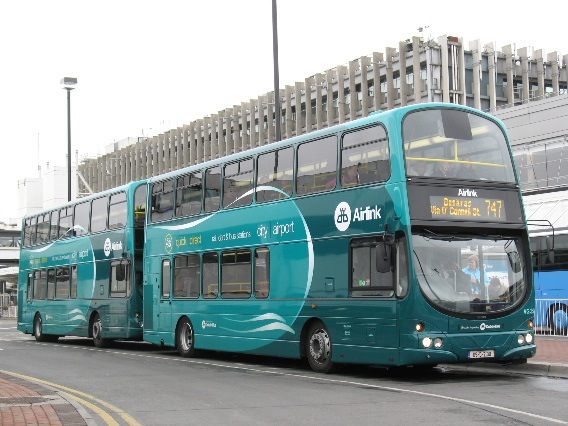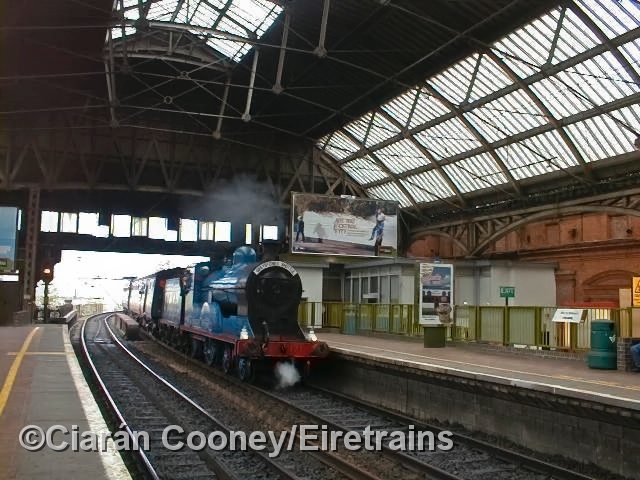 Getting to the expo the day before
The marathon expo is the place where you will collect your bip for race including your chip to measure your time. These things are designed to sell you as much stuff as possible. The ticket booth is usually at the very end of the hall, so that you have to pass all the exhibitors. Resist the temptation to buy anything for race day. Everything you will use should have been tested beforehand, unless it is a product you know and have used to your own liking. If you want to treat yourself for some stuff for your next race you might get a bargain on something you have planned to buy for a longer time (for example a pair of skins, like I did).
The ex po itself takes place the two days before the race. You can find details on the official expo website. The venue is at the RDS in Dublin which can be reached by car or taxi. Details to get to the RDS. If you coming by train, as the official website currently omits this information, you take the train to Connolly Station and then take the Dart to Sandymount. Get off at Sandymount and it will be a 8 minute walk to your final destination.
Get your runner's bag set
At the expo you will get your runner's bag. Place the tag on the bag and put anything in there which you will need after the race. List of recommendations:
This will help you when you finish and feel exhausted and also sets you up to be able to communicate with your family / friends for pick up. Take care that your phone is charged before you it in the bag. Remember that Ireland might have a different plug from your one (UK not European). Get one of the adapters from the hotel reception, which is not a safe bet, or at the airport when you arrive.
Expect to be slower than on your home turf
From my experience i recommend to adjust your expectations for race day slightly down if you are an amateur and traveled far to get to the marathon. It is unlikely that you will perform at your best so far away from home turf and in a different climate. If you are a very experienced runner (5 years+) i think it is fair to assume that you have traveled to races before and can cope with the stresses. Here still keep in mind that Dublin is a slower course as Berlin and adjust your expectations accordingly.
Prepare yourself for a hilly course
The course is quite hilly in my opinion especially around mile 9 in the phoenix park. If you get the opportunity run the Dublin half marathon in the race series to practise for this part. Water stations are all around the course and also plenty of opportunities to take a bio break if needed. There is also a risk to overpace on the first 6 miles as you have space, a lot of runners around you and just straight going once you are in Phoenix Park.
There will be no dirt, so if you have run a city marathon before, you will know how the surface feels. In addition not a lot of cobblestone, if at all (sorry I can not remember exactly how much cobblestone it was in Dublin, but in Frankfurt & Vienna there was considerably more).
Watch out for the "Chuck Norris never ran a marathon sign"
This was the best in 2013. Small, succinct and so powerful it helped my to get through the day. If you need some inspiration to get you thorough the race or if you found this post as someone who is traveling with a beloved husband/wife, you will find plenty of encouragement on this pinterest wall for runners