How to travel to Vienna and run a marathon
The third instalment of my journey to a sub three hour marathon time ended up with a great trip to Vienna with my girlfriend and yet another disappointment time wise. I finished my first marathon in Dublin in 3:56, the second in Frankfurt in 4:06 and Vienna in 4:12. Here are tips for what to do in Vienna to enjoy your time, what I learned in Vienna and how the race went.

You should do a carriage ride on the first day and learn about the composers
The carriages start from Michaelerplatz. There are plenty of attractions around the area, but the Fiaker will give you a nice tour of the inner city pointing out several landmarks to visit. The tour is 80 euros for 40 minutes or 110 for an hour. We opted for the latter and thoroughly enjoyed our time. Best part of the trip. The recommendations we got were the Figi Müller for the best Wiener Schnitzel in town, the Café Central to have very good coffee with a newspaper in any language following the trials of Sigmund Freud, the best ice cream in Vienna at Tuchlauben and the best wine at Villon wine cellar.
I can not report if all of these recommendations were up to standard, as we did not have the time to check them all out and the wine cellar was closed on Sunday evening. But the ice cream at Tuchlauben was the best I had so far in my life. After pizza, Austria now also claims the best ice cream and dessert that I had in my life.
I learned that Mozart was not able to pay his rent and moved to the next place he could leech on as soon as the ice got thin, while Beethoven rented out several apartments next to each other to compose without disturbing his neighbours because he turned deaf. In addition we were informed that Schubert lived in Vienna with his three sisters im "Dreimäderlhaus".
We did the ride on Sunday, two days in to the trip, but I think it would have been way better placed on Friday after we arrived to give us a great general overview. I like the hop on, hop off bus tours to get orientated and this is the luxury version of this including your personal tour guide.
My partner especially loved that the Fiaker cracked his whip at the pedestrians who got in our way so that she felt a bit like royalty. "Move aside peasants here I come".

Time travel with the Habsburgs monarchs
On Saturday we went to the Time Travel event which is a bit like a theme park ride mixed in with historical facts. I learned about the plague in Vienna, the attack of the Turks that the Viennese won, "Kaiserin Sissi", Johann Strauss, Mozart and the Second World War.
Especially the bit about the second world war was done very well as you are led into a bunker which vibrates and gives you at least a bit of the taste how terrifying it must have been back in the day.
The introduction to the Habsburg family tree and their background, including Franz Josef who died during the First World War in 1916, Sissi who got assassinated by a man in the streets with a file which killed her afterwards ( a fact I did not know) and empress Theresa who had 16 children and modernized Austria in the 17th century was a great base for our next stop in Schloß Schönbrunn.
The tour of Schönbrunn showed us the bed of the empress which had just been renovated with embroidered gold, the ball room and many candles the residence had to entertain. Apparently there were 200 servants only for the candles to be lit and kept in check.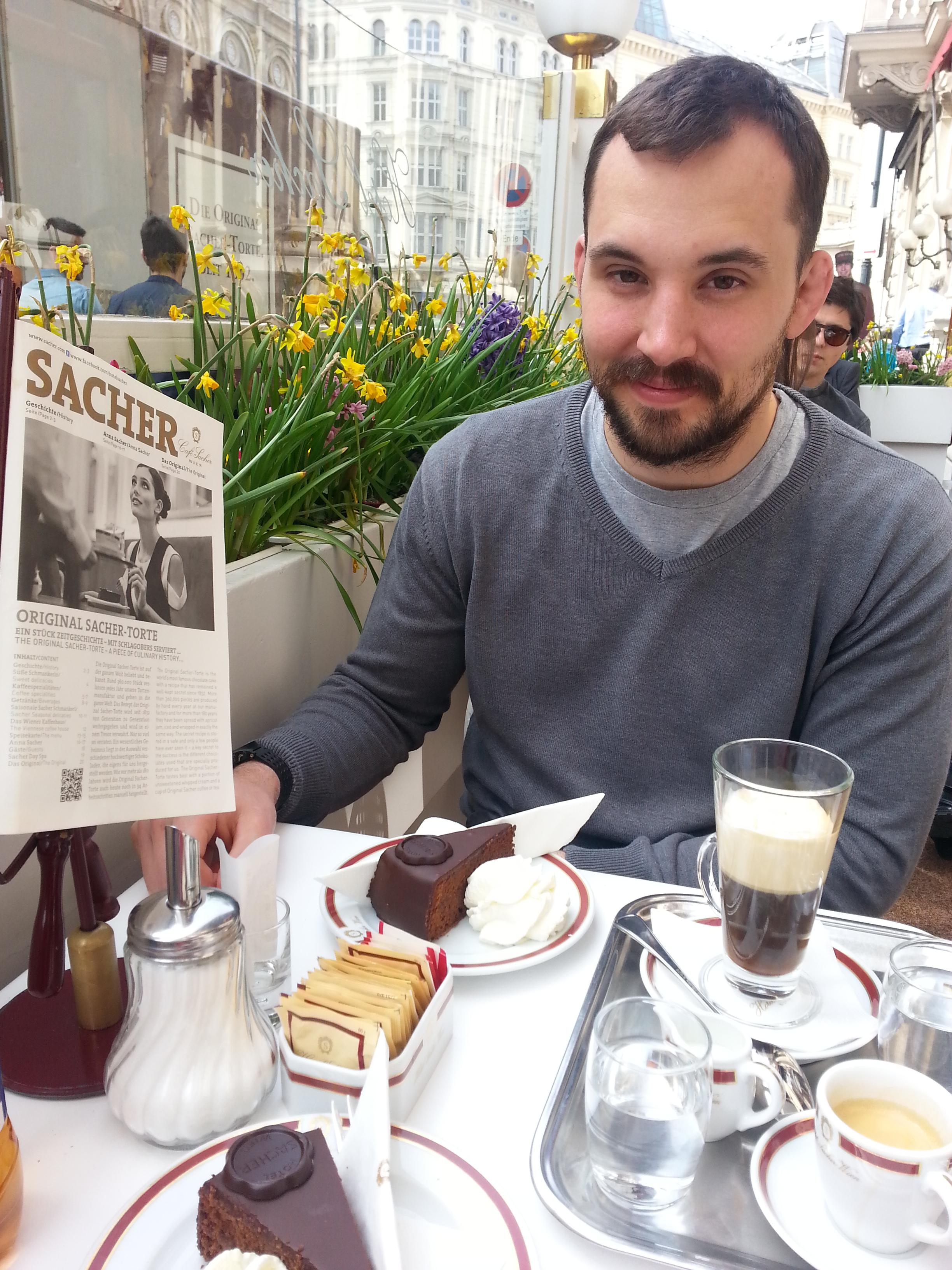 Hotel Astoria was a good choice for the marathon package, Cake and dumplings for desserts
Hotel Astoria is very central and a lot of the major sites are within walking distance. Heldenplatz, where the marathon finishes is about a ten minute walk. The opera house is just out of the door. The city park takes also about ten minutes by foot to get to. Stephansdom can be reached in three minutes and the casino is across the street, if you fancy this. I am proud that I do not feel drawn in to that establishment any more. There was a time where I could not have resisted the temptation.
The room was clean and spacious and staff was friendly and helpful with all of our requests. Generally the Austrians were very forthcoming and friendly whenever we needed something.
If you are in Vienna have cake, lots of cake. Even though it is deemed to be a bit pricey by the locals, but you can have a "Wiener Trio" at the café Mozart which gives you a taste of the three most famous cakes of Vienna in one go.
Coffee will be presented to you with water. The best dessert I had was in the restaurant "Kuckoo" where I had strawberry dumplings. They took a while, but they were freshly made, warm and gone in a heartbeat. Best dessert ever.
How I ran the Vienna marathon
The journey started in November last year, when I decided to get in one 3:30 marathon in the beginning of the year working my way through to a sub three marathon time in Dublin 2015. Booking the marathon package together with the Hotel Astoria I left it at that and thought everything was fine. You should always read the fine print. I forgot to use my voucher which is part of the package to book the actual marathon ticket. I had until 27th of March to check and use it, but of course I logged in after Easter to make final arrangements to realize that I messed up. A few calls later talking to very helpful Austrians at the hotel and the organisation crew of the race I got one of the numbers of a runner who pulled out. So now I was a 57 year old Austrian named Pascal Landshöft with the starting number 8933. Crisis averted.
As many other runners I did my 20 minute run the day before in the Vienna city park, which was close to the hotel. I felt good after this run and confident for the next day. The weather forecast was good and it held to be true.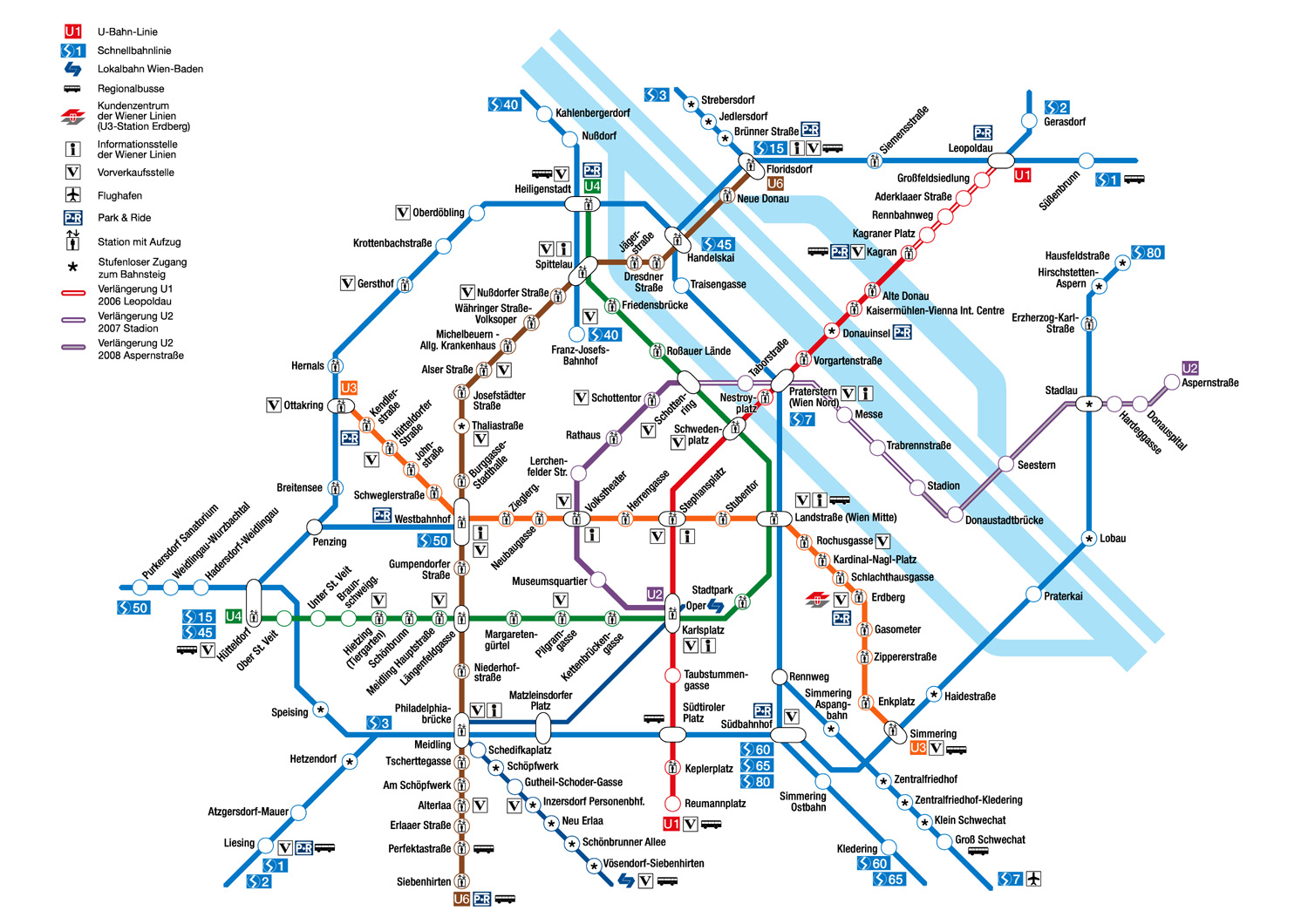 The Vienna marathon was well organized. The starting point is on the other side of the Danube across from the city center. You can get there easily by public transport using the U1 stepping out at Kaisermühlen Vienna International center stop. The bag drop was arranged with lorry transport, as this marathon is not a circle starting on the other of the Danube and finishing right in the heart of Vienna at the "Heldenplatz" )literally place of heroes, how cool is that ?) My starting block was number three called Adidas. In total there were five starting groups. The Elite runners started five minutes before the field. At 9:00 waves one and two got the go ahead followed by my blog at 9:10 together with block 4.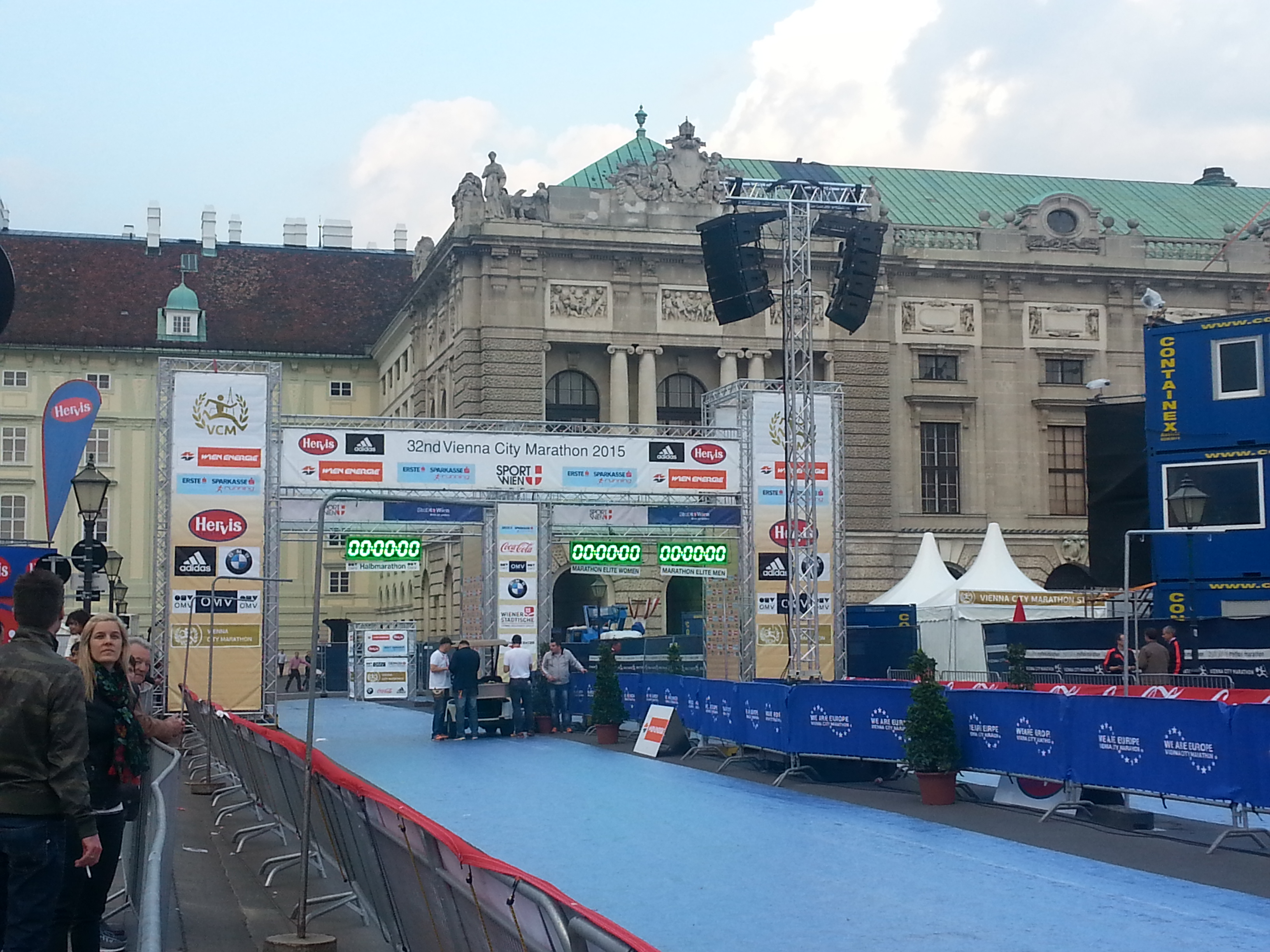 The view was stunning and I went for a good start keeping my plan of 5:05 on the kilometre until kilometre 32 and speed up or stay at that to finish between 3:30 and 3:40 or even beat the 3:30 mark if it was a good day. Three kilometers in I had to take a first break to empty my bladder, which was ok and did not harm my time. Still I had to make up for it a bit and deviate from the plan slightly. I cruised along until I pumped my fist at one of the cheerleading groups and lost my bib. That was another four minutes down the drain, where I had to get it fixed again and another round of two under 4 kilometers to make up for the time lost.
Nothing major, but these little things add up, which we will come to at a later point. I came to the half marathon mark 4 minutes behind plan, as I planned to get in at 1:41 and was around 1:45. Here I had to stop again at Café Landtmann to do a number 2 which took forever as a guy took about 6 minutes to get ready on the toilet.
Back to join my fellow runners heading for the finishing line I managed my water and energy intake by getting a bottle of water or energy drink alternating every five kilometers. I stuck around the 5:05 to 5:10 mark until kilometer 30 but starting to fade towards the 5:30 subsequently. At kilometer 32 I bumped it up again to attack at least the 3:40 mark as I was already way behind plan and to finish the last 10km in 50 to 60 minutes. I kept that up until the 35 landmark and then had a stinging ache in my upper left leg. That was the end of running and I was back again as in my other marathons to walking, hobbling and shuffling to the finishing line. That was quite annoying and also let to mental defeat.
Sisay Lemma won the race in 2:07:31. The defending champion Getu Feleke had to pull out with a muscle injury just before 17km. I was him all the best in his recovery but it also shows that even the pros have to respect the distance and that not everybody finishes.
It was also good to see that (sometimes) the Europeans are able to beat the Kenyans in long distance running. Maja Neuenschwader from Switzerland won the race in 2:30:09 just about ten seconds ahead of place two and three, Agnes Mutune and Esther Chemtai, both Kenyan. Last year's winner Caroline Chepknowy from Germany finished fourth 2:30:36. Must have been a great finish to watch for the spectators.
I was glad when I finally reached my girlfriend who was a bit worried because I was later than expected. It is good to have people around who care about you when you finish as I did in Frankfurt when one of my best friends showed up unexpected.
The positive site of the marathon is that I managed to push the break down out to kilometer 35. It happened in Frankfurt around kilometer 26 and in Dublin around kilometer 22. I also improved my pace management considerably keeping on track until 35 if you exclude the few breaks I had to take. If you deduct all the breaks I had this is roughly the same time as in Dublin and Frankfurt.
What I have to work on is my digestive management and diet on race day and the day before. The over indulgence in Vienna did not help, but this a challenge I also constantly face in my training when I do my long runs. Furthermore I should implement more gels. I think the failure of my left leg could be attributed to that.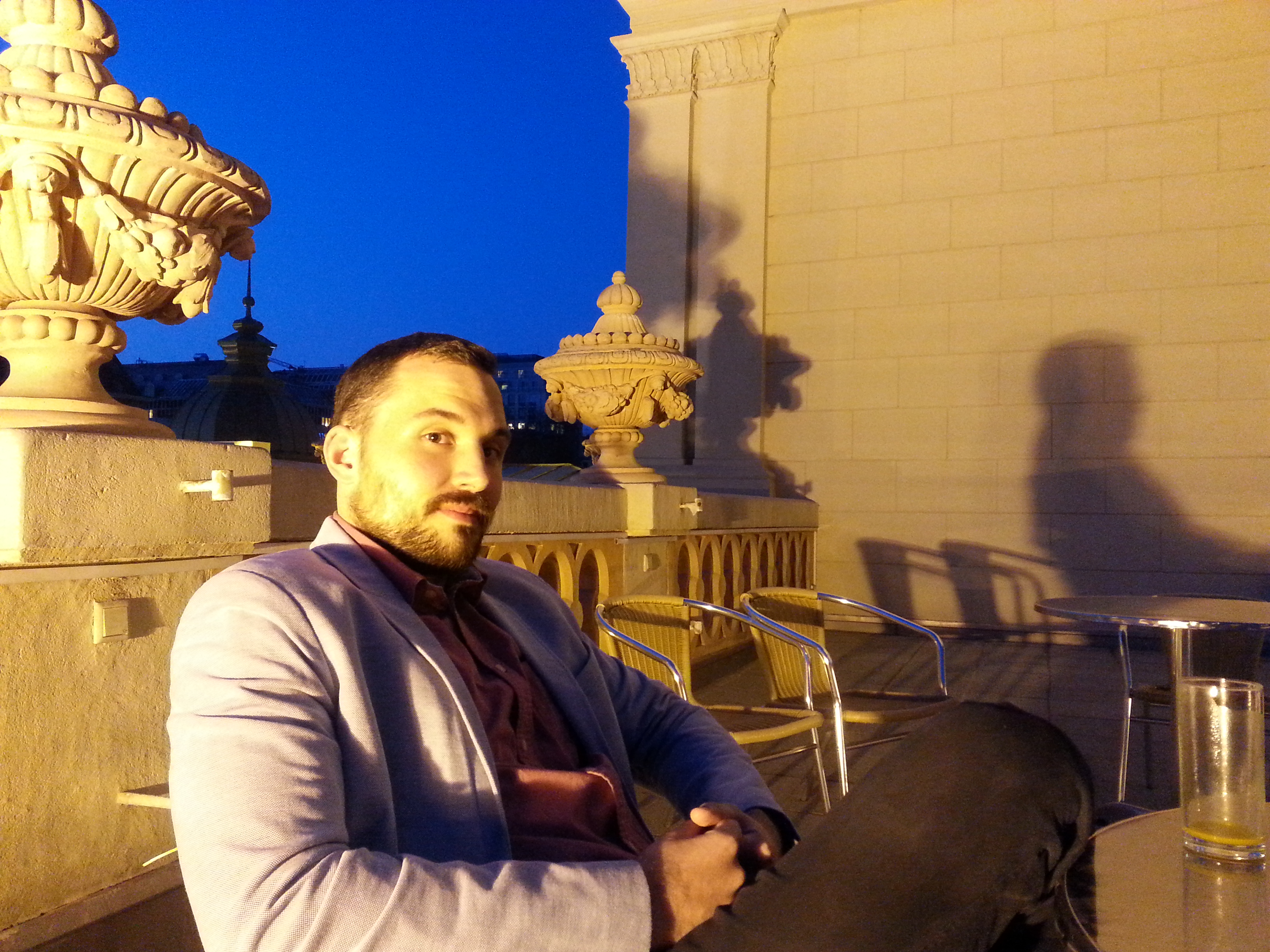 Further reading