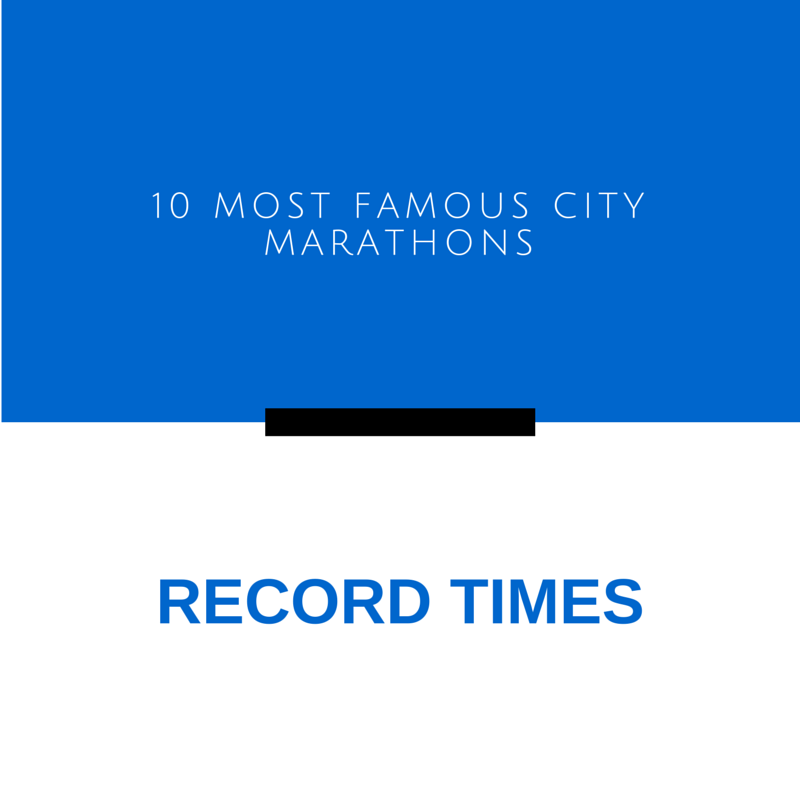 10 most famous city marathons record times
You might want to know which of the city marathons around is the fastest to take care of your personal best. Good organisation and a joyful crowd to sheer you on might help there. I personally have to say the best cheer I have seen was at the Dublin marathon having a sign saying "Chuck Norris never ran a marathon". That made my day. Here are the ten most popular city marathons and their record times as of March 2015. Let's see what season 2015 might bring.

Berlin Marathon in 2:02:57 Dennis Kimetto Kenya
In Berlin you will have the opportunity to run through the Brandenburg Gate. A crossing which had been denied to so many in the past during the cold war. Berlin was host to 9 Marathon world records so far due to its flat and fast course. So if you are in for setting a new personal record this might be a good race for you. You'll also have the opportunity to brush up on your German history, if you decided to stay for longer. No surprise that the current world record for marathon running is made in Germany by a Kenyan.
Boston Marathon in 2:03:02 Geoffrey Mutai Kenya
The Boston Marathon was overshadowed by the tragic bombings for which the trials are currently in full swing. Still it is one of the most challenging marathons to get into with a history dating back to 1897. I personally would have to make a marathon in 3:05 to qualify for the race, which is already an achievement in itself. I have been to Boston once and have to say it is a beautiful place where American history meets the modern age. Just to make it to this one is an honor, so be ambitious. The current course record is one the fastest Marathon times run so far. The course does not meet the current criteria to be recognized, as the course has a significant drop, making it easier to run a fast time. So if you wanted to break the world record in marathon running, this is not for you. But I conveniently assume you are not one of the ten people within reach of that time and reads my blog. If yes, please leave a comment below ;).
London Marathon in 2:04:29 Wilson Kipsang Kenya
In April you can join the crowds in London with one of the most elite fields of the world. You can run past Buckingham palace and Big Ben with 35.000 other fellow long distance heroes. London is one of the most prestigious marathon races and very hard to get into, due to it being oversubscribed most of the years. In good years this event attracted 600.000 spectators to carry the runners around the 26.2 miles circuit. the current men's course record is 2:04:29, which was set by Kenyan Wilson Kipsang Kiprotich in the 2014 edition.
Marathon de Paris in 2:05:03 Kenenise Bekele Ethopia
If you want to finish at the Arc de Triomphe the Schneider Electric Marathon de Paris might be your choice. Roughly 50.000 athletes join this marathon every year to run the streets of Paris in spring passing the Eiffel Tower, the Louvre and Notre Dame cathedral. I have been to Paris, but not for a marathon. I wanted to go back for a weekend trip to revisit the Louvre anyway...
New York City Marathon in 2:05:06 Geoffrey Mutai Kenya
If you want to go big, of course turn your head to America and to the big apple. The New York City marathon is the biggest event in the long distance running year when it comes to number of entrants with over 50.000 people taking part each year. You will run through all of the five districts which have been also at the heart of the story of Martin Scorsese's Gangs of New York, a movie which got nominated for ten Oscars and ending up not winning one. Only Steven Spielberg managed to beat this record with the color purple with 11 nominations and not winning a single Oscar for this movie. The Kenyans also take the trophy for this course record. Another name to mention here is Paula Radcliffe from the United Kingdom who is the only person so far to manage to win the mass event three times. At Frankfurt marathon I talked to some Germans who had been to the NYC marathon. They did not like the experience being in hte general field, as they had to wait for three hours until the start. So be prepared to bring a blanket and a chair, if you are not an elite runner.
Amsterdam Marathon in 2:05:36 by Wilson Chebet Kenya
In Amsterdam you will have the opportunity to visit the town famous for diamond trade, inventing the credit system of banks and users of the dutch auction system for trading flowers. The course starts and finishes in the 1928 Olympic Stadium and takes you along the Amstel River and past the Rijksmuseum. I have worked for three months in this town when I was with IBM and it was one of the best times of my life. For sure worth a visit.
Athens Classic Marathon in 2:10:37 Felix Kandie Kenya
Allegedly the first one to ever run a marathon was the Greek soldier Pheidippides when he ran from the battlefield of Marathon to Athens to tell of the Greek victory over the Persians. When he arrived he reportedly died. If you want to get as historical as it can get you can run the distance in the Athens Classic marathon which was also the first ever to be run in the Olympic games in 1896. In 2013 this race had about 30.000 entrants. Greece will also give you the opportunity of nice diving grounds if you wanted to have a week after the marathon to relax.
Honolulu Marathon in 2:11:12 Jimmy Muindi Kenya
Apart from hosting the iron man events Hawaii also hosts the Honolulu marathon. Perfect opportunity to combine leisure with pleasure and maybe challenge yourself to run in a different climate while the family enjoys a cocktail at Waikiki beach.
Auckland Marathon in 2:18:57 Samuel Wreford
If you are not in Europe or in the States and still want to run an exciting event without paying too much for flights, the Auckland Marathon might be just the right fit for you. You will run across the Auckland harbor bridge 43 meters above sea level. If you have supporters maybe consider to get them a supporter Ferry ticket for their convenience.
Puerto Rico Marathon 2:34:08 Peter Kemboi Chemoi Kenya
If you want to run a very young race in the heat you can run the Puerto Rican marathon. It also functions as a qualifier for the New York or Boston marathon. The story of the Puerto Rico marathon only started in 2013, so you might not consider it one of the most famous in the world and you could argue others should have made the list instead of this one. I included it, because if you are an elite runner in the 2:15s, maybe this is your once in a lifetime chance to grab your course record, before one of the Kenyans does.
Further reading