Garage gym designs with garage plans
These are two simple designs for garage gyms to show you what is possible. Both have been done with the free
Rogue Zeus engine
which enables you to plan your own home gym for free on the Rogue website.
Related articles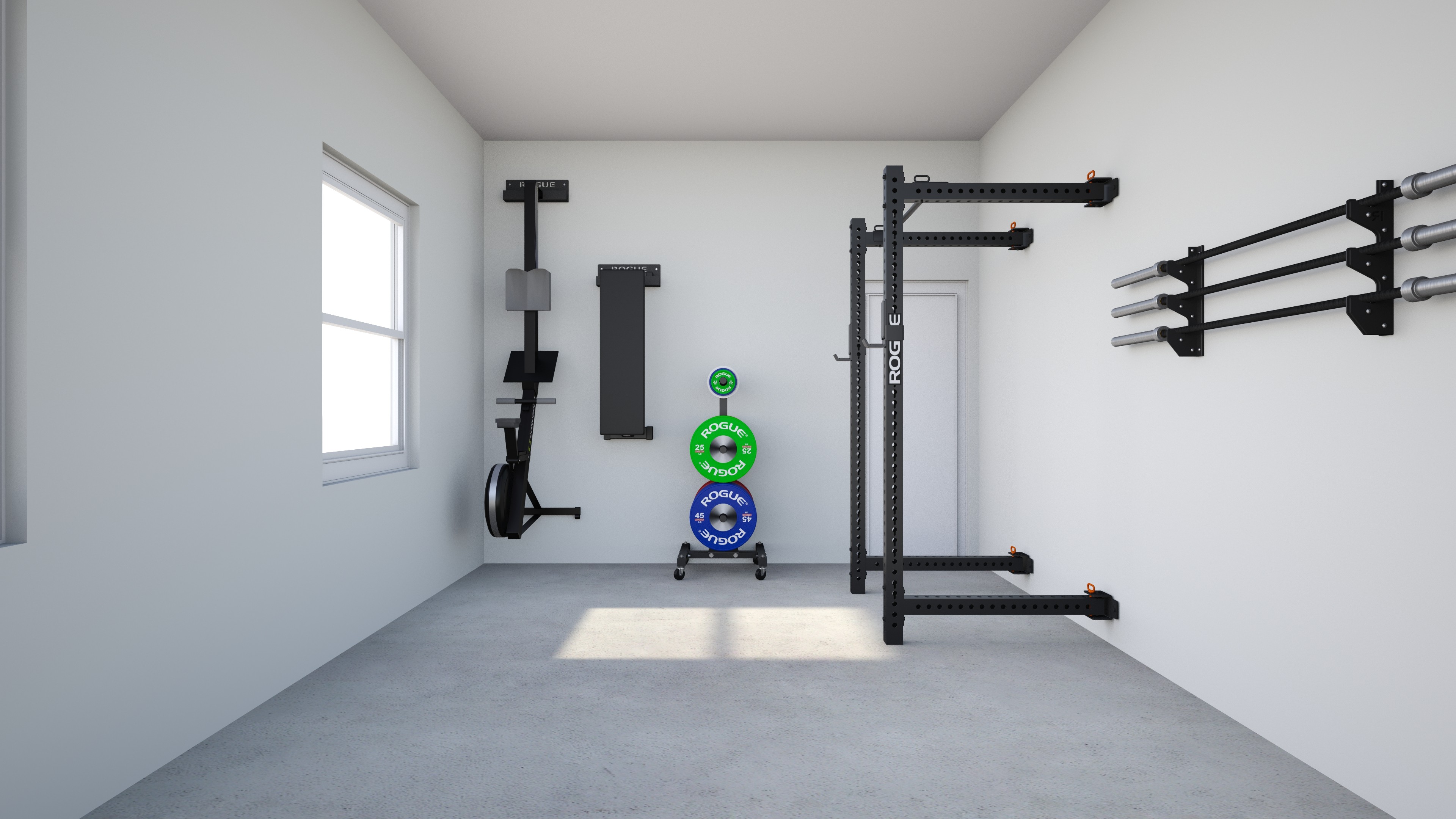 1 car design
With this design, I tried to be as minimalist as possible while still having a nice, good quality rogue gym. The gym equipment has been placed at the very back of the garage. This has the intent that you will still be able to park in the garage once you have cleaned up after training. The fold rack has been placed to the right so that the wall at the end is kept free to hang up a rower, store
plates
and hang up the bench. These items will protrude further than a folded rack and are therefore better placed at the back wall. The item list for this design contains:
This item list does not include any plates which usually put you back about $1000 depending on how many and which quality you will get. Overall the budget for this gym is around $2000 - $3000. If you wanted to cut the cost a little you can go for a different fold rack. The Monster RM-3W is one with the highest price tags. If you think you do not need any cardio equipment because you prefer to run or rather hang an actual bicycle on the wall this would also save you $900 on this design.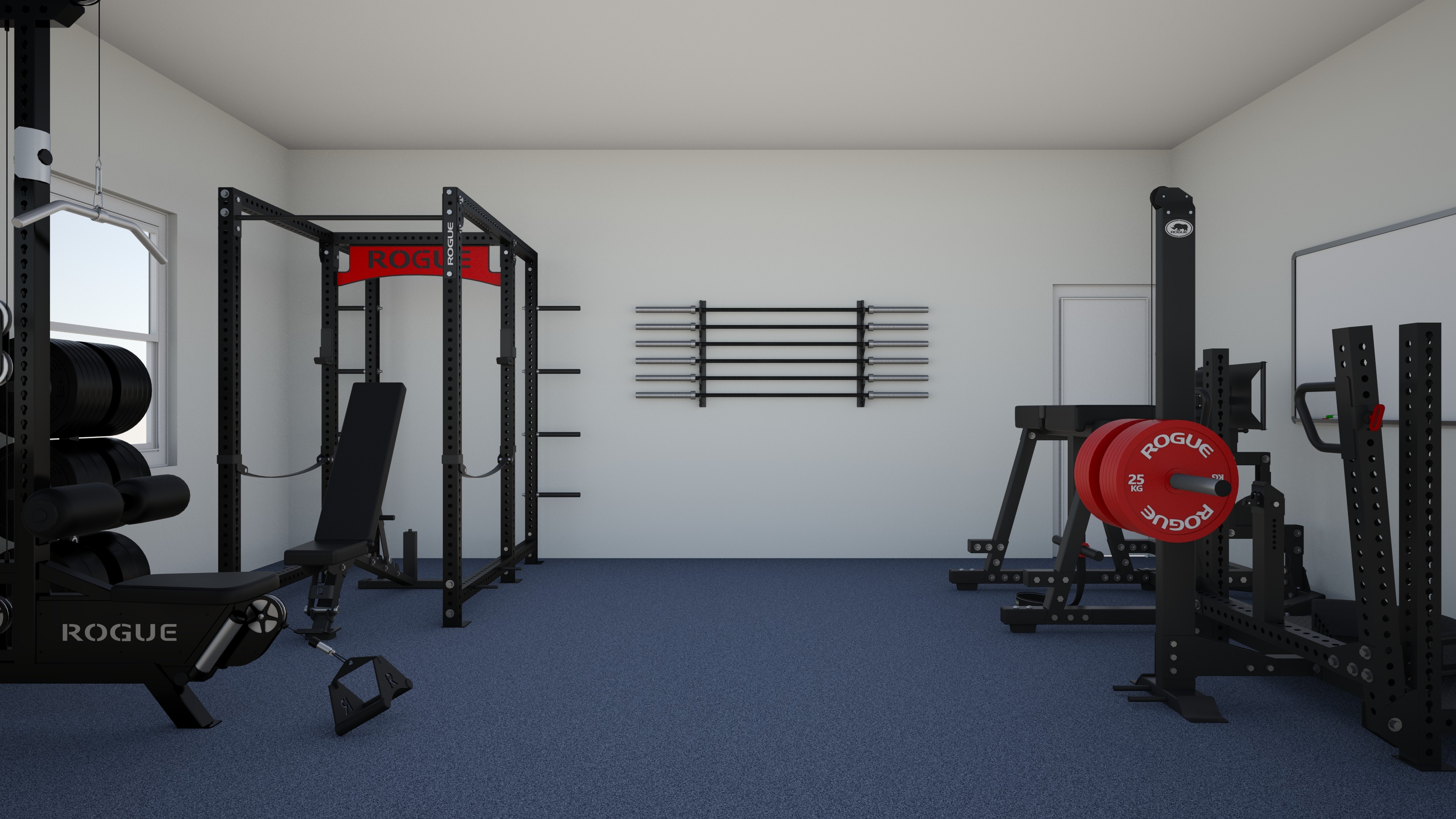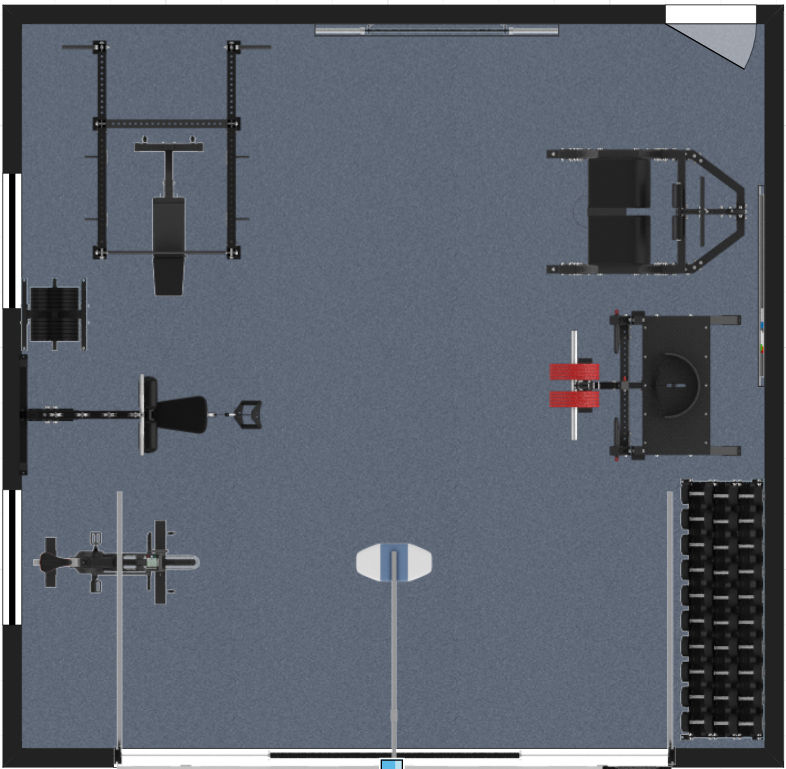 2 car design
This two-car garage gym design is all in and uncompromising. The cars would be either parked on the driveway or the street. In exchange for giving up the parking space, you get a full gym focused on strength. The full item list of this design is:
This design covers all needs for the professional powerlifter. You will be able to train your lower back without all of the strain. The items which are missing are the costs for the
plates
and
dumbbells
which would roughly be $1000 each. In total this gym would roughly put you back $13000 when you have decided on a
barbell
and
plates
. For some this might be too much of a commitment, so here are some alternatives for each of the items on this list.
The first thing you can do is to not invest in the
Rhino
and the
donkey
. These are very specific machines to develop your lower back. If you do not lift very heavy on a regular basis, you probably won't need these. This would save you $3.695 and free up one parking space in your garage.
If you think that a
lat pull
is not necessary you can also cut a further $3.195 out of this design. You might also want to look at the
Monster Lat pull-down
options which are less expensive. The
LP-2
is the newest addition to the rogue portfolio and is based on the Rogue Slinger design.
I personally find the
Rogue Echo bike
to be one of the best cardio options for bang for your back. Apart from a pair of runners and a
jump rope
.
Treadmills
usually take up more space, are more cumbersome and need electricity to work. This is all not the case with the
Rogue Echo bike
. I also prefer airbikes over regular bikes for the good options for interval training.
On the rack option
, you can also go lower in cost by choosing a model that has no Cerakote coating and is from the Monster lite or Echo line. You can cost by roughly $1000 here. The downside is that you will get a less sturdy rack with an inferior finish compared to Cerakote.