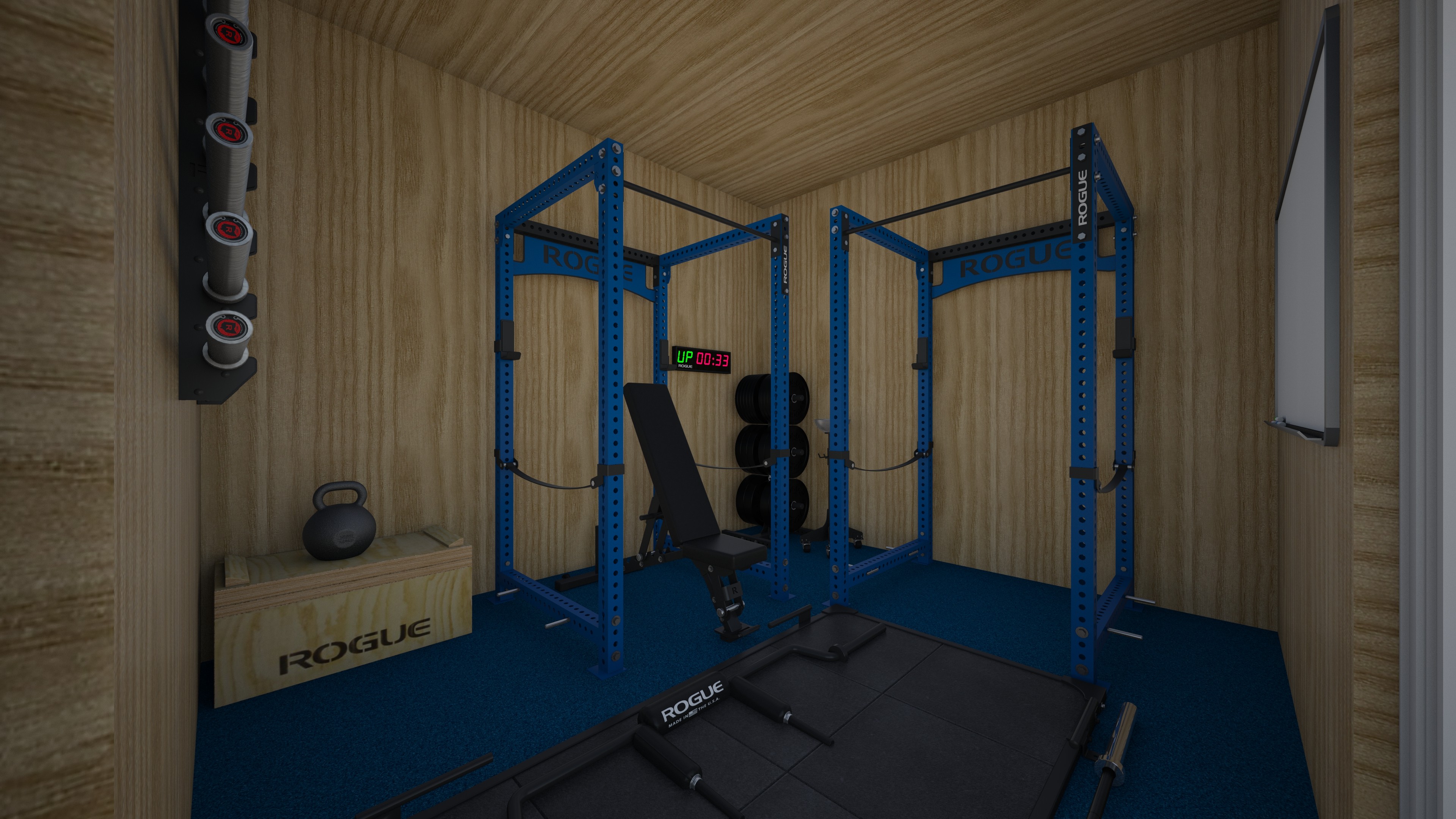 How to design a garden gym for two with Rogue
This design has originally been published in the article "How to design a 3.6m x 4m gym with Rogue". Refer to this article if you want to see multiple options and how to use the Rogue Zeus engine most effectively and plan the space before putting gear into it.
This gym has been designed with two people in mind lifting at the same time. The total cost comes to roughly $30000 with $23000 on the built of the garden room through gardenroom.ie and $7000 on the Rogue equipment.
In this gym you can train together at the same time without getting too much into each others ways. The two RM4 racks are the center piece and will provide you with enough space to squat and bench press securely. If one of you wants to hop onto the deadlift platform to do some yoga or to do some deadlifts tat is no problem whatsoever. The flat pack box provides shelving when it is not used and can otherwise be used for pylometric training. There is only one bench as you will probably rotate exercises between the two of you.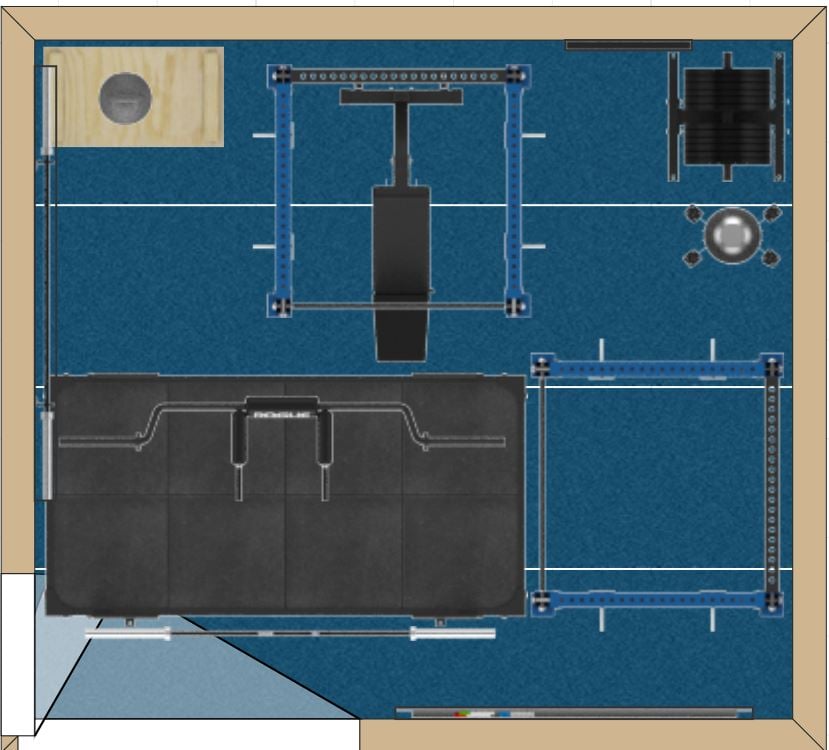 What else to consider from Rogue
Item list for garden gym for two
Not in the picture but required for a functioning gym
The Rogue Thor bar is my personal favorite out of the Rogue portfolio for powerlifting. It is based on the Rogue Ohio power bar and has been finished with Cerakote and an inspiring print which will remind you of the Mountain every time you lift. There are two options for the Thor bar and I would recommend the one with the longer sleeves. If you think that this barbell is too expensive or not your style read my article on which rogue barbell to buyto find the one which suits your needs best.
The Rogue Safety bar will help you to address the needs of your posterior chain and build superior strength in the area. Use this bar for box squats, banded squats or good mornings to get the extra stability you need to be safe. This will make your squat and deadlift explode. If you are tight on budget, this is an item which can be gotten at a later stage or be put on the Christmas wish list.
The Rogue Chalk stand is a safe place to keep your chalk for your maximum attempts and top sets. You can also store your lifting belt and collars on it. It comes with rolls. This will make it easy to move it around the gym. While Chalk is not 100% necessary for the average joe, this will complete your gym and give it see extra edge to be professional. If you want to save some money Rogue also offers a chalk bag which fulfills the same purpose.
The Rogue 5 slot gun rack will be the place where your barbells live when you do not use them. As this gym is laid out for more than one person it makes sense to have a little extra storage space for bars. If you still think that 5 slots are overkill you can also get a 3 slot option from Rogue.
A timer and a whiteboard are a must have for every gym that is worth its salt. If you don't a big timer like this you can also upgrade your mobile phone with a Doc Artisan pouch. This enables you to stick your phone to the rack by putting it into a magnetic leather case.
The adjustable bench from Rogue will enable you to do bench presses and incline presses depending on which program you are currently following. Ypu can also use it with the kettlebell provided for rows to attack your lats and delts.
The vertical plate tree will be the place to store your plates in this design. The two RM4 racks should be kept free from plates to avoid injury and give two athletes enough space to maneuver.
The RM4 racks will be the center piece of gym. With the Rogue Monster series you are protecting your investment as they have a good resell value and will be made part of the most recent additions and updates of the Rogue portfolio. The Rogue Monster lite and Infinity series do not get as much atention in the Rogue portfolio as their flagship series. If you want to know more about alternative options for the racks read my articles "which rogue Rack to buy for over $1000" and "which rogue rack to buy for under $1000".
The Rogue flat pack box is the all around solution from Rogue for box jumps and squats. Alternatives to the flat pack box are the metal jerk blocks and the wooden jerk blocks in case you wanted to be able to do block pulls in your gym. A pair of wagon wheel plates can also do this trick for you.
The Rogue Monster kettlebell series are the kettlebells for the serious athlete who thinks that the smaller kettlebells just won't cut it. Rogue has a wide range of kettlebells which you can choose from to fit your needs in the best possible way.
The deadlift platform rounds up the picture and provides space for you to deadlift or do other ground work when needed. It also provides the necessary setup to be able to do banded deadlifts.
If you are mainly interested in powerlifting the calibrated steel plates are for you. They are accurate and simulate closely what you will have on the bar in competition. If you want to save some money on plates you can get bumpers or Olympic plates instead. If you want to get more details on plates you can read my article "which rogue plates to buy".
Pros of the garden gym for two
This gym gives you enough functionality to train with someone else at the same time or have two athletes coached without getting things too crammed. The necessary storage options are provided and you can do Olympic lifts and everything which is needed for powerlifting.
Cons of the garden gym for two
This design does not provide cardio space or any corner for an office. This space is taken up by the layout of the two racks which occupies the corners of the room. The focus on strength might leave you short if you want to lose some weight when you do not like to do your cardio outside or the climate you live in does not allow for it.