Nordictrack VU 19 vs VersaClimber LX
This is a comparison between the Nordictrack VU19 and the Versaclimber LX including pros, cons, and alternatives. Follow the links for more details.
Versa climber LX Model
Related articles
Overview of the VersaClimber LX
Weight 150lb

Height 7' 10''

Footprint 48''x48''

Color black

Climb angle 75 degrees
Pros of the VersaClimber LX
Small footprint

High intensity

Adjustable resistance

Unfamiliar workout
If you are planning on establishing the best gym in town you will be able to offer extra diversity with this machine. Especially in Europe, I have not seen many of these around which might swing some reliable clients your way instead of to the gym around the corner.
Cons of the VersaClimber LX
Not specific

Not for beginners

Old computer

Price
As this workout is super intense it might not be for beginners. If you have a lot of beginners in your gym you might want some alternatives for people who just walked through the door. Throwing something completely frustrating at your beginners will drive them away. You have to give them some small successes and build from there. Only very few of your clients will be like "yes another machine I can kill myself on".
The computer unit on the LX is a bit outdated. The SM has a better one as this is the most recent update to the line. Personally, I think this does not matter that much. Most of the programs are not used anyway.
Alternatives to the VersaClimber LX
Summary for the VersaClimber LX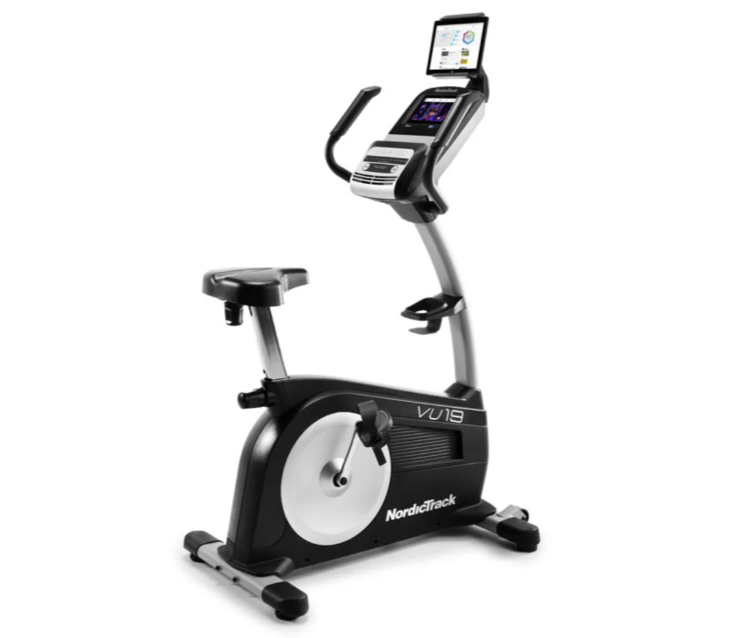 Overview and review of the Nordictrack VU 19 999 (US)
This article discusses the pros, cons, and alternatives for the Nordictrack VU19.This review was originally posted in "Which Nordictrack bike to get". Follow the links for more details.
Related articles
The
Nordictrack VU 19
is an upgraded version of the old G series. Its main features are a 7-inch touchscreen, 19lb flywheel, and 325 lb. capacity. The main difference to the G series is that the Ipad holder has been moved from the front of the display to above. This way you can see your stats while also being on your Ipad at the same time. The full list of features reads:
7" Smart HD Color Touchscreen

Includes 1-Year NordicTrack iFit® membership**

Integrated Pivoting Tablet Holder

Auxiliary Music Port

AC Adapter Included

Two 2" Bluetooth® Compatible Speakers
Upright Frame

19 Lb. Inertia-enhanced Flywheel

SMR™ Silent Magnetic Resistance

24 Digital Resistance Levels

325 Lb. User Weight Capacity

EKG Grip Pulse Heart Rate Monitor

NordicTrack iFit Bluetooth® Smart Chest Strap
Oversized Cushion Seat

Vertical & Horizontal Seat Adjustment

Extra-wide, Ergonomic Foot Pedals with Adjustable Strap

AutoBreeze™ Workout Fan
32 On-board Workouts

Front-mounted Transport Wheels

43.6" L x 24.9" W x 59.4" H Footprint

10-Year Frame Warranty

2-Year Parts Warranty

1-Year Labor Warranty
the
VU 19
is a solid middle of the portfolio option for bikes in the NordicTrack portfolio. If you want a reasonable coverage on all relevant features for an upright bike from Nordictrack, this is the one to go for without going over 1000.
Pros of the Nordictrack VU 19
The pros of the
VU 19
are:
Well balanced

7-inch touch screen

Gadgets are not in the way
The
VU 19
is a well-balanced bike that covers all bases without breaking the bank. If you do not want to think too hard about your bike purchase from Nordictrack and have 1000 to spare, this is the right model to get. Think of it as the Volkswagen Golf from Nordictrack. Does everything well, looks good, but does not impress too much.
The 7-inch touch screen will keep you in striking distance of current technology trends in cardio equipment. The screens are getting bigger and bigger and the classes more interactive. A small backlit display or even led based display will leave you behind and make the experience less engaging. A 7-inch display is a good compromise to not break the bank as some models go up to 32-inch.
A final little touch is that NordicTrack finally managed to move the holder for gadgets out of the way of the touch screen. On older models like the
VR21
or some of the GX bikes the gadget holder would put your tablet right in front of your Nordictrack touch screen. This way you could not see the status of your workout.
Cons of the Nordictrack VU 19
No Bluetooth headphones

No big screen

No incline
A big oversight in the design of the Nordictrack touch screens and electronics is that you can not project their sound onto Bluetooth headphones. The Bluetooth speakers are a step in the right direction, but still do not go all the way. I listen to heavy metal when i workout... loud. I can not do that on a bike that I have at home at 6 am in the morning unless it is in a separate building. That would be reason enough for me to not buy any NordicTrack bike.
A 7-inch screen is rather small compared to the 10-,14-,22- and 32-inch options that are out there. Be aware that the new content that NordicTrack will put out will assume bigger and bigger screens and optimize the layout of the classes and menus accordingly. If you have the extra money to spend you might want to go for one of the
S10i
or
S15i
models instead.
The
VU 19
has no incline option available. This keeps the bike under the 1000 threshold, but at the same time limits you from getting everything out of your Ifit subscription or cover all the possible rides you want to do. For an occasional cyclists, this will not be a deal-breaker, but someone with a serious performance goal might want to consider to invest 200 to 500 more to also get an incline function.
Alternatives to the Nordictrack VU 19
These are alternatives to the
Nordictrack VU19
that are in the same budget range:
The
Nordictrack VR21
costs about the same as the
VU 19
but is a recumbent bike. If you want a more comfortable ride or your hand free while exercising, this is the bike to go for.
The
NordicTrack C700
is the cheapest treadmill you can currently get from the NordicTrack website. This is a good option for joggers or walkers who do not like sitting in a saddle for their daily calorie burn. It is not a great option for runners who put a lot of abuse on their treadmill in terms of speed, distance or a combination of the two.
The
concept 2 model D
is the industry standard for indoor rowing all over the world. If you like to sit while you are exercising, but want to turn it into a full-body workout, the rower is a good option. Another bonus is that you can hang a rower on the wall after use to save space. That does really work for most bikes unless they are foldable.
The
Rogue echo bike
is my personal favorite for weekend warriors who want to push their limits at home. This machine has been stripped of most multimedia options to provide a frame that can take a lot of abuse. If you want to put your phone an a counter, blast yourself with heavy metal, and do intervals until you fall off the bike, this is the machine for you.
Summary for the NordicTrack VU19
The
Nordictrack VU19
is a well-balanced bike from Nordictrack at a good price which took care of design flaws of former generations of NordicTrack bikes. St the moment it is only available in the US and not in the UK, but that might change when they start to distribute worldwide.