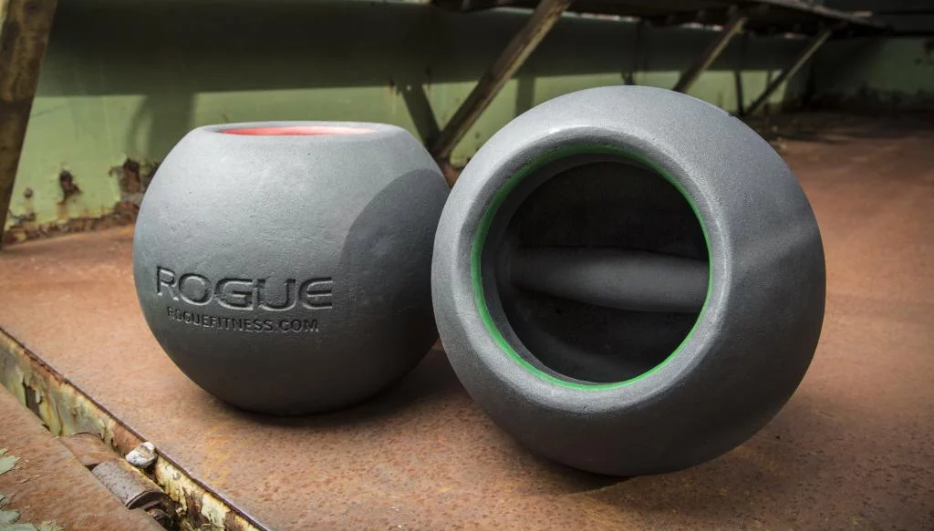 Overview and review of the Rogue Thompson fatbell
The Rogue Thompson fatbell combines the design of a dumbbell and kettlebell. This saves space and cost to have a full set at home.The price ranges from $27-$215. This article has been originally posted in "which dumbbell to get from Rogue".
Overview of the Rogue Thompson fatbells
The
Rogue Thompson fatbell
has been designed by powerlifter Donnie Thompson. This design places the handle of the kettlebell inside the body of the weight. This creates a hybrid design between a kettlebell and
dumbbell
. You can do all of the swings and Turkish get-ups of a kettlebell, while still also being able to use them as a
dumbbell
. The Rogue Thomson fat bell is available from 9lb to 150lb. Additional specs are:
Based on an original design by Donnie Thompson
Interior Handle and Center Mass reduce shearing force, add more load distribution on muscle & connective tissue
Solid Cast Iron construction
9LB - 18LB Bells: 32MM diameter Ergo Handle
26LB - 88LB Bells: 37MM diameter Ergo Handle
97+LB Bells: 40MM diameter Ergo Handle
Flat machined base (open-ended on 18LB bell)
Black Powder Coat Finish
Rogue and Thompson branding w/ color-coded stripe for quick recognition
Applications: Presses, Swings, Lunges, Snatches, Cleans, Rows, and more
Pros of the Rogue Thompson fatbell
The
Rogue Thompson fatbell
saves you to buy a full rack of
dumbbells
and
kettlebells as long as you like the idea of them or you think that your clients will actually like them. To have your hands in the center of mass also creates a different experience for the lifter. The fat bell puts different strains on the hands and moves differently from
dumbbells
and kettlebells. All good when you want to offer a variety of training options for your clients or for yourself to keep things interesting. I do see these working well in a gym with a lot of clients who are interested in to strongman and powerlifting exercises.
Cons of the Rogue Thompson fatbell
The fat bell will take up more space on a standard
dumbbell
rack than regular
dumbbells
or kettlebells. You will also not be able to stack them as well on an angled surface. So if you want to replace your current rack with fat bells, make sure you can actually store them on the surface. There is also no
loadable option
so the fat bells might not fit into a home gym if you want a wide variety of different weight options in a small space. The look and feel of them is very strongman. I think it will be unlikely that average customers will use them regularly as they might be intimidating and
dumbbells
are preferred. People usually don't like sticking their hands into something which they don't know.
Alternatives to the Rogue Thompson fatbell
Summary for the Rogue Thompson fatbell
The
Rogue Thompson fatbells
are a good alternative to very heavy kettlebells as they can also be used as a
dumbbell
in these ranges. Kettlebells just get too big. In lower ranges, I don't see a lot of people preferring the
fatbells
to
dumbbells
.