Rogue Donkey vs TITAN heavy duty power tower
This is a comparison between the Rogue Donkey and the TITAN heavy duty power tower including pros, cons, and alternatives. Follow the links for more details.
Overview and review of the TITAN heavy duty power tower

$299
This is an overview of the TITAN heavy duty power tower including pros, cons and alternatives. This article was originally posted in Which gym machine to get from TITAN. Follow the links for additional information.
Related articles
Overview of the TITAN heavy duty power tower
This is the indoor version of the
TITAN outdoor power tower
that comes without the extra coating for weather resistance. With this machine you can do pull ups,
dips
, sit-ups and other calisthenics exercises to build up your body without using weights. The full specifications of this machine are:
- Achieve a full body workout at home with this all-in-one Power Tower.
- Chin-up / pull up bars with multiple grip options to target different muscle groups.
- Comfortable back and arm pads with hand grips for leg raises.
- 2" Thick powder coated steel dip bars for a solid, shake-free design.
- 7 Different mounting positions available for the sit-up/push-up bracket to suit a variety of workouts.
- Heavy duty steel construction for a solid, long lasting design.
- Floor Dimensions: 58" L x 30" W (42" With Foot Roller)
- Dip Station Height: 54"
- Back Pad Dimensions: 10" x 10"
- Arm Pad Dimensions: 12" x 6"
- Frame Material: 2" x 2.75" Steel
- Color: Black Powder Coat
This is a great power tower for indoors with extra pads that make
dips
and leg raises more palatable.
Pros of the TITAN heavy duty power tower
All in one station for calisthenics

Price

Extra padding
This power tower covers all the bases so that you can do pull-ups,
dips
, and leg raises to shape a fitter body and feel better about yourself. You will have all of this in a compact, stable station that will not take up too much space in your home or commercial gym.
What is great about the TITAN line up of products is that they are optimized to keep money in your pocket. If you want to find a similar power tower for a lower price and the same amount of support behind it in the market you will have a hard time.
This
heavy duty power tower
comes with extra padding for leg raises which makes it easier to run through an entire routine. A bit of comfort is never bad for keeping a routine up long time.
Cons of the Titan heavy duty power tower
Space requirements

No bench attached
Even though this is a great power tower it will still take up roughly the same amount of space as a small power
rack
. If you are already giving up that much space compared to a couple of
kettlebells
you might as well build a full home gym.
As this power tower has no bench attached it will limit the am point of exercises you can do compared to a model that comes with a bench.
Alternatives to the Titan heavy duty power tower
If you also want to use a bench in your training routines you can opt for the
TITAN power tower bench combo
instead of the
heavy duty version
. This will take up more space in your home and at the same time address more exercises for a similar price point.
The
TITAN outdoor power tower
costs slightly more but has a special coating that makes it more durable in weather. It also has been stripped of any parts that would soak up water in the rain. This is the right power tower to get if you want to make use of your garden or backyard and you do not want to give up space in your home.
The rogue Jammer bar is a great tool to put over your kitchen door. Every time you walk through you do as many pull ups as you can. Space efficient, not too expensive, and keeps the entire family fit.
Conclusion for the Titan heavy duty power tower
The
TITAN heavy duty power tower
is a great addition to a commercial or home gym that has a corner free for more bodyweight exercises. In small home gyms a
rack
with a pull up bar might be the better option. For working out outside a power tower is great, just get the
TITAN outdoor power tower
which has been optimized for that purpose.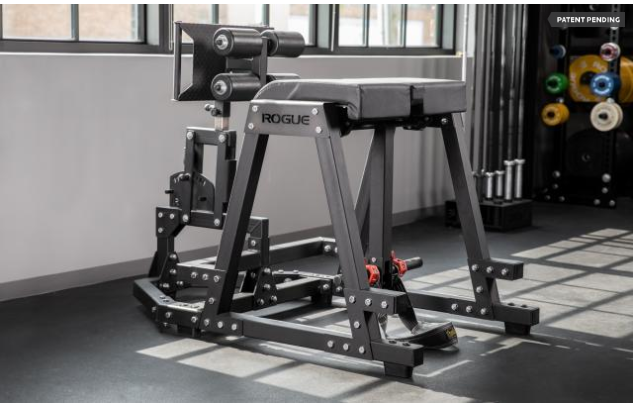 Overview and review of the Rogue Donkey
The
Rogue
Donkey
is the ultimate machine from
Rogue
to address your lower back and core for $1945. You have everything in one place and with 500 pounds of weight, this thing is not going anywhere, just like any good old
donkey

.
Overview of the

Rogue

donkey
The
Rogue
Donkey
brings the reverse hyper and GHD space to a new level.
Rogue
thought about their designs again and combined the Z hyper and the Abram GHD into an all-purpose lower back machine.
The benefit of this is that you only need to buy one piece of equipment which fits both purposes. This means money and floor space saved. The dimensions of the
Rogue
Donkey
aa followed:
Made in the USA

Color: Black

Weight: 500LB

Length: 73"

Width: 44"

Height:54.5"

3x3 Gauge Steel

73" x 44"
This is a great machine to have in a serious home gym or powerlifting establishment. Some CrossFit boxes might also want to consider getting one of these.
Pros of the

Rogue

Donkey
The
Rogue
Donkey
has a lot going for itself, of you are interested in a machine for back extensions, reverse hypers and glute ham raises. I have yet to find a machine that is better thought through for these purposes and therefore saves space in your gym.
Cons of the

Rogue

Donkey
The price and weight might be off-putting for some. Not everyone wants to have a 500-pound piece of equipment in their home gym or get on one in a commercial gym. Reverse hypers and back extensions are also not the most popular movements, so watch out whether you are getting your money's worth.
Alternatives to the

Rogue

Donkey
I think there are no better options than the
donkey
from
Rogue
for what it does. However, $2000 can be a hefty price tag, especially for first-time buyers. Here are some other options from
Rogue
for $2000:
The
fortis rack
is the best rack from
rogue
under $1000. Combined with an adjustable bench and with a little stretch of the budget an Ohio bar you have a fully functioning gym for the price of a
donkey
. The only downsides would be no color option and that you somehow have to take care of plate storage.
If you prefer plate storage and a color option because you already have a bench you can go for the
RML 690C
and
Ohio bar
. The budget would even allow getting one of the fancy Cerakote bars. My favorite is the Fraser bar.
If you want to build a garage gym with all of the things needed to do CrossFit you can also go for the
3WC
and
Alpha CrossFit package
. This way you will have a foldable rack and everything including plates to get started with CrossFit.
Summary
If you already have the bases covered and you are looking into expanding your gym the
donkey
is a great option to be considered. It is not necessarily your first big purchase from
Rogue
.