Rogue Donkey vs TITAN power tower bench
This is a comparison between the Rogue Donkey and the TITAN power tower bench including pros, cons, and alternatives. Follow the links for more details.
Overview and review of the TITAN power tower bench

188.99
This is an overview of the TITAN power tower bench including pros, cons and alternatives. This article was originally posted in Which gym machine to get from TITAN. Follow the links for additional information.
Overview of the TITAN power tower bench
The
power tower bench
is a variation of the multiple power towers that TITAN has in their line up. This version will also make it possible to do bench press motions and flyes while lying down. Combined with a pair of
dumbbells
it takes care of many of the shortfalls of a regular power tower as the bench gives you access to a wider arrange of exercises to get to your goals. The downside is that this power tower will eat up more space because of its T shape than a regular power tower. The full specifications of the
TITAN power tower bench
are:
This is a good training station if you do not go crazy with it. I would not recommend using at for
barbell
bench presses, especially not if you go very heavy, as the hole thing might tip over or you might get your fingers caught on the awkward hooks to
rack
the weight.
Pros of the TITAN power tower bench
You get a bench

Price

Great for bodyweight exercises
The biggest advantage of this product is that you get a bench including a power tower. With many vendors in the market you would be ard pressed to even get a bench for this prize. Never mind an entire exercise station that can function as a gym in your home. For what it does the
TITAN power tower bench
is great value for money.
Cons of the TITAN power tower bench
Racking hooks

Low weight

Space requirements

TITAN finish
The hooks for racking can be become a real health hazard. They are not optimized for racking a heavy
barbell
including weights. The cups have a small metal disc in front to keep the
barbell
in place. This can easily turn into a finger cutter if you have the pressure of a heavy
barbell
and a metal disc with some fingers sandwiched between them.
The whole station also has a pretty low weight for hanging yourself from it. If you do not attach it to the ground or to the wall it is likely that you will topple it. Especially if you like to go apeshit when you are training. It is not a good idea to get the cheapest possible equipment and than put the maximum amount of stress on it except you want to break things and humans.
This
TITAN power tower bench
will roughly take up the same amount of space as a small
power rack
. As you can not put this outside in the rain based on the bench pad you might want to reconsider and save up a little longer to fill your home gym space with something proper.
In addition to all of this you always have to take the TITAN finish into account. TITAN is know for parts that won't fit or completely missing parts. If the bones of the product are already flimsy and you combine this with lax quality controls you get recipe that won't necessarily make you happy. It does not mean that you can not train with TITAN equipment, it just will not more caution and DIY to make it work compared to other vendors like Rogue and Eleiko.
Alternatives to the TITAN power tower bench
TITAN rack combo

Rogue jammer bar
The
TITAN outdoor power tower
is built a little sturdier than the
TITAN power tower bench
. It has also has been stripped off any parts that do not do well in the rain. In addition the tubing is a bit thicker as with the
power tower bench
and an extra coating has been apllied. If you want to invest a little more and train outdoors this is the safer and better choice than the
power tower bench
. The only downside is that you will not get a bench with your purchase.
The TITAN rack combo plays in a different league than the power tower, but you still get a bench and other options to train. Rack combos are aimed at powerlifting meets and are easy to assemble and transport. With the TITAN rack combo you save some money compared to the competition and do not take your fingers off when you are bench pressing. In return it can not be used for pull ups or dips.
The Rogue jammer bar is a great indoor pull up bar to put above your kitchen door. Whenever you walk through, you do as many pull ups as you can muster. Keeps the entire family fit, is safe and does not take up a lot of space. Nothing to not like about this product. Except the price as it costs the same as the
TITAN power tower bench.
Conclusion for the TITAN power tower bench
If you use the
TITAN power tower bench
together with some light
dumbbells
and do not play tarzan while hangin from it it is a good budget option to keep generally fit. Still, I am not a huge fan as the production is cheap, it takes up quite a bit of space and does none of the things it claims really well.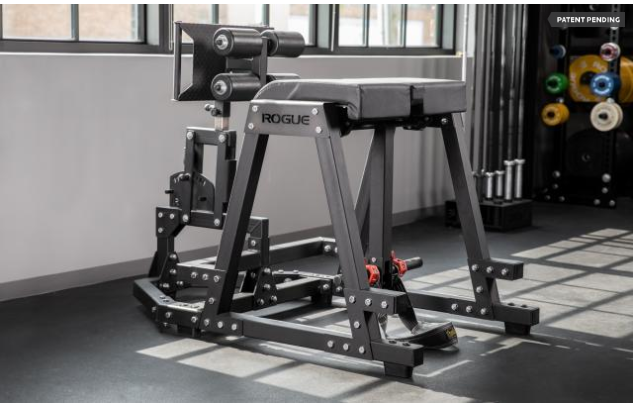 Overview and review of the Rogue Donkey
The
Rogue
Donkey
is the ultimate machine from
Rogue
to address your lower back and core for $1945. You have everything in one place and with 500 pounds of weight, this thing is not going anywhere, just like any good old
donkey

.
Overview of the

Rogue

donkey
The
Rogue
Donkey
brings the reverse hyper and GHD space to a new level.
Rogue
thought about their designs again and combined the Z hyper and the Abram GHD into an all-purpose lower back machine.
The benefit of this is that you only need to buy one piece of equipment which fits both purposes. This means money and floor space saved. The dimensions of the
Rogue
Donkey
aa followed:
Made in the USA

Color: Black

Weight: 500LB

Length: 73"

Width: 44"

Height:54.5"

3x3 Gauge Steel

73" x 44"
This is a great machine to have in a serious home gym or powerlifting establishment. Some CrossFit boxes might also want to consider getting one of these.
Pros of the

Rogue

Donkey
The
Rogue
Donkey
has a lot going for itself, of you are interested in a machine for back extensions, reverse hypers and glute ham raises. I have yet to find a machine that is better thought through for these purposes and therefore saves space in your gym.
Cons of the

Rogue

Donkey
The price and weight might be off-putting for some. Not everyone wants to have a 500-pound piece of equipment in their home gym or get on one in a commercial gym. Reverse hypers and back extensions are also not the most popular movements, so watch out whether you are getting your money's worth.
Alternatives to the

Rogue

Donkey
I think there are no better options than the
donkey
from
Rogue
for what it does. However, $2000 can be a hefty price tag, especially for first-time buyers. Here are some other options from
Rogue
for $2000:
The
fortis rack
is the best rack from
rogue
under $1000. Combined with an adjustable bench and with a little stretch of the budget an Ohio bar you have a fully functioning gym for the price of a
donkey
. The only downsides would be no color option and that you somehow have to take care of plate storage.
If you prefer plate storage and a color option because you already have a bench you can go for the
RML 690C
and
Ohio bar
. The budget would even allow getting one of the fancy Cerakote bars. My favorite is the Fraser bar.
If you want to build a garage gym with all of the things needed to do CrossFit you can also go for the
3WC
and
Alpha CrossFit package
. This way you will have a foldable rack and everything including plates to get started with CrossFit.
Summary
If you already have the bases covered and you are looking into expanding your gym the
donkey
is a great option to be considered. It is not necessarily your first big purchase from
Rogue
.