Rogue Donkey vs TITAN wall mounted pulley
This is a comparison between the Rogue Donkey and the TITAN wall mounted pulley including pros, cons, and alternatives. Follow the links for more details.
Overview and review of the TITAN wall mounted pulley

$179
This is an overview of the TITAN wall mounted pulley including pros, cons and alternatives. This article was originally posted in Which gym machine to get from TITAN. Follow the links for additional information.
Related articles
Overview of the TITAN wall mounted pulley tower
The
TITAN wall mounted pulley tower
is a great solution for any home gym that wants a pulley, but is strapped for space. The only prerequisite is that you are allowed to drill into the walls and ideally it is one of the outdoor / carrying walls. Plaster walls might not be ideal to install this so check your setup before getting to business. This
pulley tower
is
plate
loadable and comes with the necessary straps included in the shipping to start training. For the price you can not really complain and turn your gym in a more complete experience. The full specification of the
TITAN wall mounted pulley system
are:
- Compatible with the T-3, X-2, X-3, and TITAN Series Power Racks
- Small footprint makes this Wall Mounted Pulley Tower a perfect addition for those with limited space
- Heavy-duty powder-coated steel frame
- Standard 1-inch weight posts with 7-inches of loadable sleeve length
- 18-Different adjustable positions opens up a variety of exercises to suit any size athlete
- Bottom bracket allows you to install the pulley tower into walls without disrupting your baseboard
- Includes: (2) single-hand straps
- Overall Height: 84.5-in.
- Footprint: 27-in x 26.5-in.
- Overall Depth: 25.5-in.
- Weight Capacity: 350 lb.
This is a great addition especially in a garage gym that is cheap, versatile, simple to use and space efficient. Nothing you can do wrong here for the price of a fancy dinner.
Pros of the TITAN wall mounted pulley tower
Price

Versatility

Space requirements
The price of this
pulley system
is almost impossible to beat. You still get an industrial grade machine for the price of a consumer product. IT can be used for almost any pulley exercise you might wanted to do on a bigger station without the disadvantage of the lack of stability and the need for more space. Easy solution for a great gym addition.
Cons of the TITAN wall mounted pulley tower
Wall installation

Plate loaded
The only real problem with this is that the tools you need to drill into the wall will probably cost more to rent or buy than the
pulley station
itself. It also depends on whether you are actual allowed to drill into the walls of the house or apartment you are living in.
You will also need to factor in the cost of
plates
,if you do not already have some. 230lbs can be gotten from TITAN for about $400.
Alternatives to the Titan wall mounted pulley tower
Rogue Jammer bar

Rogue lat pull
The
TITAN lat tower
includes a seat and a weight stack for up to 300lbs to do lat pulls and rows. The design is a clone of the Rogue lat pull which outperforms the
TITAN lat tower
in the finish and finer details. Apart from that it is the same machine for a considerably lower cost.
If you only want a machine to perform rows, the
TITAN plate loaded seated row
is a good option with a small footprint that does not need to be installed on the wall. It comes including the seat and setup to row away once it is build. The only downside is that it is a one trick pony and not very versatile compared to the
wall mounted pulley.
The Rogue Jammer bar is a high quality pull up bar from Rogue that you can install over a door frame. I highly recommend to install it at the kitchen door and do pull ups whenever you go in or come out of the kitchen. An easy approach to fitness, relatively cheap and you can not do anything wring with.
The Rogue lat pull machine is the current gold standard in the market for lat pull machines. This thing is overbuilt in every way and Rogue paid close attention to the finer details in the finish. This also means that this beast comes in at a high price of around $2000. This is only an option if money is if little concern to you or you running a very professional and highly successful commercial gym.
Conclusion for the Titan wall mounted pulley tower
The
TITAN wall mounted pulley tower
is one of the best options to get a pulley system into your home gym. Especially if you are good with tools and know how to install something into a solid wall. If you are not a handyman you can still get someone to install it for you and not be sad, as it was so cheap to buy this thing.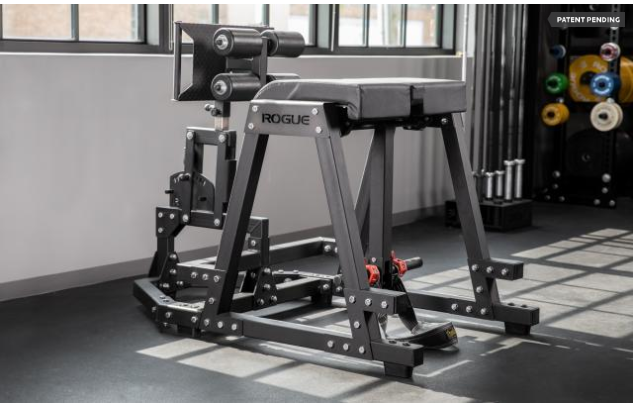 Overview and review of the Rogue Donkey
The
Rogue
Donkey
is the ultimate machine from
Rogue
to address your lower back and core for $1945. You have everything in one place and with 500 pounds of weight, this thing is not going anywhere, just like any good old
donkey

.
Overview of the

Rogue

donkey
The
Rogue
Donkey
brings the reverse hyper and GHD space to a new level.
Rogue
thought about their designs again and combined the Z hyper and the Abram GHD into an all-purpose lower back machine.
The benefit of this is that you only need to buy one piece of equipment which fits both purposes. This means money and floor space saved. The dimensions of the
Rogue
Donkey
aa followed:
Made in the USA

Color: Black

Weight: 500LB

Length: 73"

Width: 44"

Height:54.5"

3x3 Gauge Steel

73" x 44"
This is a great machine to have in a serious home gym or powerlifting establishment. Some CrossFit boxes might also want to consider getting one of these.
Pros of the

Rogue

Donkey
The
Rogue
Donkey
has a lot going for itself, of you are interested in a machine for back extensions, reverse hypers and glute ham raises. I have yet to find a machine that is better thought through for these purposes and therefore saves space in your gym.
Cons of the

Rogue

Donkey
The price and weight might be off-putting for some. Not everyone wants to have a 500-pound piece of equipment in their home gym or get on one in a commercial gym. Reverse hypers and back extensions are also not the most popular movements, so watch out whether you are getting your money's worth.
Alternatives to the

Rogue

Donkey
I think there are no better options than the
donkey
from
Rogue
for what it does. However, $2000 can be a hefty price tag, especially for first-time buyers. Here are some other options from
Rogue
for $2000:
The
fortis rack
is the best rack from
rogue
under $1000. Combined with an adjustable bench and with a little stretch of the budget an Ohio bar you have a fully functioning gym for the price of a
donkey
. The only downsides would be no color option and that you somehow have to take care of plate storage.
If you prefer plate storage and a color option because you already have a bench you can go for the
RML 690C
and
Ohio bar
. The budget would even allow getting one of the fancy Cerakote bars. My favorite is the Fraser bar.
If you want to build a garage gym with all of the things needed to do CrossFit you can also go for the
3WC
and
Alpha CrossFit package
. This way you will have a foldable rack and everything including plates to get started with CrossFit.
Summary
If you already have the bases covered and you are looking into expanding your gym the
donkey
is a great option to be considered. It is not necessarily your first big purchase from
Rogue
.