How to build a basement gym for $5000
If you have $5000 change to build your basement gym you can fully commit with the Warrior Crossfit package and combine it with a RM6. If you do not become unstoppable with that, it is simply because you are lazy.
Measurements for your basement gym
Remember the days of "highway to hell", "Black Betty" and when Queen started out to become big? Back in the 70s, the average new built house in the US was between 1200 and 1600 square foot. A lot has changed since then.
While the average families are getting smaller the average house size has more than doubled from the 70 until now. An average new built house is between 2200 and 2600 square foot when it is built nowadays.
When you plan your basement/basement gym make also sure that you do not forget to place a staircase in. You will need access and this is usually via a staircase placed along one of the walls of the basement, depending on the layout of your house.
Why a home gym?
There can be several reasons why you might consider a home gym over a subscription. In some cases, you might want to save the subscription fee. In my experience that only computes of you are a celebrity who has to pay a couple a thousand dollars for a gym membership to have their peace or if you stay at the same spot for a couple of decades in case the membership is lower than $50 a month. Here are some other considerations apart from the total cost of ownership:
Distance to regular gym

Time constraints

You are a weirdo

Lack of equipment

Celebrity status
If you live in a rural area the next gym might be miles away. In this instance, it is likely that you will have space on your real estate to build a home gym and improve your lifestyle or one of your children. Having a gym at home will save some valuable not spend in a car.
Time constraints can be another reason. Your local gym might be close, but it is crowded or not open at the times you want to go. You could also be stuck in traffic for half an hour even though when you first signed up it seemed like the gym was only five minutes away. Time is the only commodity we can not buy back, so make good use of it.
If you are like me, you might be just fed up with commercial gyms. You want to hang from the ceiling with your balalaika and sing Russian songs while doing a backflip. In most gyms, you will be banned fairly quickly. Some don't even allow you to deadlift. Also, if you want to run a YouTube channel it is usually better to own the place you are training in. More often than not you otherwise get in trouble with the owner.
Another reason can be that your local gym simply does not have the equipment you need to be successful. If you deviate from the mean and want yokes, atlas stones or the equipment for gymnastics, you usually won't find them in your local gym. If the trip to your local high school is far, you don't want to do it again after you left the place to train.
If you are a celebrity or concerned about safety you most likely have not many other options than a home gym. Your lifestyle will demand that you can step in at any time have the necessary equipment ready to go. You also can not be around other people as you then might not be able to train in peace.
Multi-purpose use
When you have a gym at home you will have to come to terms that the basement might not be exclusively for your gym. Some other functions of the house might share the basement with you such as
Storage

Washing

Car (depending on layout)

Guest bedroom

Playroom / Den
The washing machine and the dryer might be in the basement at the moment. To be honest this is often not ideal as the washing has to be carried another flight of steps for a routine task. Maybe talk about where to move these appliances instead. Maybe near the kitchen or under the central flight of stairs of the house.
If you have a house that has the garage in the basement, where will the car or cars go in the future? How often do you actually park them I the garage? Will it affect your insurance payments if you have no more garage? How much space is left in the basement when the cars are parked in there?
Once the basement will be developed there often comes the question of a guest bedroom. While these can be a bone of contempt the key question here is: How often do you actually have guests? How often is the already existing guest bedroom being used? How long will your children be living in the house, as their bedrooms will turn into guest bedrooms after they move out? The argument that you will have more guests once there is an additional bedroom usually does not hold. If you are not brimming beforehand, it is unlikely you will afterward, unless you are planning to open an Air BnB.
The last thing to consider is whether the basement should be partly or fully developed into a group rather than just an exercising space. You made want to place a billiard table or other entertainment pieces in there. Again think about how often you actually entertain people before eating up space.
Think about these competing interests for space before you lay out your basement gym. Otherwise, you might have to compromise on the fly, which usually won't make you too happy.
List of exercises
Here is a list of exercises you possibly want to do in your basement gym. Make your own to be sure that your equipment covers what you want to do.
Pull up

Box jumps

Lat pulls

Sled work

Wall balls

Rows /Runs
Layouts for your basement gym
Above you find three different layouts which are mainly aimed at giving you an idea of how much space you would actually need for your home gym.
I free-styled a gym that would accommodate four family members at the same time for heavy lifting and getting on an Airbike. For a home gym, this is completely over the top. For a dorm house basement of the college football team, this would be a good start. The first picture is a 2200 square footprint while the second is 1100 square foot big. The main message here is that you will have more than enough space in your basement for a gym if you have an average-sized American house. If you are looking for ideas which take up less space review these posts. They are aimed at garden gyms but also get the idea of a smaller footprint for your gym across: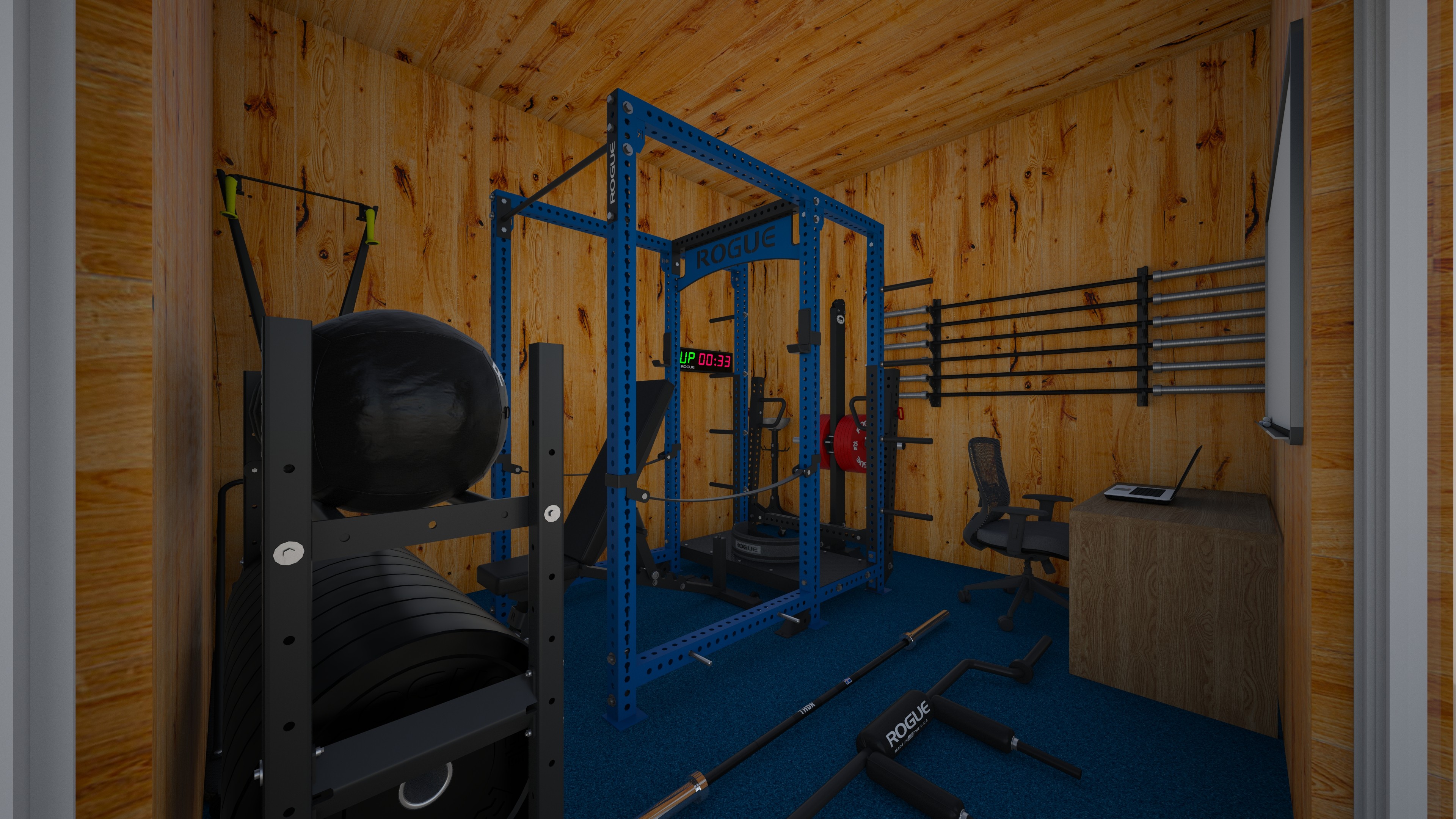 This example would only take up 160 square foot and leave you with more options for the rest of the basement conversion.Before you fill the gym, draw the complete layout of your basement up. You can use the Rogue Zeus software for this. Be careful about where you will put doors and lighting. The infrastructure can't be moved and orbits also unlikely that you will move the rack once it is installed. Take some time to think about where to place it and how your basement will evolve over time.
When you plan your gym remember that barbells are wider than racks. Avoid placing a rack flush against a wall as you then might not be able to move the barbell freely. Also, leave some space around the rack that you can easily move around to get the plates on and off the bar. Take some time to know where you will store your plates, medicine balls and little equipment like jump ropes and boxing gloves.
Once you have drawn up the footprint, placed the doors and decided where to store things, it is time to film the white space with equipment.
List of equipment
Why Rogue
Most of the equipment you can buy at Rogue is American made in Columbus Ohio. Rogue produces and employs local to give back and ensure quality. If they have something in their portfolio they have to source from abroad it usually does not take long until it is adapted to be produced locally.
Based on the modular design and the good brand buying Rogue will protect your investment. The resell value will be higher in case you have to give up your gym and you will not lose as much money as on lower quality equipment.
Pros of a basement gym
A basement gym is right at your home. You only need to step down and get going. It will be mostly out of the way of your children and has a door that you can easily lock up. Chances are slim that you will have to give the space up, once a gym has been established. It will also be mostly out of sight for guests. If you already have a basement you also do not have to give up parking space or building an additional structure to provide for your gym. If you have the basement running beneath the entire building you also have considerable space to play with.
Cons of a basement gym
Basements often lack light, heat, air and tend to be damp. These are cons which are hard to fix. The lighting adds to the cost and training in a basement can feel stuffy at times. If you love in a very cold part of the world and you need to get hearing down there this will also considerably add to the cost of your project. A basement gym also seldom has nice views to make your workout a little more interesting.
Alternatives to a basement gym
In the attic

In the garage

In the garden

In a rented unit

In a community center
Some attic conversions are used for gyms although this is not the go-to. More often than not these conversions are used for an extra bedroom for the younger members of the family.
The garage is a very popular alternative to a basement gym as many garages are not used and filled with clutter. The main project will be to get the funds and agree on what can be thrown out if the car is not already parked in there on a regular basis.
The garden can be a good option for your gym and the popularity of garden rooms is on the rise. The garden has the benefit of more light and nicer views. The challenge will be to erect a new structure to get your gym into.
Some people decide to put their gym into a rented unit. You might be able to rent an unused garage in an apartment block to put your gym in. Just make sure that the unit is closer than your local gym, otherwise, this does not make a lot of sense unless you need to train outside regular opening times.
Another alternative, especially in rural areas, is to get together in the neighborhood and invest in a community gym including a building. This brings the cost per household considerably down or buys a very fancy gym if everyone chips in with the intended budget for their own gym. The downside is that all parties have to agree on what to get and that there will definitely be one person who gets a lot more out of this than the rest.
Summary for the $5000 basement gym
With the RM6 and Warrior Crossfit package you get the creme de la creme from Rogue. The only way up from here is the recently published RM8 and adding a Donkey GHD.