Which supplements are sold the most ?
This is not a comprehensive study done by multiple market researchers and business analysts, but a look at the most readily available data online to answer this question generally and quickly with a bit of underlying detail. Based on what I could gather vitamins are likely to be the most sold supplements worldwide. Within the world of sports nutrition, protein seems to take the top spot.

Dietary supplement definition
To determine which of a certain thing is sold the most you have to actually define what is within and out of scope for that very market. Here the challenges already begin. Due to the rapid growth of supplements and them becoming more mainstream, the lines between food and dietary supplements become more and more blurred as products become more diversified. Here are some definitions of dietary supplements by authorities:
As an addition to a normal diet, food business operators market food supplements, which are concentrated sources of nutrients (or other substances) with a nutritional or physiological effect. Such food supplements can be marketed in "dose" form, such as pills, tablets, capsules, liquids in measured doses, etc.
US. Food and Drug Administration
A dietary supplement is a product intended for ingestion that contains a "dietary ingredient" intended to add further nutritional value to (supplement) the diet. A "dietary ingredient" may be one, or any combination, of the following substances:
a vitamin
a mineral
a herb or other botanical
an amino acid
a dietary substance for use by people to supplement the diet by increasing the total dietary intake
a concentrate, metabolite, constituent, or extract
Dietary supplements may be found in many forms such as tablets, capsules, soft gels, gelcaps, liquids, or powders. Some dietary supplements can help ensure that you get an adequate dietary intake of essential nutrients; others may help you reduce your risk of disease.
Overall you can say that if it is a pill that you buy over the counter without a subscription that provides additional nutrients to you, it is most likely a dietary supplement.
Dietary supplementation market
Below you find the US dietary supplement market in billion dollars from the year 2000 up to 2015 as published on statista. You can see that the volume of the market doubled within 15 years.Some considerable growth here. In 2006 out of the 22.6 billion vitamins took a share of 7.2 billion (31%)home.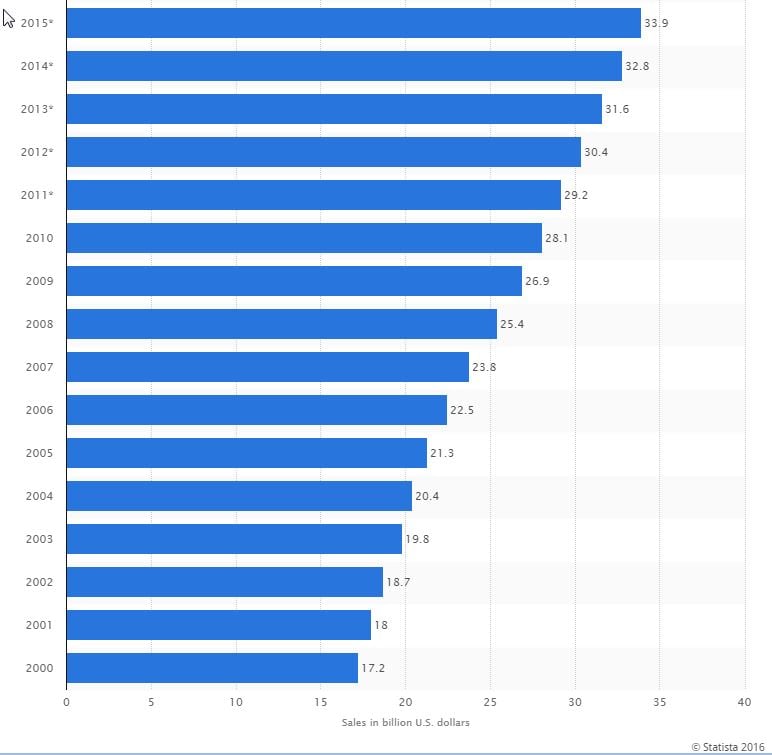 Depending on the source and the method of how to estimate the total market size the numbers can vary quite considerably. In 2015 an argument took place between the TABS Group and Nutrition Business Journal about how to measure the market. If we stick with the definition of the FDA and European commission the overall market size is bigger and seemingly closer to the Nutrition Business Journal's estimates (give or take a billion here or there). The NBJ: 'The US supplement industry is $37 billion, not $12 billion' article is an interesting which should show you why definitions of a market are so important to answer the question "which supplements are sold the most". Other studies claim 18 billion Dollar for the period of 2016.
In a Mckinsey Report written by Warren Teichner and Megan Lesko in 2013 based on Euromonitor data on the dietary supplements, the consulting firm states that the world market for these products was estimated at 82 Billion U.S. Dollar with the US market taking a share 28%. Vitamins, minerals, nutritional and herbal supplements (VHMS) manufacturer are stated to be highly fragmented with the leading manufacturer only taking 7% of the entire market.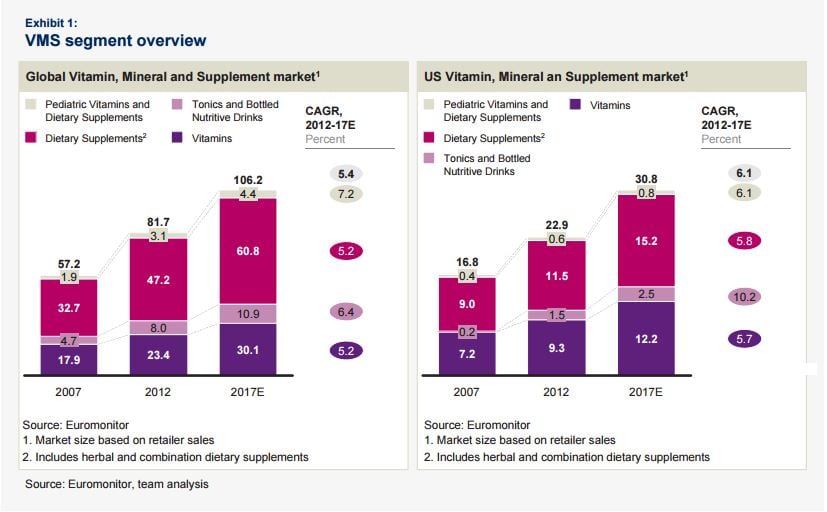 In a graphic from that same report as above you can see that the single most sold category within the VHMS market in the US is Vitamins as the dietary supplements category is an aggregate for this very report. In addition, the statista and Mc Kinsey numbers which are derived from Euromonitor do not seem to add up. Here you would have to double check what has been done in total to the Euromonitor data and which assumptions have been made to account for these.
A SlideShare from Partnership Capital Growth utilising data from the Nutrition Business Journal provides similar developments and data for the US Market as mentioned in the statista report in this article. The number for 2011 is quite close and the predictions for 2012 and 2013 a bit too positive. The first can be explained by different rounding techniques for both approaches through an entire report which shows results in billions, the latter is too be expected when business analysts talk about future developments in growing market.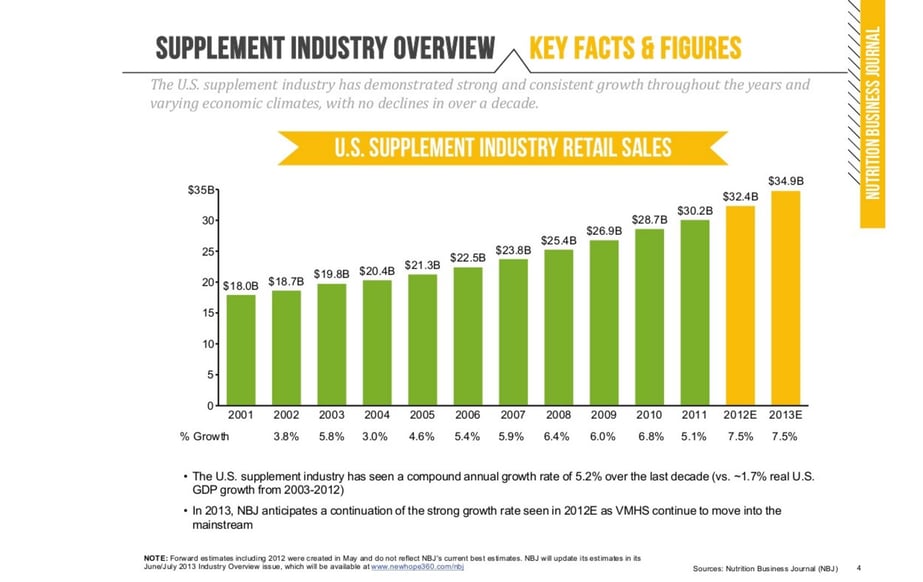 The first pointers to vitamins being the stringest player within this segment still hold true as the follinwg graphic shows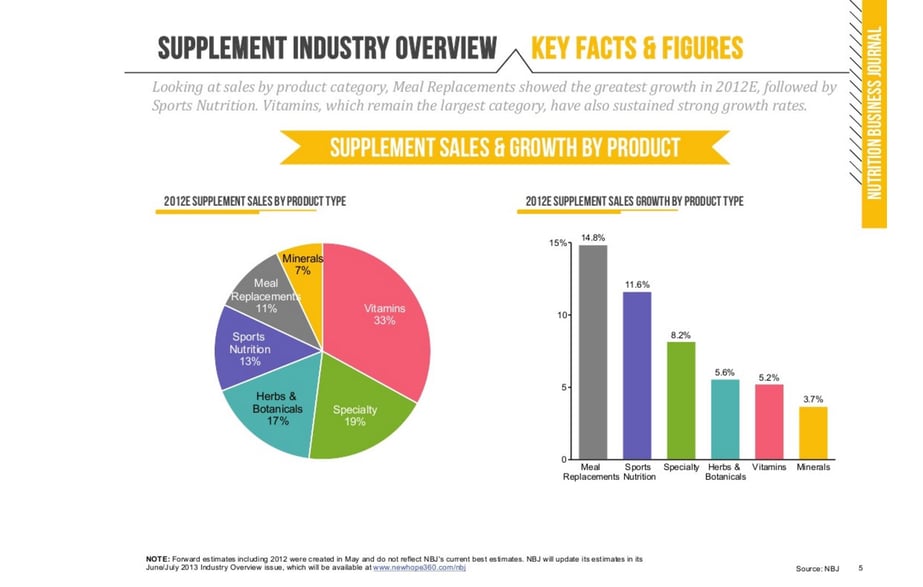 Vitamins took the lion's share of the market for this report in 2012 with 33% of the 30.2 billion US Dollars which are stated. The highest growth rates are to be seen in the meal replacement and sports nutrition subgroups of the market with year over year growth of respectively 14.8% and 11.6%.
While most reports look at which type of supplement sells the most Chris Schmidt from Euromonitor had an interestingly different approach in a graphic on the euromonitor blog which looks at the positioning of these products on the shelves regarding their promised benefits.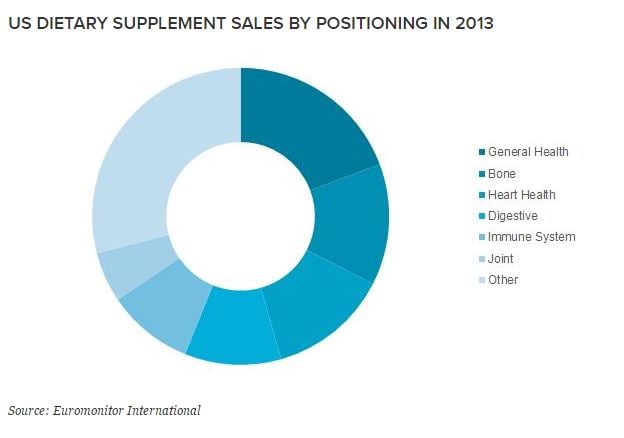 The article points out that the players in the market are more and more moving away from general health statements to sell their products to very specific purpose built formulations. In this pie chart reflected in the big chunk which the category other takes up of the total. As consumers get more educated via freely available information long tail marketing becomes more and more relevant to value-driven buyers.
The European market is a lot smaller than the American VHMS market at 7.2 Billion USD. This might be due to the fact, that in Europe shows like the doctors and celebrities making health claims like in the states (Deepak Chopra for example) are viewed with more scrutiny and get less airtime. The top five markets are in order Italy, Germany, Russia, UK and France. While the german market is shrinking Italy and Russia are showing strong growth. You can see all the detail in Number cruncher: Europe's key supplement markets, brands & opportunities revealed which is based on Euromonitor data.
All in all the most sold supplements seem to be vitamins if you take the global market and data which has been collected for this article into account. As I especially focus on nutrition for sports purposes in my blog the next step is to drill a bit deeper into this segment. To achieve this we will steer away from the analysts reports which are more intended for the C-Level investment bankers and have a closer look at the E-Commerce channel for dietary supplements.
Most sold supplements online
In this section, I had a look at amazon.com and bodybuilding.com and their best selling dietary supplements according to their websites. While bodybuilding.com should have a strong bias towards muscle growth and sports nutrition it should be expected that this bias is less pronounced on amazon.com as the website is more geared towards the general populace.
The best selling products according to boybuilding.com are in order:
Muscle Tech Platinum 100%
EVlution Nutrition CLA 1000
BSN Syntha 6
EVlotion Nutrition BCAA Energy
Muscle Tech Platinum Multivitamin
BPI Sports Best BCAA
EVlution Nutrition Trans4orm
Blender Bottle Classic
Dymatize ISO 100
Muscle Tech Hydroxycut Hardcore Next Gen
EVlution Nutrition Stacked Protein
Scivation Xtend
Optimum Nutrition Opti Men
Muscle Pharm Combat 100% Whey
JYM OMega JYM
JYM Vita JYM
Universal Nutrition Animal Whey
RSP Nutrition Quadra Lean
Muscle Tech Nitro-Tech
True Grit Test Booster
EVlution Nutrition EVLTEST
JYM ZMA JYM
Quest Nutrition Quest Bars
RSP Nutrition CLA
BPI Sports Best Vreatine
JYM Shred JYM
Optimum Nutrition Gold Standard 100% Casein
BSN Amino x
GAT Nitraflex
Optimum Nutrition Micronized Creatine Powder
JYM Alpha JYM
RSP Nutrition L-Carnitine
EVlution Nutrition VIta BCAA 5000
EVlution Nutrition VItaMode
RSP Nutrition AminoLean
Pro Supps Mr.HYDE
JYM Post JYM Carb
RSP Nutrition DyNO
Universal Nutrition Animal Pak
Muscle Pharm BCAA 3:1:"
In amazon's case we are looking at:
100% Pure Garcinia Cambogia Extract
Hyperbiotics Pro-15
Orgain Organic Protein
Optimum Nutrition Creatine Powder
Culturelle Probiotics for Kids
SmartyPants Kids Complete Gummy Vitamins
Optimum Nutrition Whey Gold Standard
Doctor's Best High Absorption Magnesium
Dr. Tobias Omega 3 Fish Oil
Natrol Biotin 10.000 mcg Maximum strength
Nature's Bounty Probiotic 10
Doctor's Best High Absorption Coq10
Nutrition Essentials Probiotic
Nature Wise Cla 1250
Ddrops Bay 400IU
SugarBearHair Vitamins
Dr. Tobias Colon: 14 Day Quick Cleanse
Vitafusion Multivite Gummy Vitamins
Biotin 5000mcg
as of 23rd of July 2016. We can see that protein seems to take a stronger hold here as it would be in the larger scale total market analysis we looked at before.
Conclusion
If you wanted a simplified answer to the question which supplements sell the most it would be vitamins most likely driven mainly by multivitamin sales through supermarkets. To me this makes sense when I look at my own household and also think about that vitamins are taken for various reasons not only by sports enthusiasts. If you narrow it down to sports nutrition it looks a lot like that protein and above that whey protein seem to be the most sold in this category.
Further reading