What is MYPROTEIN ?
MYPROTEIN is a Ecommerce company from the UK providing over the counter supplements to households via direct shipping. Their main market is the UK and they are expanding actively to other markets as part of the Hut group. I am personally a satisfied customer of theirs in 2015 using the lean muscle bundle to achieve my strength goals on a Jim Wendler 5/3/1 plan.

General overview
The company was founded in 2004 and grew to be the number one supplier in the UK of supplements by 2009. In 2011 they were acquired by the Hut group, which has several beauty and health brands under their umbrella. The supplement producer claims 8 Million worldwide shipments, 50 Million website visitors and a recent investment of 6.5 million in building their production facilities in the UK. The operation drives their revenue mainly through their website as an E commerce business with the core product of food supplements and side products being sold around the everyday needs of fitness enthusiasts. The strategy is low price high value by owning the full production process for quality control, keeping distribution in their own hands and driving demand via their website without a Telesales or face to face sales operation.
Where is MYPROTEIN located ?
The city of Rudheath is home to the UK supplier of sports nutrition. Rudheath is situated in the county of Cheshire in the United Kingdom with a bit under 4.000 inhabitants.
Cheshire is in the middle of the British Island at the border between Wales and England. Salt has been mined in the area since the arrival of the romans.This builds the basis of a chemical industry. It does not surprise that this environment creates surroundings in which a company is founded which takes care of food supplements.
How is MYPROTEIN organised ?
The undertaking is part of a group of multiple similar online operations owned by the Hut group which acquired MYPROTEIN in 2011 into their portfolio of ecommerce websites adressing health and beauty products. These include:
HQHair
HQ Hair concentrates on beauty products for women for skin, hair, bath & body. Everything you would find an a well stashed bathroom and / or travelling bag. Think of the products which have to be put into a plastic bag at the airport nowadays and you have an idea of what HQHair does.
Coggles
Coggles is home to several designers for men's & women's fashion which is being distributed via an online shop. Here you can get all the labels that will fill your soul with delight when parading at the next night out.
Exante diet
Exante diet is a system to lose weight which is being promotoed on the website with the same name. Product and plans accompanying your weight loss are available to you when you browse this page.
Look fantastic
Look fantastic is an E Commerce website mainly focusing on make up from several premium brands and extras which women (or men) need to look fabulous. There is more or less the same range of products to be had as with HQHair, but with a bigger focus on skin and making your face look beautiful.
The hut group employs 500 people and had a revenue of 248 Million pounds in 2014 according to their website. They were the first british company to top the list of the fastest growing british company in profit on the Sunday times list in consecutive years. This is something I am personally pretty impressed with, as this is the most important number for a company to grow. Shows very strong management.
What does MYPROTEIN sell ?
The MYPROTEIN product range has around 1.500 products to choose from. At the core are food supplements to support sports professionals of all branches to reach their goals. This is achieved by offering Protein, Creatine, Amino Acids, Carbohydrates, Multivitamins in different forms and shapes. The broad product range is also achieved as various combinations of these supplements are being sold in packages in different price ranges and sizes (fill the same powder in five different sized bags and you have five different products).
The prices vary from product to product and in my personal opinion you can buy about 80% of their products when you have 20€ in your pocket. This holds true for single purchases. If you wanted to purchase a complete stack of supplements, which is a combination of several products to achieve a certain goal, like weight loss or lean muscle gain, we are in the 60 - 80€ bracket.
As of writing in October 2015, according to the myprotein.com website, their best selling products are.
This should be a very reliable source, as they have an online checkout and therefore an E Commerce platform software running in the background which tells them what is being bought the most. For the business savvy readers amongst my blog, you might want to take notice that it can pay quite handsomely, if you have a product that people are using every day (as all of these are, if you are serious about your diet). Procter & Gamble build an empire based on that approach.
The list of flavours they offer is extensive
Apple
Banana
Banoffee
Berry
Blueberry
Cajun Hot
Caramel
Cherry
Chicken
Chilli
Chocolate
Chocolate Peanut Butter
Cinnamon
Classic
Coffee
Cookies and Cream
Golden Syrup
Grape
Latte
Lemon
Lime
Mango
Maple Syrup
Mint
Mixed Fruit
Mocha
Nut
Oats
Orange
Peach
Pineapple
Raspberry
Rhubarb and Custard
Smoked
Sour Cream and Spring Onion
Spicy Paprika
Strawberry
Teriyaki
Toffee
Tropical
Unflavoured
Vanilla
Watermelon
White Chocolate
This is a bit like ordering at Dominos pizza and some of these flavors seem a bit wierd to me. Everybody to their own taste. Another very smart marketing move on their part in 2014 was to send a lot of their produce to the Diet Kitchen. The resulting video is entertaining and walks you through different MYPROTEIN flavours. I subscribed to the diet kitchen after watching this. Sound guys.
How is MYPROTEIN positioned in the market ?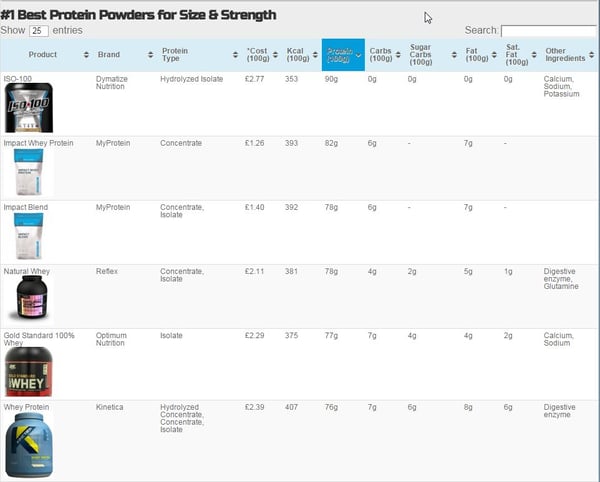 This screenshot was taken on 31.10.2015 on bestproteinpowderonline.co.uk. If you research further you will find other sites which are basically telling you the same thing. MYPROTEIN is very good value for money. In this sample you see that the MYPROTEIN produce by far outstrips the competition in terms of price per 100g while being top notch in what you want from the product, which is protein.This is achieved by full focus on what you pay for. However in defense of the other brands you have to say that I am not quite sure how relevant the extra ingredients are for succes in terms of size and strength gain. This will be the focus of another post.
What was your experience with the brand ?
My personal experience with the brand was that I was looking for a good supplement to accompany my current Jim Wendler one year experiment, which can be followed on my youtube channel. I tried optimum nutrition and found it to be a bit pricey when I was looking for an entire stack of supplements including pre- post- und during workout & vitamins.
The first brand I encountrered when searching for "Jim Wendler Supplement Stack" was Biotest as advertised on the T Nation webpage. The marketing approach and also how you had to use the product sounded a bit off to me, so I changed my search to "Best proteins". After an hour of googling I was on the MYPROTEIN web page with three to four ( I can't recall exactly ) review websites pointing out that the brand is well positioned for value for money.
The delivery from UK mainland to Ireland was quickand within the stated Service Level Agreement of 2 -3 working days for the Republic of Ireland. As I ordered two Lean muscle bundles, one for me and one for me teenage son, the order totalled 130.63€.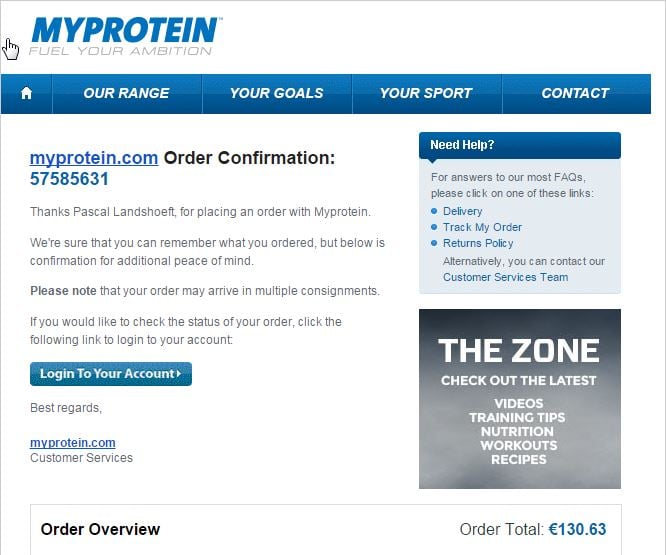 For this amount I got at least 4 month of supplements fueling ambitious goals. For a general overview of the package see the video below. You can find a more detailed summary of the nutritional value you get in the Lean muscle bundle review I wrote.
If you compare the MYPROTEIN supplements to their Optimum Nutrition competition I found the products generally to be more prone to clump when mixed with water. I used optimum nutrition Gold Standard whey, casein, pre workout & serious mass. The whey mixed a lot better with water than the MYPROTEIN equivalent. Casein is just as likely to clump. The pre workouts mix well in both cases. The serious mass also has a tendency to clump.
This is not something that can not be fixed with some shaking. Again see videos for details.
I am personally not to picky about tastes and I had ordered chocoloate but got strawberry cheesecake delivered. As I am pure fish oil hardened which makes you gag everytime you gulp it down, I don't mind too much. However I did not get what I ordered and other customers might feel differently on a wrong delivery (especially on a big 5kg pouch).
All in all I am very happy with the stack at the price point I purchased it. This is just a very small cut out of the entire MYPROTEIN range, but a very relevant one, as three out of five of the best sellers I listed earlier in the post are part of the lean muscle bundle (Impact Whey, Creatine Monohydrate & Alpha Men).
How do they help you to be successful ?
The products of this supplier are supported by a wide range of articles adressing the needs of athletes. Their blog is called "The Zone" and you will find advise on how to squat, deadlift, cook and optimise your gym routine.
In addition they have an affiliate program and are interested in getting Bloggers involved with their brand. So If you have ambitions in this sector you might give it a try. I can not comment on how they treat their affiliates regarding payments and bloggers regarding exposure as I did not make use of these services, but I would be happy if someone who does could enrich this article by posting some comments adressing this part of the brand.
Conclusion
In total I am very happy with my purchase which gives me the ingredients I need to achieve my goals in the gym. A steady progress on the Jim Wendler 5/3/1 program while supplementing with MYROTEIN product tells my at least that these products are not keeping me from getting to where I want to be.
Delivery, price and product range put them into a position to be a force to be reckoned with on the international stage for the future. A minor downside is the delivery of the wrong taste. I would recommend the brand to anyone who asks me and knows what they need to order. For someone who doesn't a blend from optimum nutrition might be a better choice for starters and more readily available in the local pharmacy where MYPROTEIN is not distributed in Ireland.
Further reading