---
At the Fingal 10k in Dublin on the 20th of July i ran a pr 10k of 39:48:
The 10k run was part of my current preparation to the Frankfurt Marathon on the 26th of October 2014. I am running for a good one and a half years and when i got the result i couldn't believe that i made it to the crowd who is capable of running 10k in under 40 minutes.
I got a feeling that i was onto something when i started slightly behind the top runners and was still going strong with barely anyone overtaking me. I passed the club runners who I admired when I ran the Finglas 10k last year. As i passed one of the senior runners who had been pointed out by the commentator at the beginning of the race I felt proud.
The things i did differently from the year before which definitely helped me run faster:
Made use of the bag tag to leave my bag comfortably behind
Left my I phone at home. The chip already measures your time
---
Happy Runner after the race:

The Dublin race series staff is always helpful and was so kind to take this picture after the finish: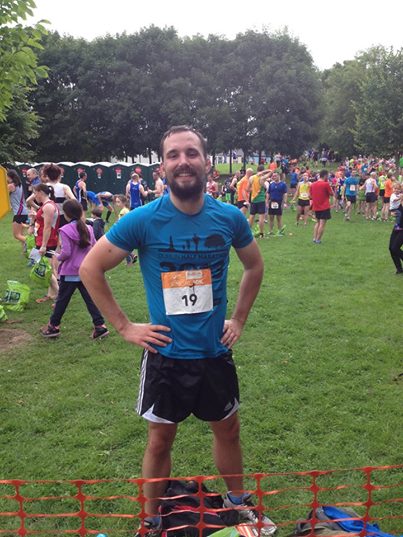 Tweet this one! You see a happy man after a 10k run with the magnificient port a loos in the background. The number 19 is also my birthdate.


---

If you want to go somewhere, have a goal:
Last year is set myself the goal to run a marahton and I did it. This year i set myself the goal to run a marathon under 3:05 hours and I am on track. You won't achieve anything without clear goals, because than you will not know how to prioritse. Set yourself a new goal today and be as happy as me. I improved my 10k pr within a year by 10 minutes. What will you do ? How will you do it ? Looking forward to your comments.
---
Further reading