Strong sleeves vs Rogue 7mm knee sleeves
This is a comparison between the Strong sleeves and the 7mm knee sleeves including pros, cons and alternatives. Follow the links for more details.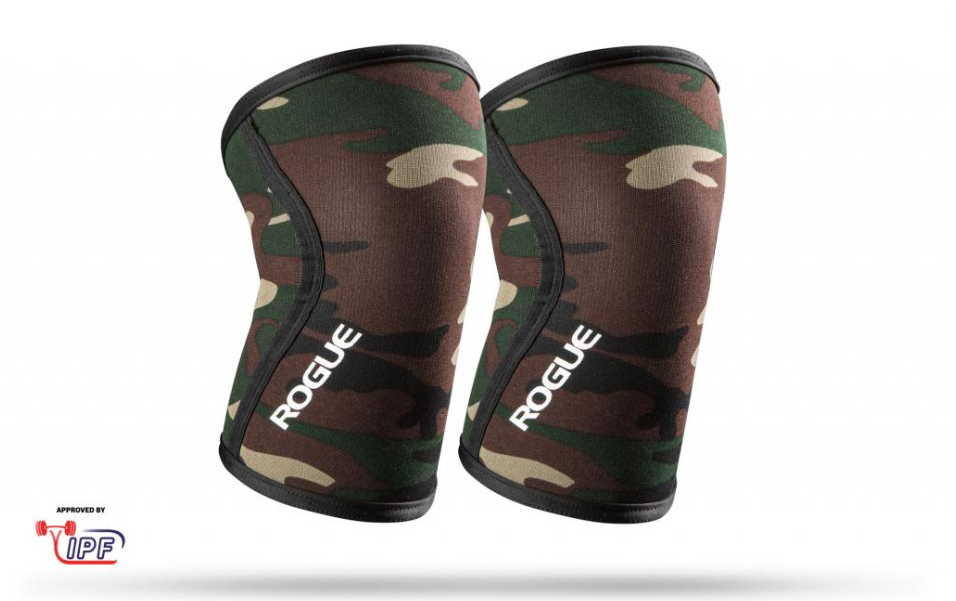 Overview and review Rogue 7mm knee sleeve
The Rogue 7mm knee sleeve comes in at $62.50 and is american made. For $80 you can upgrade it to your own design via the Zeus engine.
Related Articles
Overview of the Rogue 7mm
The
Rogue 7mm Sleeves
are American made and approved by the IWF and IPF for open and raw competitions. These knee sleeves come in many different designs. With the Rogue Zeus function, you can even design your own pair with your own logo or loved ones. The main specifications of the
Rogue 7mm sleeves
are:
Made in the USA
Sold in Pairs
7MM thick SBR/Neoprene blend
IPF and IWF Legal for Raw and Open Competition
These are versatile sleeves that come in 3mm, 5mm, and 7mm. If you want to make sure your equipment is made in America these are the ones to go for.
Sizing for the Rogue 7mm
The
Rogue 7mm Knee sleeves
are available in 5 different sizes. They are measured by your upper Claf circumference for the best fit:
XS 31 - 33 cm
S 33 - 35 cm
M 35 - 37 cm
L 37 - 40 cm
XL 40 - 43 cm
The
Rogue knee sleeves
are among the more forgiving knee sleeves when it comes to sizes. Other models like the ones from Mark Bell have a very tight fit, so you have to pay more attention when you are ordering.
Pros of the 7mm Rogue Sleeves
Wide arrange of designs
Wide range of approvals
American made
The
Rogue 7mm knee sleeves
are American made and deliver a wide arrange of designs and approvals. You might even say they are the best value for money in the market when you do not exactly know what you will use them for. These will work for weightlifting, powerlifting and also might be available in a flashy design of your choice.
Cons of the Rogue 7mm knee sleeves
The
Rogue 7mm knee sleeves
might be too thick for some smaller athletes to get into. The smaller you are and the more mobile you want to be, the less suitable the 7mm thickness will be. Go to 5mm or even 3mm depending on your weight, build and exercises you want to do. 7mm is the thickest you can go and still get approvals from the IPF and IWF.
What the
rogue knee sleeves
gain in design options, they lose in stiffness. Compared to the Mark Bell line up these sleeves might not be the tightest fit on the market. If you want to go full throttle on your one-repetition maximum attempts for the back squat the
x Treme
might be the better choice.
Alternatives to the Rogue knee sleeve
The
Mark bell Xtreme knee sleeves
will cost you a little more but are the better fit for one repetition maximum attempts on the squat. If your main goal is to bring your one-repetition maximum up, these are the better choice for powerlifters. Only if you are very small or prefer fast squats which demand more mobility in the knees, the
Rogue sleeves
might be a better option.
The
Dan bailey knee sleeves
are another option if you want to go for a 5mm knee sleeve and still support a Crossfit athlete. There is also a
Dan Bailey design shirt
t in the
Rogue
line up. %mm knee sleeves are usually good all-around options. Especially if you want to run and lift in the same workout.
Summary for the 7mm knee sleeves
If you are a weekend warrior who wants very stable knee sleeves which are still comfortable to wear and look cool, the
Rogue 7mm knee sleeves
are for you. They will not be a pain to get on and off, while also taking the game seriously.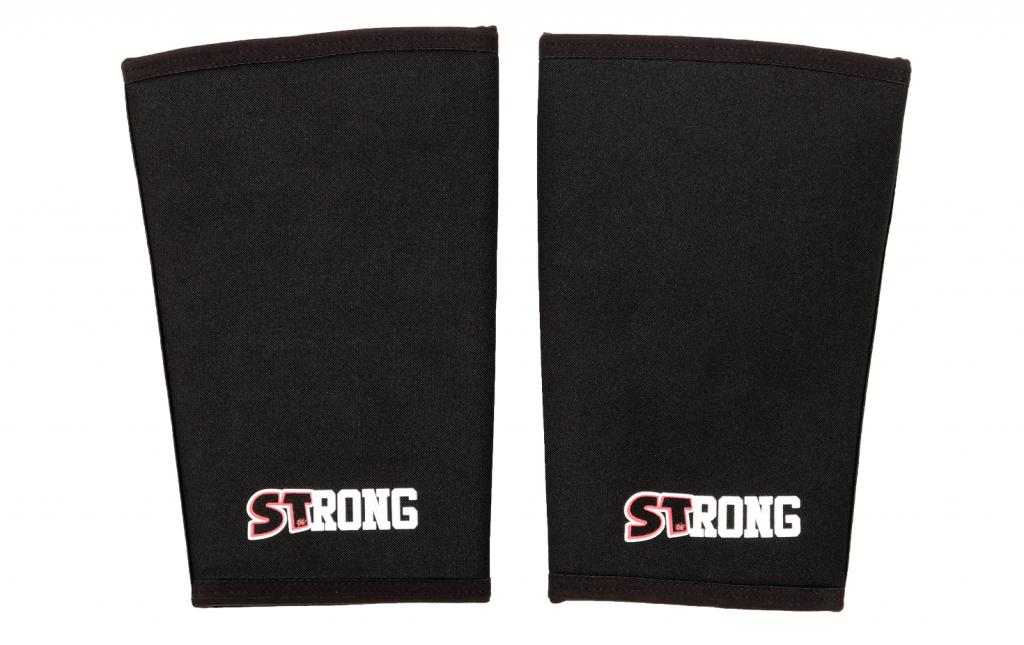 Overview and review of the Strong Knee sleeves
The Strong knee sleeves come in at $80 and are the first attempt at seamless knee sleeves from Mark Bell. They are stiffer than regular sleeves but not as stiff as the Xtreme X Sleeve.
Overview of the Strong knee sleeves
The
strong sleeves
are the entry-level knee sleeves from Mark Bell designed for comfort and stability. With 7MM in thickness and level 3 neoprene, they are comparable to the sturdy upper range knee sleeves of other vendors like
Rehband
. This is based on Mark Bell's target group of powerlifters who usually need everything one step stiffer and thicker than other athletes as they give up mobility in a trade-off for strength. The main specification of the
Strong Sleeve
are:
7mm Thick
Level 3 Neoprene
Sold in pairs
Seamless design
This is a solid option for a beginning powerlifter who feels like
Rehband
is not stiff enough for them. Especially when you weigh more than 200 pounds and want to powerlift you might want to consider entering the market with Mark Bell rather than with
Rehband
.
Sizing for the Strong knee sleeves
The
Strong knee sleeve
comes in different sizes. These are measured from the circumference of your knee when standing. The options are:
XS - 11" - 12"
S - 12" - 13"
M - 13" - 14"
L - 14" - 15"
XL - 15" - 16"
2XL - 16" - 17"
3XL - 17" - 18"
4XL - 18" - 19"
These are the numbers for the comfort fit. Add 1" if you use the competition fit.
Pros of the Strong sleeves
7mm Thickness
Level 3 Neoprene
Seamless design
The main idea with the
Strong sleeves
was to take the design of other 7mm knee sleeves in the market from SBD and
Rehband
and improve it. The main difference is that the
Strong sleeves
have fewer seams and are therefore less error-prone. The design is still pretty heavy-handed and aimed at powerlifters. Maybe not the best solution for smaller individuals who want to move around as fast as possible while wearing sleeves. Here you may look for 3mm or 5mm options depending on whether you want to be active or you want to use the knee sleeve for rehabilitation after surgery/injury.
Cons of the Strong sleeves
Price
Stiffness
Thickness
As Mark Bell aims at a smaller target group and the production of a seamless sleeve compared to one with seams as a bit more complex, the price is higher. If you want to pay the extra dollars for a 7mm knee sleeve aimed at powerlifters that is great. Otherwise, you might opt for
Rehband
.
The stiffness and thickness might work against the
strong sleeves
based on your use case. If you want to wear sleeves and still run and jump or just support your knee after injury 7mm thickness plus an emphasis on a tight git might be overkill. You do not want to get your knee out of place again after surgery, because the sleeve you bought to support it was too hard to get into. That is the very definition of overshooting the target.
For a 7mm sleeve, you will usually pay less with
Rehband
. Their designs have more seams and are inspired across disciplines rather than specifically for powerlifting.
Alternatives to the Strong sleeve
The
Xtreme sleeve
would be the option if you want to take it to the maximum for your one-repetition maximum attempts on the squat. This is the stiffest and thickest IPF approved knee sleeve currently on the market. If you are big, heavy, strong and do not care that much about mobility, the X is for you.
If you want to buy a 7mm knee sleeve but save a little money you can also go for the
Rehband
options. One is in direct cooperation with
Rich Froning
in case you want to support him directly as an athlete or feel inspired by his logo on your sleeves.
Smaller and lighter athletes might find that a 7mm knee sleeve is an overkill for them.
Summary for the Strong sleeves
The s
trong sleeves from Mark bell
are a good entry choice for anyone focused on powerlifting. Other athletes might want to go for 5mm versions from
Rehband
, depending on how much mobility they want.