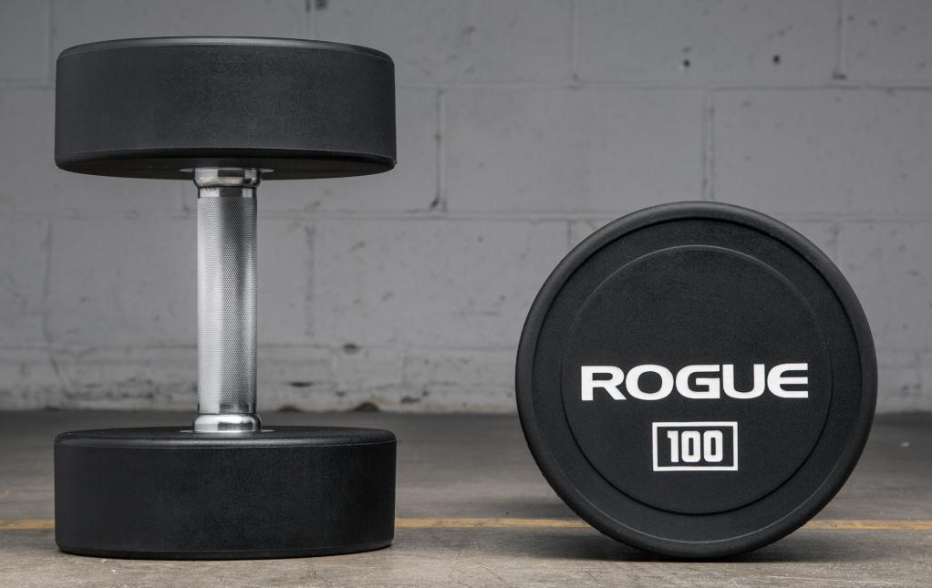 Overview and review of the Rogue urethane dumbbell
The Rogue Urethane dumbbell has a round design and is made of more durable material than rubber hex dumbbells. The Urethane dumbbells start at $37 and go up to $7500 for an entire set of the heaviest you can get. This article has been originally posted in "which dumbbell to get from Rogue".
Most popular Rogue dumbbell in 2020
This is an overview of the most popular Rogue dumbbells on Marathon-Crossfit.com based on views and click through rates to Rogue Fitness for purchases. If you want to dig deeper on the data you will find explanations under what were the most popular Rogue products in 2020.
Overview of the Urethane dumbbell
The
Rogue Urethane dumbbells

are the Ferrari of the

dumbbell

world. They are available from 5lb to 150lb and are sold in pairs. Compared to other

dumbbells

they have a round instead of a hex design.

Urethane

is also a more durable material than most other

dumbbells

which are made of rubber. The handle is made of chrome which is 31mm to 34mm depending on the weight of the

dumbbell. The specifications of the

Rogue Urethane dumbbells

are:
Sold in Pairs

Weight Increments: 5LB – 150LB

Solid Steel Heads with Black Urethane Plating

Straight 6" Hardened Chrome Handle

Medium-grade knurling for optimal grip

Fully welded as single-piece unit

Tolerance: +/- 3% of claimed weight

Black matte finish for clean, sleek look

Rogue logo and weight measurement in white print on black
These are great when you prefer a round design or if you want to give your gym a top-notch feel for clients who are willing to pay the extra price in membership.
Pros of the Rogue Urethane dumbbell
The
Rogue Urethane dumbbells
are round which makes them easier to handle. Hex
dumbbells
can get problematic on the stance when people start stacking them or place them in appropriate places. You can also roll them around which can make it quicker for staff to set up circuits as they don't have to carry everything one by one. Apart from the design is slick and
Urethane
gives you that extra durability. When you are just buying for yourself or for a shiny gym, this is a great option.
Cons of the Rogue Urethane dumbbell
Dumbbells
can be had for a lot less money. Those might be used or don't look as nice. In addition, you need a lot of space to have all options from 5LB to 150LB stored. If you have a lot of space and clients, you probably want so many barbells and options. If you have a home gym with limited space you might
Alternatives to the Rogue Urethane dumbbell
Summary for the Rogue Urethane dumbbell
The
Rogue Urethane dumbbell
would be my personal favorite when I open my own gym as I don't like hex dumbbells. If you have the money and space invest in something a little better to make yourself feel good and your clients more appreciated. For a home gym, I personally think that the
loadable dumbbells
from Rogue are a better investment to save space.