Can marathoners be good crossfitters ?
My first Linda
Crossfit experience so far
I started with crossfit on the 12 of July 2014 and track my progress with beyondthewhiteboard.com software. Crossfit helped me mainly to lower my time to recovery for now in terms of real life results. Furthermore it widened my horizon to learn about different movements apart from running.

The fun and the challenge
The fun of crossfit is that no day has to be the same and you are constantly competing against yourself for a new personal record. As there are so many "workouts of the day" or short "WOD's" you can spent the first two years in the gym crushing personal bests for different excercises. The challenge is that many of the movements are very complex and you most likely won't be able to do them right away as your body is too inflexible. For me personally this translates into struggles with squats and thrusters because of lack of ankle mobilty and staying away from butterfly pull ups to avoid tearing apart my shoulders.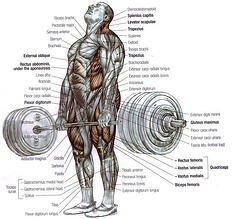 What is Linda?
Linda is a routine of decreasing sets from 10 to 1 repetitions of bench presses, cleans and deadlifts at
Bodyweight bench press
0.75 Bodyweight clean
1.5 Bodyweight Deadlift
which translates for me into 80, 60 and 120 kilograms.
The first result
My first unscaled result for Linda is 59 minutes. Compared to others on beyondthewhiteboard.com it is a pretty weak result, but I am especially proud of finishing the full sets of Deadlifts which really challenged me. Combining weightlifting with running was one of my best choices in training so far.
Further reading