Can marathoners be good crossfitters ?
March 2015
After a having a real setback in February being diagnosed with busirtis I had a good comeback in march 2015. Joining the new gym I am incorporating a lot more new exercises. In addition I experienced with Crossfit wods I had not done before and my personal highlights are a new training best on 10k with 50.25 for 2015 and a new all time best for deadlifts with 150kg lifted 5 times.
New Gym? New possibilities!
I love the new gym I joined which has a focus on strongman and westside barbell programs and leaves you the space to do your own stuff while someone spots you. Each saturday we have a stringman circuit where we incorporate:
Tyre flips
Sled pushes & pulls
Yoke carries
Bear crawls
Pin Squats
Rope Slams
Farmers walks
All of these are exercises a usual cmmercial gym would not offer and they are really fun! We are doing them in a group which is motivating and I also went with the lads for a beer. All around success, I am very positive about my progress for this year being helped by professionals who actually care about my development.
5 x 150kg Deadlift. Finally made it
The 150kg deadlift for 5 reps was a plateau I haven't been able to push thorugh now for about 3 months. I wanted to end my 5x5 program on a high note, as I will start the conjugate method of westside barbell from april onwards. Reson fir this is that I will like I have reached my limits with the 5x5 and want to do something new. It is slightly earlier than recommended by mehdi on his 5x5 blog, but my 1 rep max test on 01.04.2015 will show if I hit the 180kg one rep max or not which he reocmmends as a time for switching programs.
Taking on advise from this post I used chalk and the over under grip for the first time. After these little adjustments i killed a weight i struggled to lift a week before for four times. I think I could have gotten in another rep, but as Louie Simmons says "Train optimally, If you hit a new PR leave it at that, you have done your job for the day". If you want to learn more and also subscribe to a good vlog see below where Louie meets with barbell shrugged o discuss the conjugate method.
A good negative split run before Vienna 2015
I was a bit worried about my progress as vienna marathon on April 12th is approahcing but i managed to do a two hour run with 6 minutes on the kilometre for the first hour and 5 minutes and below on the kilometre on the second hour which gave me back confidence in my running abilities. In the second half I managed to cover 10km in 50:25 which I am stoked about, because it is a record for me this overall within a long run. I am in the middle of my taper now and love it. Only three runs a week, can't wait to hit the race in vienna and stuff my face with chocolate afterwards. Focus on km 11 onwards in following table.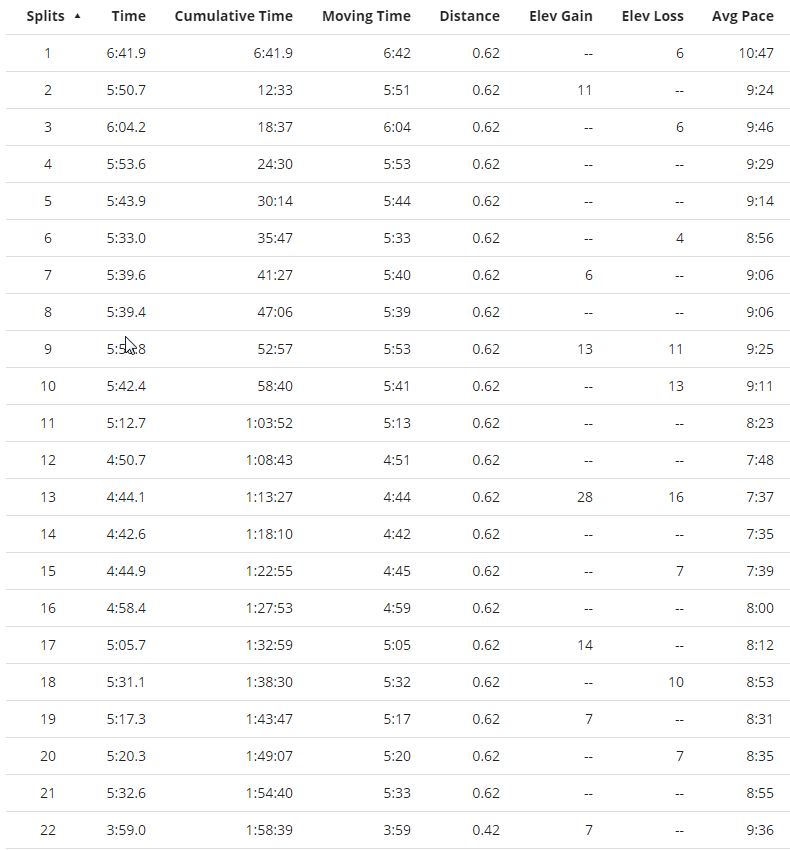 Crossfit bodyweight WODs are fun
For those of you who follow my blog you will have seen what I have done during this month. Still here is the list of WODs I have done for the first time ever in March:
As bodyweight exercise are currently a weakness of mine compared to my squat,m bech and deadlift performance, I am working on those. We will see how the progress will go. Muscle ups hope fully not too far away in the future to move on to the higher grounds of crossfit.
Further reading