---
Can marathoners be good crossfitters ?
The first three months
I started my crossfit journey on the 1st of July 2014. Three months into it i can say that it did not harm my running performance, rather supported it. Overall the answer to the question "Can marathoners be good crossfitters ?" seems to be yes, but it takes time.
---
I have set out to achieve the following times for each listed Workout of the day by the end of 2015:
Filthy 50 time of 25 minutes
Murph time of 40 minutes
Ryan time of 25 minutes
The seven in 20 minutes
King Kong in 5 minutes
Fran time of 5 minutes
For 2014 I wanted to focus on building the core, arm and leg strength to be able to do this and also improve my coordinational skills with the goal to be able to do a handstand push up and a muscle up by end of 2014. I am still not doing the exercises, but building strength all around.
Fitness level
My current overall Beyond the whiteboard Fitness Level is 43. This is relevant as beyond the whiteboard compares your performance with all of the other crossfitters on the platform. You have to bare in mind, that you are being compared with poeple who are already willing to pay 50$ a year to use a software to track their workouts, so the overall level of fitness compared to the entire population is more than above average.
That being said I am in the very top 4% when it comes to endurance (translates long distance running / rowing) on beyond the whiteboard, but less than below average when it comes to lifting. Also not surprising, as Crossfit puts higher emphasis on under 30 minute workouts lifting weights rather than over 30 minute workouts incorporating runs. When I compare myself with the runners from the Dublin race series, i am slightly above average. Two things to take away from this:
Your level of fitness always depends on the group you compare yourself with
High level of fitness in one area does not automatically transfer to another area
Here are the statistics as of 28.09.2014: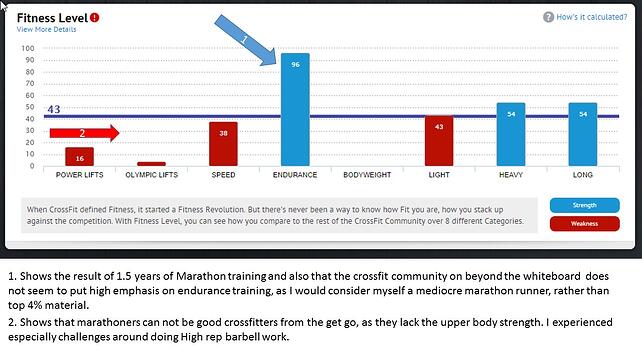 Powerlifting with Stronglifts 5x5
I decided to use a power lifting program early on as i already had a hunch, that my biggest need for improvement to excel at crossfit would lay in the lifting area. I chose the Stronglift 5x5 program, because i liked the no nonsense approach of its promoter Mehdi and the easy structure of the program. Beyond the whiteboard does not really give much of information how to progress and scale your workouts while you are in the gym as you have to search in the community for answers. The Stronglift 5x5 solves this problem and also provides proper warm up information for heavy lifting if you buy the corresponding extension of the app for roughly two bucks.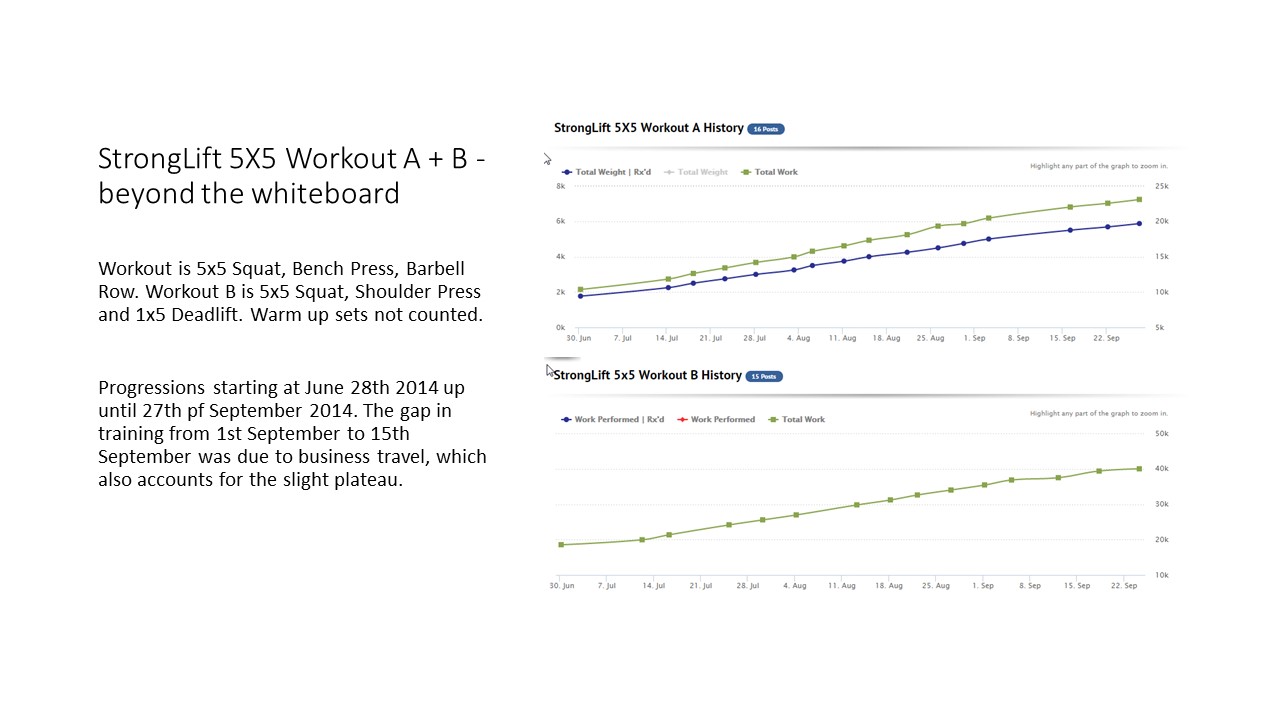 ---

Three months summary:
Crossfit is coming in nicely into the overall training routine and helps me especially shortening my recovery times. I dreaded squats when i was longer and now have pr squat of 100kh and deadlift for 120 kg still going strong. It is a great felling of accomplishment to lift these weights. So can marathoners be good crossfitters, yes with time as I am far from being a "good" crossfitter.
Further reading:

---