What were the most popular Rogue products in 2020?
What else to consider from Rogue
Most popular Rogue products in 2020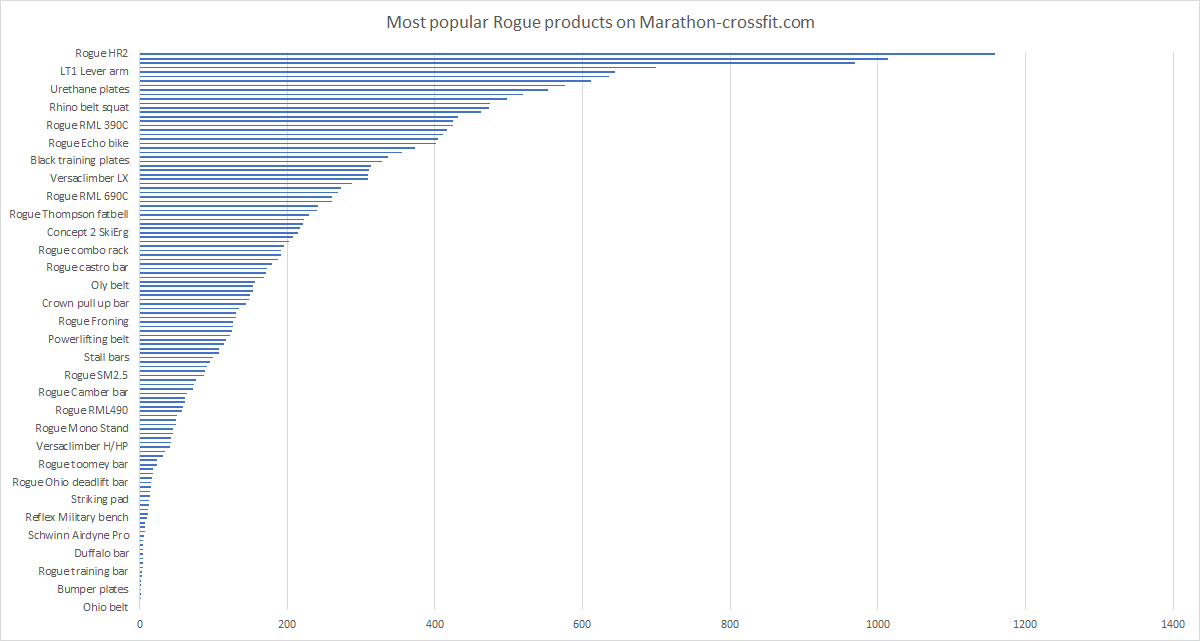 Most popular rack
Most popular dumbbell
Most popular bar
Most popular accessory
Most popular plate
Most popular bench
Most popular jump rope
Most popular belt
Explaining the data for the most popular Rogue products in 2020 series
Is the data representative of Rogue product popularity and purchase decisions?
The data is most likely not representative of Rogue Fitness's actual popularity of products in terms of items sold or page views on their online shop. For this, it would be most straightforward to obtain this data directly from Rogue, which they are unlikely to disclose to the public. It is however a good indicator of what is popular among people who buy a home gym from Rogue and put thorough research into it. In this section, I go into more detail about what that means and which factors have to be considered.
The data misses the apparel part of Rogue's online shop. I have not gone down the road of reviewing their apparel line in-depth as the return on investment from Affiliate marketing is expected to be lower. In terms of popularity and items sold it is fair to assume that these might make up a bigger bulk of the entire Rogue sales. The entry point is low as the products range usually below $100 and can easily be added to a bigger purchase, a three ships free cart, or stocking fillers.
Marathon-CrossFit has referred about 20.000 clicks to Rogue fitness and $650.000 in revenue in 2020. This is almost 2.000 clicks and more than $50.000 a month in sales. This revenue distributed over a little more than 1.000 checkouts. Backed up by this the data has weight for purchase decisions from Rogue Fitness. Unfortunately, the data can not be broken down per product to make it more insightful, but if you combine the clicks and sales with the views of the websites, you get strong indications of what is popular and what is not.
Marathon-CrossFit bears an inherent bias towards the less popular products of Rogue as it is easier to rank high on Google for them. I have no traffic for items like the Rogue Ohio bar or Rogue bumper plates even though I produced content for it. I am confident that these have fairly high sales numbers with Rogue and might even outperform some of the products popular on Marathon-CrossFit. For Rogue bumpers and barbells, especially the cheaper ones, you will find more reviews online from websites with more authority than Marathon-CrossFit. Marathon-CrossFit is also not fed to a high degree by Instagram, Twitter, YouTube, and other social media platforms which further distorts the picture. Some of the competition of Marathon-CrossFit is more active on all these channels and therefore get a bigger piece of the pie.
Some of the competition that needs to be mentioned for a full picture would be
Garagegymreviews is the market leader when it comes to reviews of home gym equipment with a website that ranks well on Google, a fully developed YouTube channel, and a considerable following on Instagram. They also employ a team of content creators. Garagegymreviews is a small business whereas the other competitors are mainly one-man bands.
Basement Brandon has a big YouTube channel for home gym equipment and has invested considerable time in 2020 to build a bigger Instagram following breaking down his YouTube videos Into smaller chunks. There seems to be no major backing up of a website as Marathon-CrossFit outperforms here, even though there are no social media channels to speak of to feed the website traffic.
Barbend outperforms Marathon-CrossFit in some areas for Google but has not invested as deeply in content for home gyms as Basement Brandon or Garagegymreviews have. The authority of the website is higher but the overall focus is broader.
In total, the data presented here shows a strong intention to buy the items listed and you should consider them. Especially if they are a realistic alternative you have not considered for your budget or use case. If you look for something special in the Rogue portfolio marathon-CrossFit is a strong resource to validate or crosscheck your purchase. If you want something more mainstream from Rogue add some information from other websites too, as they are more likely to have more reliable data for the stronger contested Rogue products.
Most popular Rogue racks in 2020
The most popular rogue racks based on views of their reviews on Marathon-CrossFit in 2020 are:
Most popular Rogue dumbbell in 2020
Most popular Rogue bars in 2020
Most popular Rogue accessory in 2020
These were the most popular accessories from Rogue on Marathon-CrossFit.com. The ranking is as followed:
Most popular Rogue plates
These were the most popular rogue plates on Marathon-Crossfit.com. On the plates, I would caution between overall popularity and the popularity of my site. The plates listed below are more niche than the Rogue bumpers, the calibrated steel plates, and competition bumpers. If you want a safe bet for your use case these three might be better, as more people buy them.
Most popular Rogue bench
Most popular Rogue jump rope
Most popular rogue belt in 2020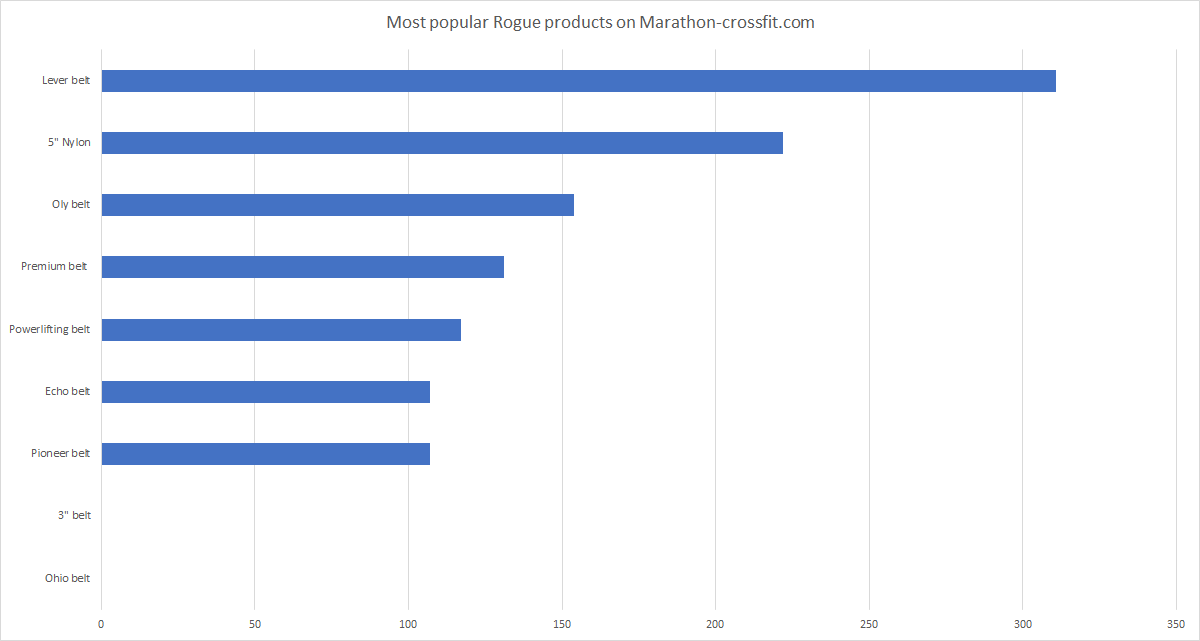 5" Nylon belt
The 5" Nylon belt is a cheap option and I am personally surprised that it is that popular. It will give you more freedom to move than a leather belt, buy suspicion for the higher popularity of the belt is its low price compared to leather. If you are looking for a cheap belt for lifting the Rogue echo belt is a better option in my opinion. You can find the full review of the 5" Nylon belt via this link.