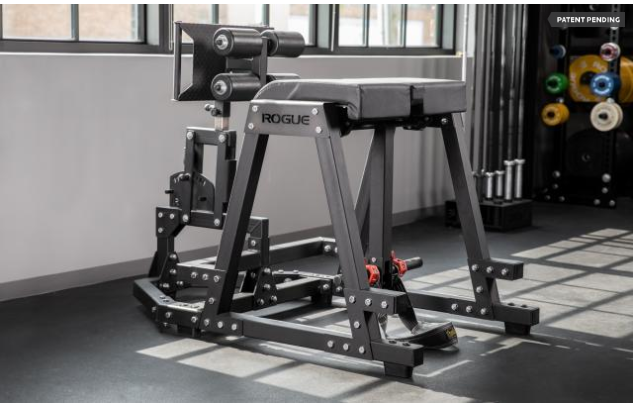 Overview and review of the Rogue Donkey
The
Rogue
Donkey
is the ultimate machine from
Rogue
to address your lower back and core for $1945. You have everything in one place and with 500 pounds of weight, this thing is not going anywhere, just like any good old
donkey

.
Overview of the

Rogue

donkey
The
Rogue
Donkey
brings the reverse hyper and GHD space to a new level.
Rogue
thought about their designs again and combined the Z hyper and the Abram GHD into an all-purpose lower back machine.
The benefit of this is that you only need to buy one piece of equipment which fits both purposes. This means money and floor space saved. The dimensions of the
Rogue
Donkey
aa followed:
Made in the USA

Color: Black

Weight: 500LB

Length: 73"

Width: 44"

Height:54.5"

3x3 Gauge Steel

73" x 44"
This is a great machine to have in a serious home gym or powerlifting establishment. Some CrossFit boxes might also want to consider getting one of these.
Pros of the

Rogue

Donkey
The
Rogue
Donkey
has a lot going for itself, of you are interested in a machine for back extensions, reverse hypers and glute ham raises. I have yet to find a machine that is better thought through for these purposes and therefore saves space in your gym.
Cons of the

Rogue

Donkey
The price and weight might be off-putting for some. Not everyone wants to have a 500-pound piece of equipment in their home gym or get on one in a commercial gym. Reverse hypers and back extensions are also not the most popular movements, so watch out whether you are getting your money's worth.
Alternatives to the

Rogue

Donkey
I think there are no better options than the
donkey
from
Rogue
for what it does. However, $2000 can be a hefty price tag, especially for first-time buyers. Here are some other options from
Rogue
for $2000:
The
fortis rack
is the best rack from
rogue
under $1000. Combined with an adjustable bench and with a little stretch of the budget an Ohio bar you have a fully functioning gym for the price of a
donkey
. The only downsides would be no color option and that you somehow have to take care of plate storage.
If you prefer plate storage and a color option because you already have a bench you can go for the
RML 690C
and
Ohio bar
. The budget would even allow getting one of the fancy Cerakote bars. My favorite is the Fraser bar.
If you want to build a garage gym with all of the things needed to do CrossFit you can also go for the
3WC
and
Alpha CrossFit package
. This way you will have a foldable rack and everything including plates to get started with CrossFit.
Summary
If you already have the bases covered and you are looking into expanding your gym the
donkey
is a great option to be considered. It is not necessarily your first big purchase from
Rogue
.